April 25, 2021
Posted by:

Trading

Category:

Market Overview
With some of the largest U.S. companies reporting their quarterly earnings in the upcoming week, for investor's it will be all about corporate America and its financial health. 
About a third of companies are scheduled to report their latest numbers and outlook forecasts for the remainder of this year during the five-day period ahead, including tech giants and industrial names, such as Boeing (NYSE:NYSE:), Ford (NYSE:) and Caterpillar (NYSE:).
So far, earnings reports have been strong, with 86% of the companies that have already released quarterly numbers beating analysts' estimates. Corporate profits are expected to rise about 33.9% for the first quarter, based on estimates and actual reports, according to Refinitiv. Revenues may surge about 10% during the period.
During this crucial week for the Q1 earnings season, we will be focusing on the following three tech mega caps whose earnings could help clarify whether they are still benefiting from the pandemic-driven demand surge that pushed their shares to record high prices in recent months:
1. Microsoft
One of Wall Street's tech darlings, Microsoft (NASDAQ:), reports its fiscal 2021, Q3 earnings after the market close on Tuesday, Apr. 27. The software and cloud computing behemoth is expected to post $1.78 a share profit on sales of $41.04 billion, according to analysts' consensus forecast.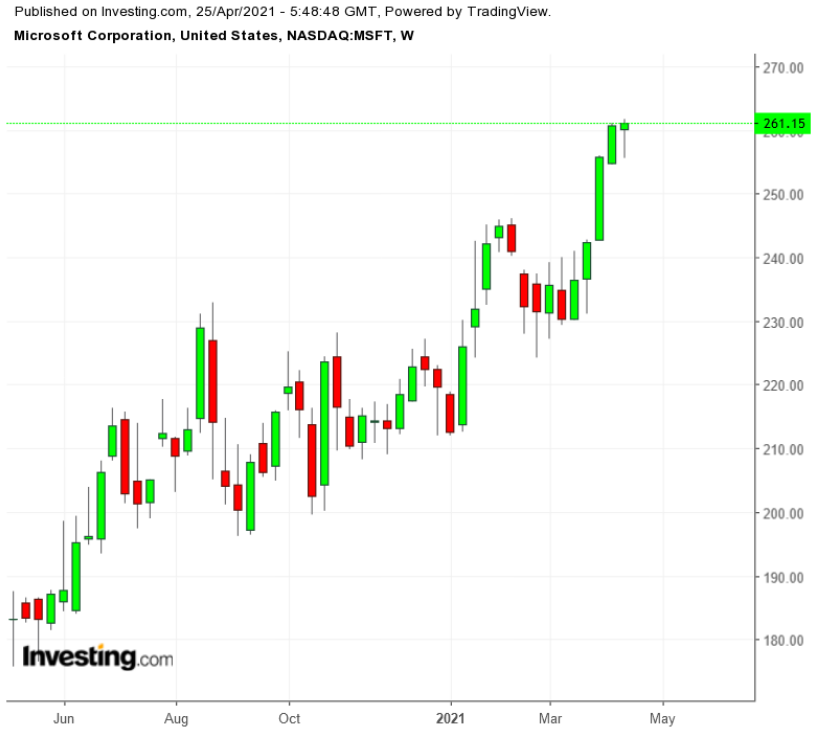 If the past provides any clues, Microsoft should show fueled by a surge in technology investments and the strength of its cloud computing and core Office products lineup. Microsoft is benefiting from the increased demand for connectivity as people work and interact socially from home.
As well, investors expect businesses and governments will continue to spend on their transition to cloud computing—which has been a key area of expansion for the corporation in recent years. 
Growth in that division jumped 50% in the most recent quarter as corporate clients accelerated a shift to the cloud during the pandemic, where they can store data and run applications via the internet. MSFT shares closed on Friday at $261.15 after surging 17% this year.
2. Apple
The maker of popular iPhones as well as computers and smart wearables, Apple (NASDAQ:) is scheduled to report its fiscal 2021, second-quarter earnings on Wednesday, Apr. 28 after the market close. Analysts, on average, project the company to post $0.98 a share profit on sales of $76.71 billion.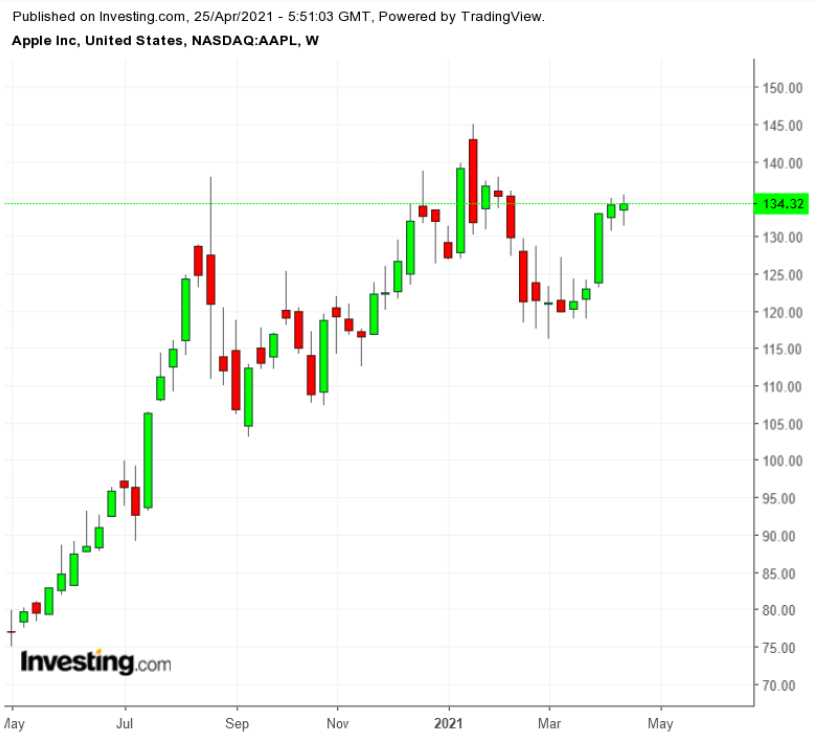 Apple's stock has been a laggard so far this year amid uncertainty about the sale of its new iPhones. After experiencing a period for its flagship product, Apple is on the verge of another super growth cycle, fuelled by its newer 5G-enabled phone models. 
The iPhone 12, according to some bullish forecasts, will trigger a record boom in sales similar to when the first large-screen iPhone was introduced in 2014, as millions of existing users will likely upgrade aging smartphones.
Apple shares, however, have barely budged this year, following their 80% jump higher in 2020.  AAPL closed on Friday at $134.32.
3.  Amazon
Online retail juggernaut Amazon (NASDAQ:) is scheduled to report Q1 earnings after the market closes on Thursday, Apr. 29. The consensus is that the world's most valuable e-commerce company will report $104.49 billion in sales, producing per share profit of $9.49.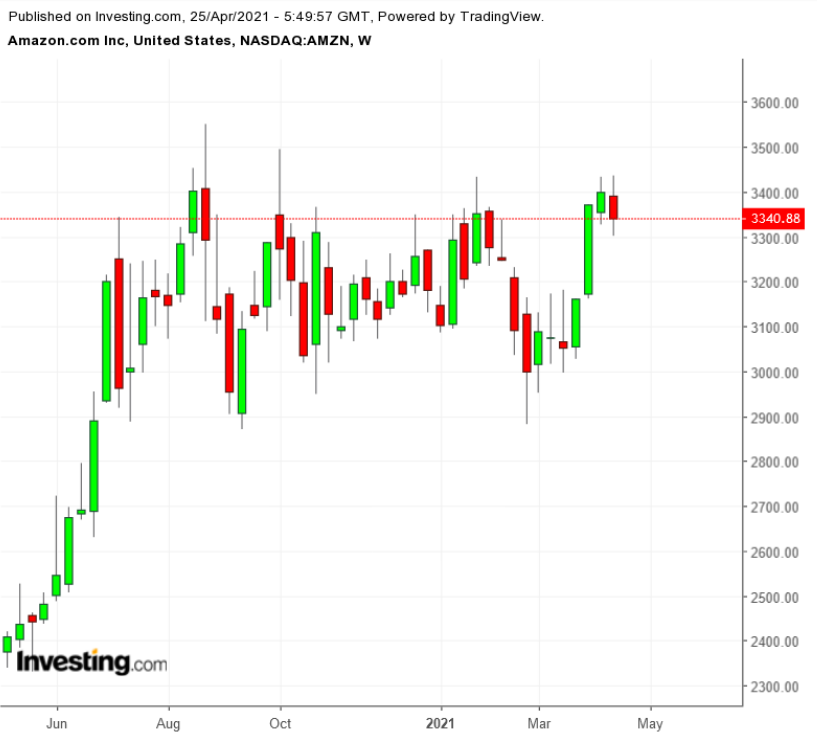 Since the outbreak of COVID-19 in March of last year, Amazon's as people, staying at home, continue to make more and more of their purchases online. That's the main reason that Amazon shares—after plunging in early March—have rebounded strongly since then. They closed on Friday at $3,340.88, up about 6% during the past month.
Any share weakness on a negative surprise should provide an ideal buying opportunity. Amazon continues to be an amazing business, spending aggressively in new growth areas, such as cloud computing. Its digital advertising business, another high-margin venture, is expanding at a triple-digit rate.  
Source link