May 17, 2020
Posted by:

Trading

Category:

Analysis
U.S. stocks are struggling to continue their upward march after a major comeback since the March lows, amid increasing risks to this fragile rally.
With ongoing economic uncertainty now and into the post-pandemic world, investors have started focusing on renewed prospects of a trade war as the Trump administration continues to blame China for mishandling the COVID-19 outbreak. The Commerce Department said on Friday it would "strategically target Huawei's acquisition of semiconductors that are the direct product of certain U.S. software and technology."
, Hu Xijin, editor-in-chief of Chinese state-run publication Global Times, tweeted the same day that China would "restrict or investigate" U.S. companies including Qualcomm (NASDAQ:), Cisco Systems (NASDAQ:) and Apple (NASDAQ:) if the U.S. takes further action to block Huawei's supply chain.
During the upcoming week, even with some high profile companies releasing earnings, the U.S.-China tension and coronavirus updates will likely grab the major attention. Nonetheless, here are three stocks worth having on your radar:
1. Walmart
America's biggest retailer, Walmart (NYSE:) will report Q1 2020 earnings on Tuesday, May 19 before the market opens. Consensus anticipates EPS of $1.13 on revenue of $131 billion.
With anxious shoppers hoarding staples and food, and non-essential retailers shuttered during coronavirus lockdowns, Walmart's large brick-and-mortar presence has likely helped the retailer to further expand its customer base and appeal.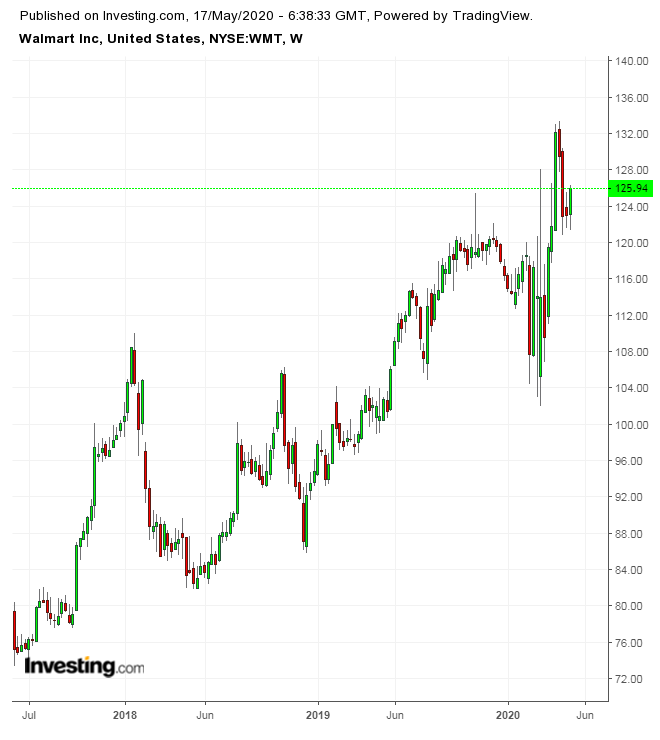 Hefty investment in e-commerce, health care and its 1.5-million strong workforce is a unique winning combination which has positioned the mega retailer to supply large swaths of the nation as governments and other businesses grapple with how to respond to the unprecedented health and economic threat.
With the expectation the Bentonville AR-based retailer will report and growing online sales, investors have pushed WMT shares up 6% this year. The stock closed up 2% on Friday at $125.94.
Comparable sales and Walmart's online expansion will be the two critical numbers investors should focus on.
2. NVIDIA Corporation
One of the world's largest chipmakers, NVIDIA Corporation (NASDAQ:) reports first quarter earnings on Thursday, May 20 after the market close. Analysts are expecting EPS of $1.66 on revenues of $2.97 billion.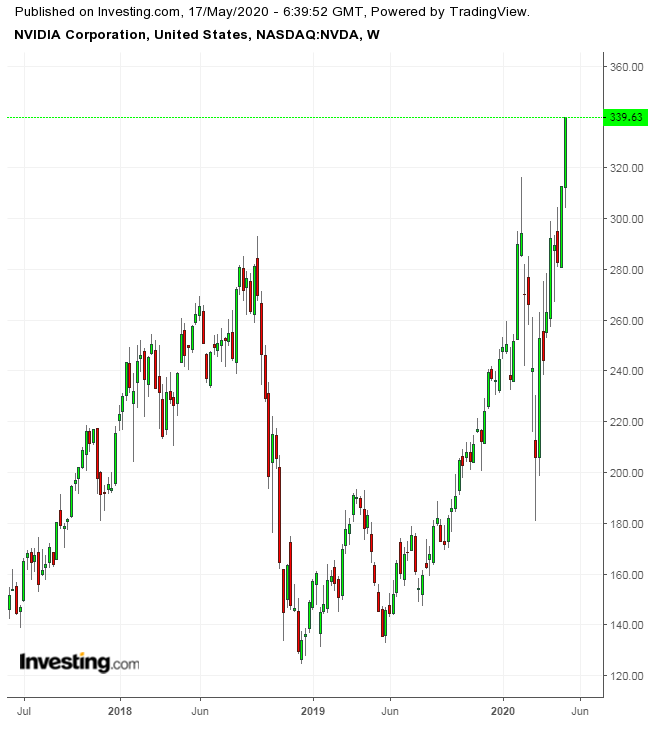 After soaring 76% in 2019, shares of NVIDIA continued their ascent this year, despite the threat of a deep recession. The stock hit a record high on Friday, after surging 44% in 2020, massively outperforming the which is down 9.4% so far in 2020. NVDA closed Friday at $339.63 after gaining about 6% during the session.
While the chipmaker is unlikely to escape the demand slowdown caused by COVID-19 business closures, analysts are focusing on the company's balance sheet, cash flow, and product categories, all of which are expected to in the current environment.
NVIDIA is likely to benefit from higher demand for chips used in medical applications, while the remote-work trend will help overall demand for cloud-computing chips.
3. Alibaba  
The Chinese e-commerce giant, Alibaba (NYSE:) will report its fiscal 2020, fourth-quarter results before the market opens on Friday, May 21. Analysts project $0.83 EPS on sales of $117.98 billion.
The from Alibaba will give some insight on Chinese as the world's second-largest economy tries to recover from the pandemic which pushed into negative territory this year.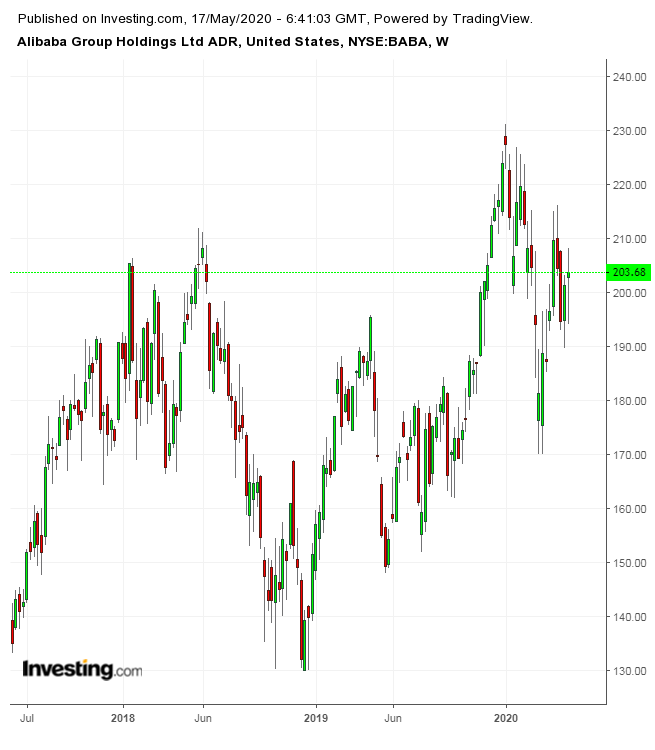 Alibaba shares are down 4% for the year. They closed at $203.68 on Friday. Like U.S. counterparts such as Amazon (NASDAQ:) and Alphabet (NASDAQ:), Alibaba is also investing heavily to expand its market share in the growing cloud-computing segment.
The company plans to invest 200 billion yuan ($28 billion) on cloud infrastructure such as data centers over the next three years, a major effort to extend one of its fastest-growing businesses into additional countries.
Source link