May 26, 2020
Posted by:

Trading

Category:

Analysis
News on progress in developing a potential COVID-19 vaccine has had a on volatile as of late.
With more than 100 vaccines currently in various stages of development worldwide and eight in clinical trials according to the World Health Organization, a slew of biotechnology and pharmaceutical companies are racing to deliver a vaccine for COVID-19, which has infected nearly 5 million people worldwide and killed more than 323,341.
Here are five companies showing promise in developing a vaccine:
1. Moderna
Vaccine: mRNA-1273
Development: Phase 1 trial complete, Phase 2 trial set to start
Moderna (NASDAQ:), whose stock soared 19.96% on Monday after the company shared news of the success of its Phase 1 vaccine trial, is a biotechnology company focused on the discovery and development of drugs and vaccines which contain genetic material called messenger RNA, or mRNA.
Shares have surged an impressive 266% so far in 2020, with investors betting on the company to emerge as one of the leaders in delivering a COVID-19 vaccine.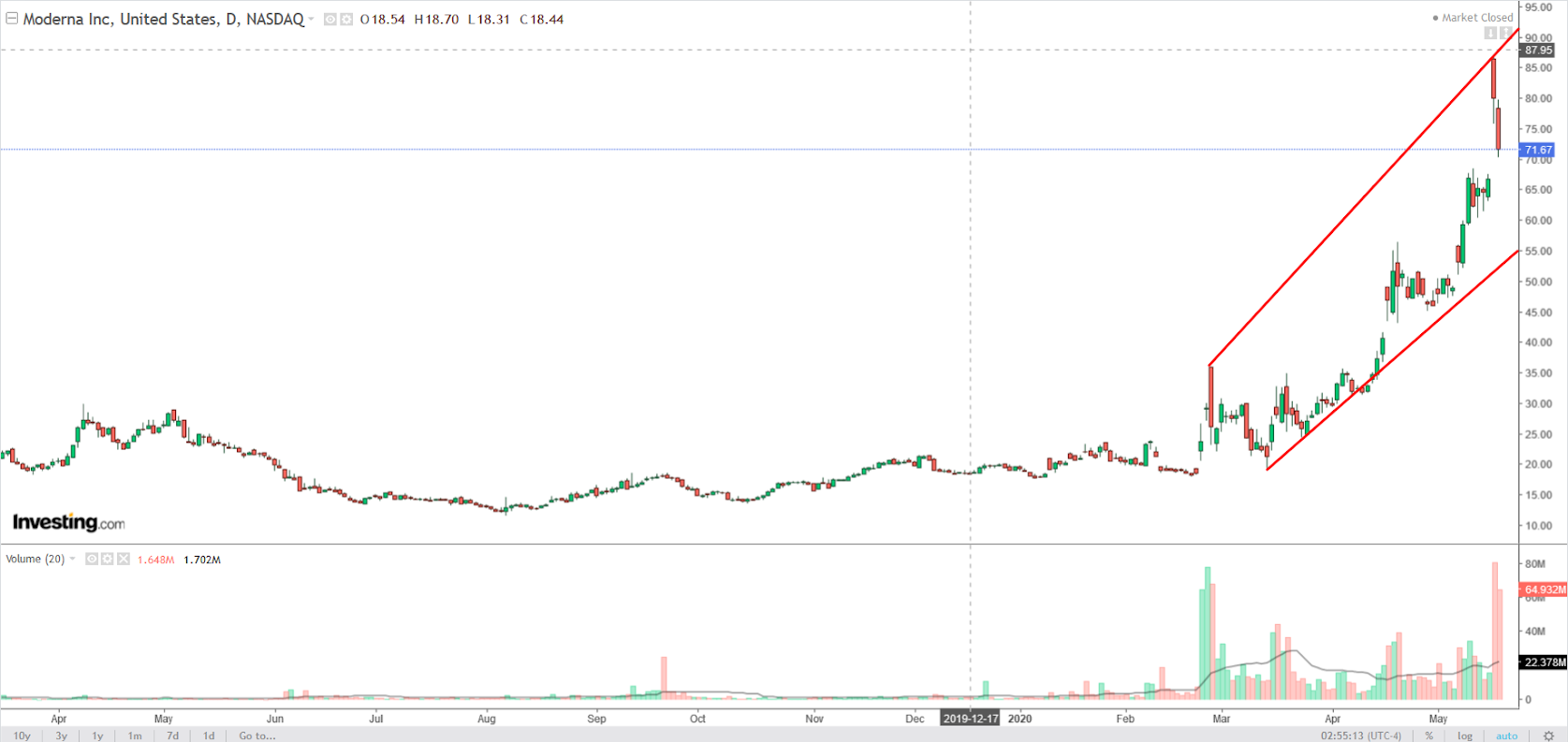 The Cambridge, Massachusetts-based firm has been in focus this week after sharing a press release May 18th announcing positive data from its Phase 1 human trial for its COVID-19 vaccine candidate, mRNA-1273. The trial included 45 participants, 8 of whom developed antibodies against the virus.
The company, which has been fast-tracking work with the National Institutes of Health to develop a vaccine, is the first to share results on human trial testing of a potential coronavirus vaccine.
Despite for failing to publish the complete data mentioned in the press release and subsequent investigation into these concerns by investors, the U.S. Food and Drug Administration has already given Moderna approval for a Phase 2 trial, which will include 600 participants. The company said it then expects to begin a Phase 3 trial in July, pending regulatory approval.
If the vaccine is found to be effective and safe to use, it could be ready for the market in early 2021, the Moderna reported.
2. Inovio Pharmaceuticals
Vaccine: INO-4800
Development: Phase 1 trial, Phase 2 set for later this summer
Inovio Pharmaceuticals (NASDAQ:) is a late-stage biotechnology company focused on the discovery, development, and commercialization of synthetic DNA immunotherapies and vaccines for treating cancers and infectious diseases.
Inovio's stock is up about a whopping 220% year-to-date. It is widely considered to be one of the front-runners among companies developing a COVID-19 vaccine.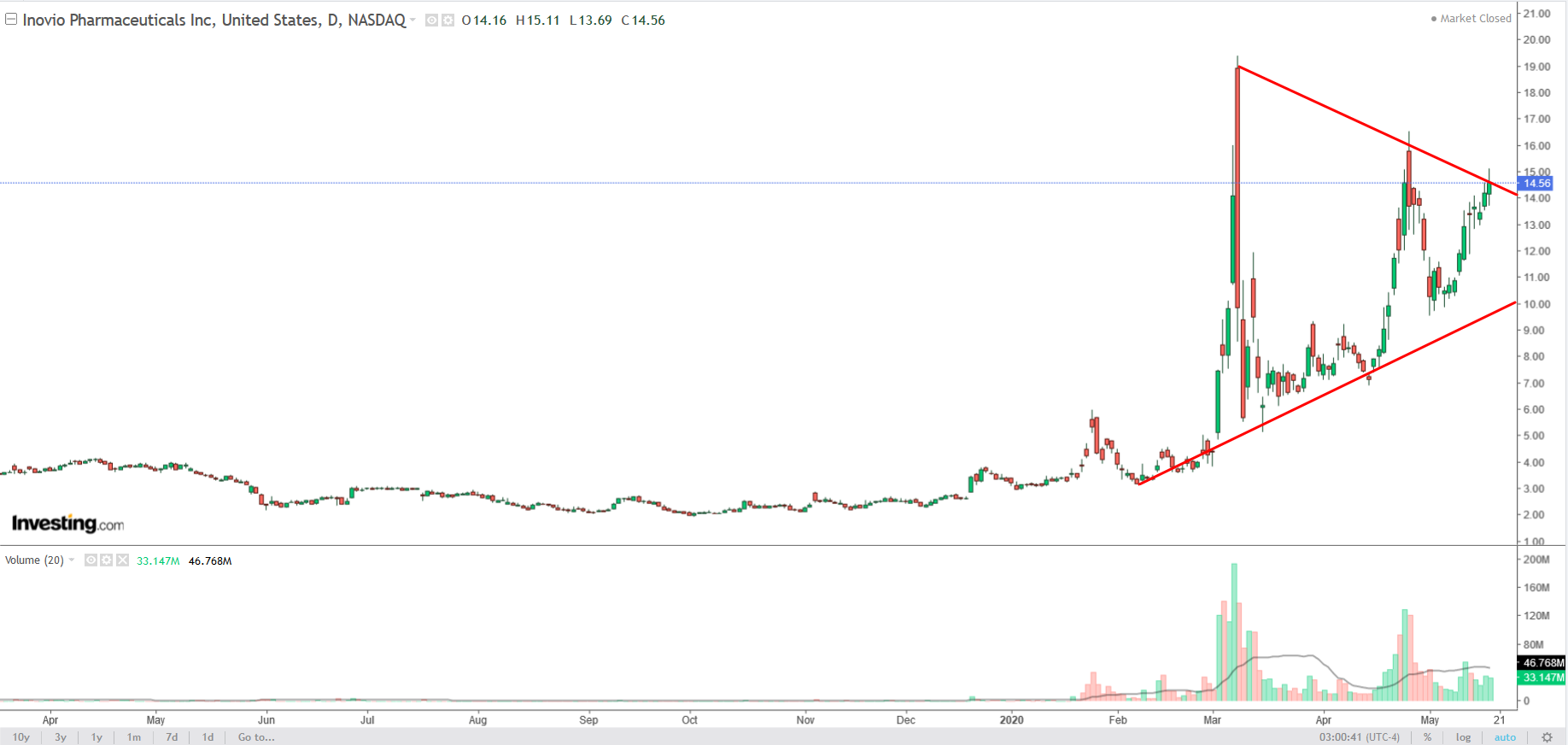 The Pennsylvania-based biotech firm is currently running a Phase 1 clinical trial for INO-4800 on 40 healthy adult volunteers, making it the second potential COVID-19 vaccine to undergo human testing after Moderna's offering.
Preliminary Phase 1 data is due in late June and Phase 2 and 3 clinical trials are planned for later this summer, pending regulatory approval.
Inovio reported earlier this month, with both earnings and revenue missing forecasts. Despite the weak results, investors were excited to hear that Inovio continues to move rapidly through the early stages of the development of its COVID-19 vaccine.
3. Novavax
Vaccine: NVX-CoV2373
Development: Preclinical
Novavax (NASDAQ:) is a clinical-stage biotechnology company focused on the discovery, development and commercialization of vaccines and adjuvants. Through its recombinant nanoparticle vaccine technology, it produces vaccine candidates to respond to both known and newly emerging diseases.
Shares of the high-flying Gaithersburg, Maryland-based biotech company are up a staggering 1,245% year-to-date amid bullish bets its coronavirus vaccine candidate will materialize into a major revenue source in the years ahead.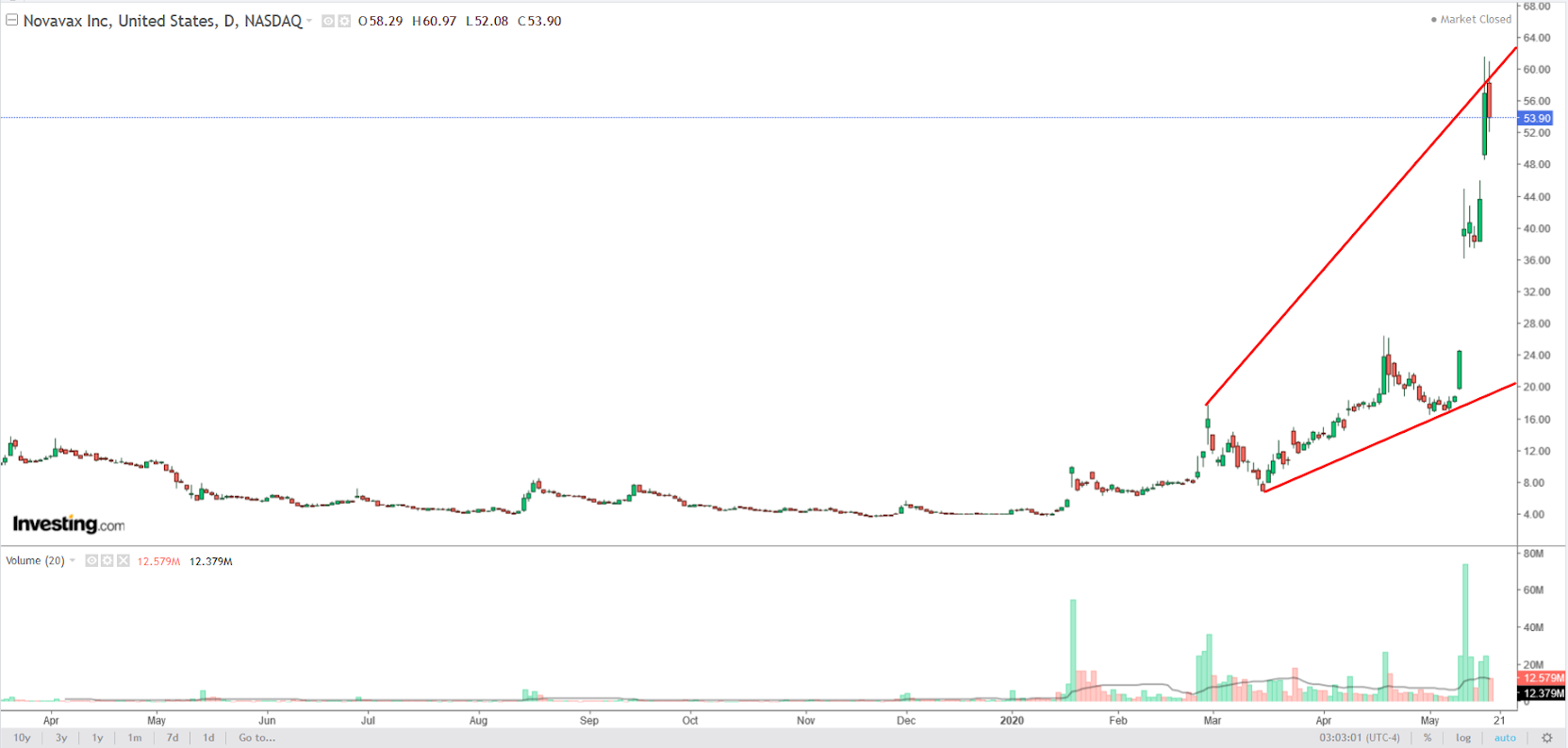 Novavax for the first quarter when it reported a loss of 58 cents per share on revenue of $3.4 million earlier this month. Analysts were expecting a loss of 69 cents per share and revenue of $1.9 million.
More importantly, the biotech company announced in its earnings release that the Oslo-based nonprofit Coalition for Epidemic Preparedness Innovations will invest $384 million to advance the clinical development of its SARS-CoV-2 vaccine candidate, NVX-CoV2373.
Novavax plans to start human trials in May with preliminary results expected in July.
Honorable Mentions
4. Johnson & Johnson
Vaccine: Ad26 SARS-CoV-2
Development: Phase 1 trial planned for September
Johnson & Johnson (NYSE:) began researching vaccine candidates in January, as soon as the COVID-19 sequence became available.
A Phase 1 clinical trial of the novel coronavirus vaccine is planned for September, with data regarding safety and efficacy available by the end of the year. If all goes accordingly, the vaccine could be ready "for emergency use" in early 2021.
As part of this commitment, Johnson & Johnson will scale up its manufacturing capacity in the U.S. and other countries in order to enable the supply of more than 1 billion doses of the vaccine when it is ready.
5. Pfizer
Vaccine: BNT162
Development: Clinical trials
Pharmaceutical giant Pfizer (NYSE:), which is working alongside German drugmaker BioNTech (NASDAQ:) to develop a coronavirus vaccine, says it should have initial data from its stage one clinical trial in mid-to-late June.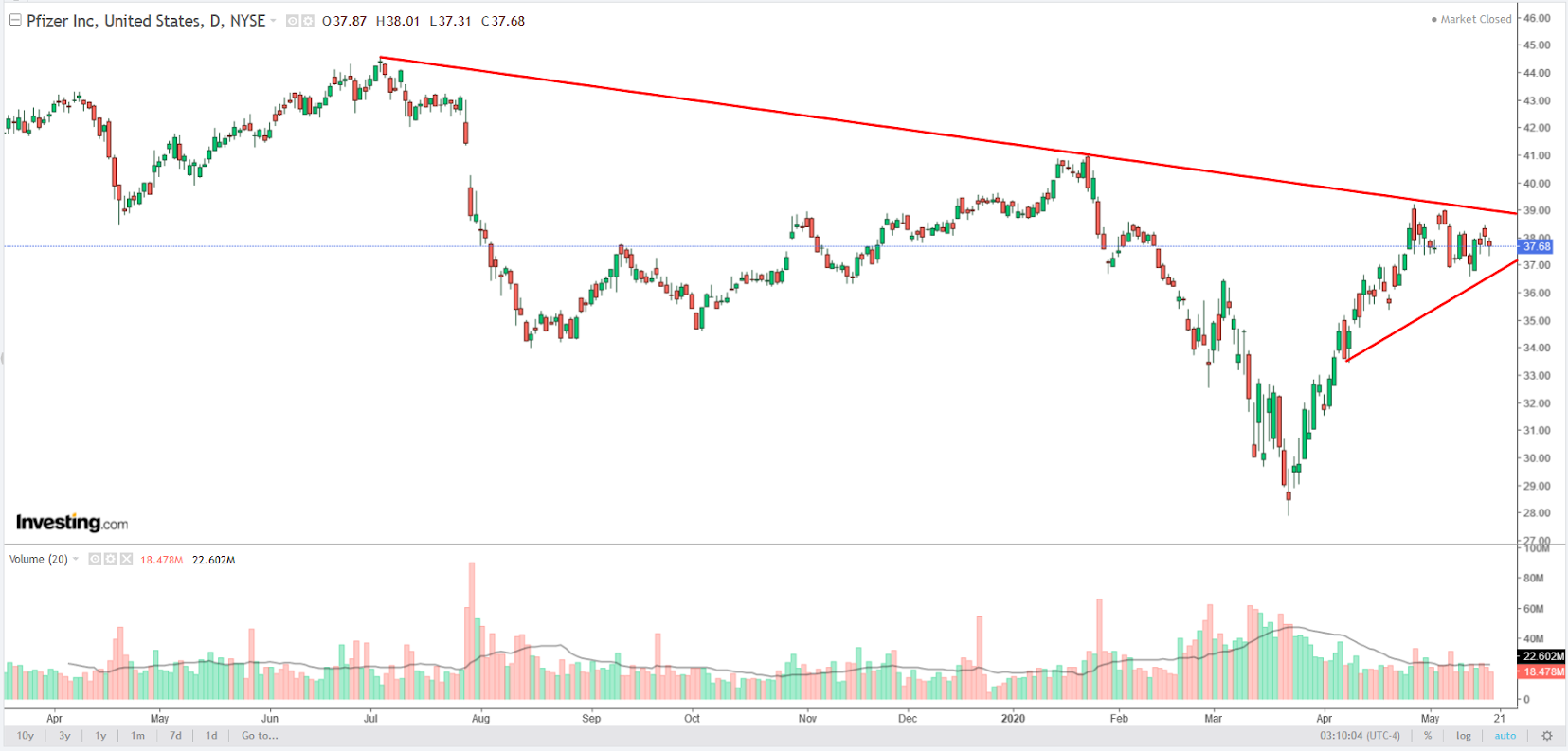 The New York-based company is currently testing four different vaccine variations. If one or two variations indicate success, Pfizer will ramp up clinical trials, and then in September launch a broad large-scale study with thousands of participants.
CEO Albert Bourla said that if the vaccine proves to be safe, the company "will be able to deliver millions of doses in the October time frame." The company plans to produce hundreds of millions of doses in 2021, he added.
Source link