August 9, 2019
Posted by:

Trading

Category:

Analysis
Amazon.com Inc's (NASDAQ:) stock may be poised to rebound by as much as 8% in the coming weeks based on some recent options bets and the technical chart.
The stock fell sharply following disappointing second-quarter results, which were weaker than analysts' consensus estimates. Since July 15 the stock has dropped by over 9% through August 8.
The company reported weaker-than-expected results on July 25, with earnings of $5.22 per share, about 6% lower than estimates of $5.55 per share. However, Amazon was able to deliver better-than-expected revenue of $63.4 billion versus estimates of $62.6 billion. The earnings miss was due to a sharp decline in AWS operating margins. As a result, analysts have cut their earnings estimates for the third quarter and 2019.
Big Bets
However, there are signs that the shares may be about to turn around. In recent days the $1,850 call options for expiration on November 15 have seen a big jump in their open interest. The total open interest over the last five days has increased by roughly 2,000 contracts to 2,140 total contracts.
That may not sound like much but consider that each contract trades for roughly $105. It means that the dollar value of the open interest is around $22 million, a massive wager. For a buyer of the calls to earn a profit, the stock would need to rise to around $1,955 by the expiration date, a gain of about 7% from the stock's price of about $1,830 on August 8.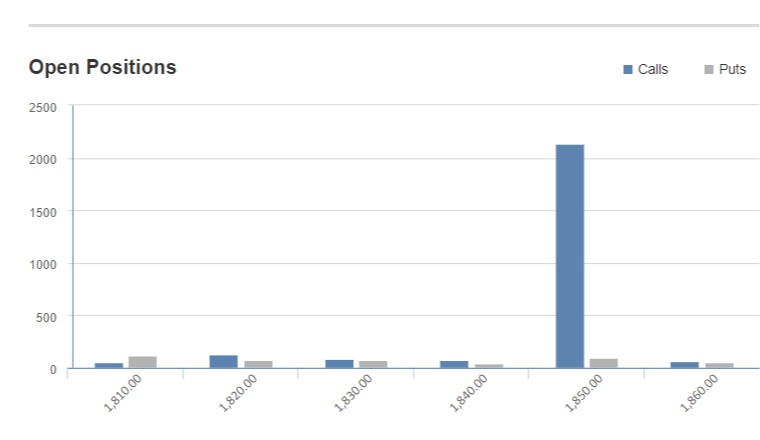 Technical Strength
The technical chart shows that the stock is breaking out after rising above a level of technical resistance around a price of $1,800. This would suggest that the stock could go on to rise to around $1,890, an increase of about 3.5%. Additionally, the relative strength index shows the stock has reached oversold levels falling below 30 on the index, which would imply that the stock will rebound.
Should the equity be able to rise above $1,890, the next meaningful level of resistance would not come until $1,970 — the price that the shares gapped lower from following its disappointing second-quarter results.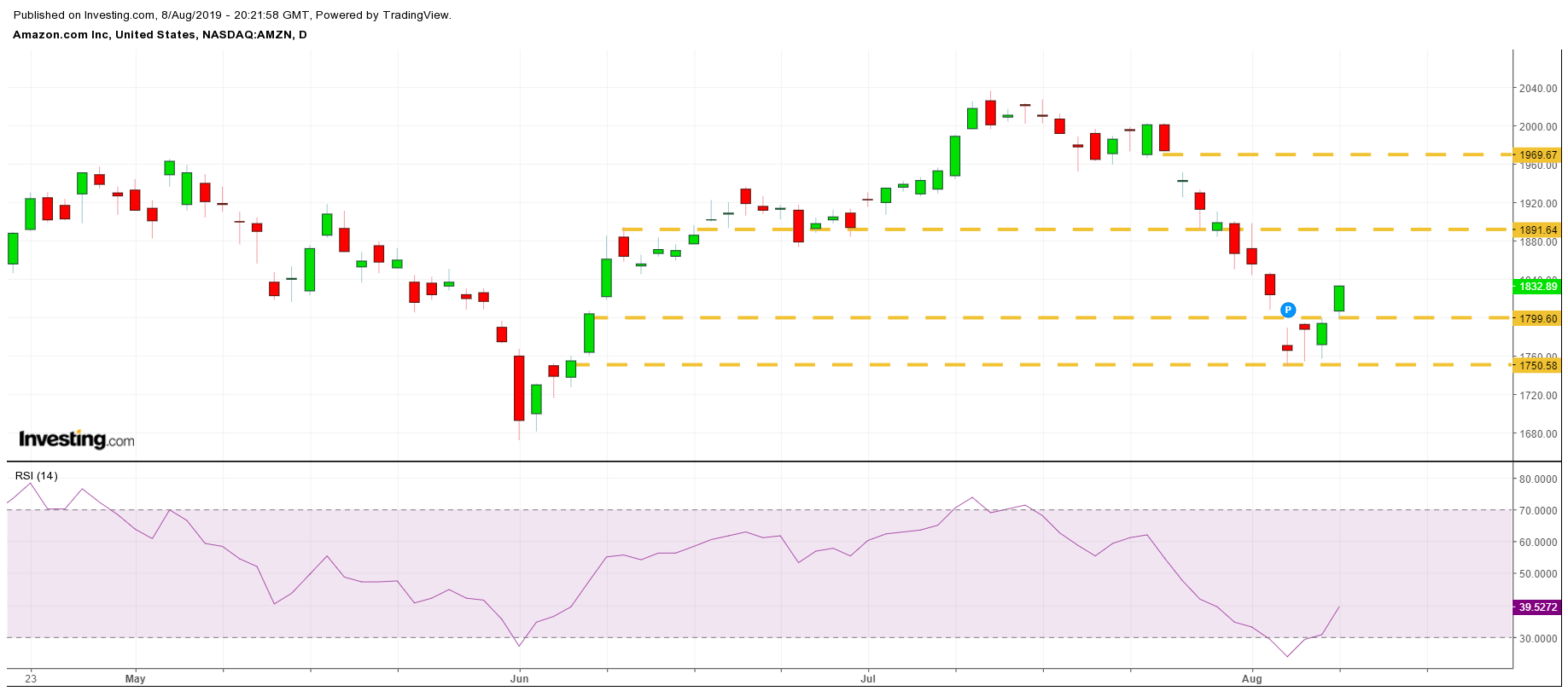 Slashing Estimates
Despite a bullish outlook for the stock, the weaker-than-expected results have led analysts to slash their earnings estimates for the coming third quarter. Based on data from YCharts, analysts now estimate that Amazon will earn $4.75 per share in the third quarter, which is down from estimates for $6.71 per share on July 22, a decline of 29.2%. Even worse, analysts have slashed their 2019 forecasts to $24.03 per share from $27.06. They have also cut their forecasts for 2020 to $34.06 from $38.20.
Weaker Margins
The weaker earnings come despite analysts increasing their revenue estimates for 2019 and 2020 by about 1 and 2%, respectively. That is because costs for Amazon have been on the rise, and that has hurt the company's operating margins, dragging earnings lower. Amazon's web services business saw a big decline during the second quarter. AWS's operating margin fell to 25.3% its lowest level since the first quarter of 2018.
Some investors are betting the recent weakness in the stock, and disappointing results won't last. Amazon has had the unique ability to control its bottom line like few other companies. The online retail giant has consistently been able to beat analysts' consensus estimates by a wide margin. This means that even as analysts aggressively cut their upcoming earnings estimates, it's entirely possible that Amazon will deliver third quarter results well ahead of expectations in October.
Source link