April 30, 2020
Posted by:

Trading

Category:

Market Overview
Reports Q2 FY2020 Q2 results on Thursday, April 30, after the market closes
Revenue Expectation: $54.99 billion
EPS Expectation: $2.31
When Apple (NASDAQ:) releases its fiscal 2020, second quarter earnings report later today, the iPhone maker will have to show that it's got everything in place to recover from the coronavirus-induced slowdown.
The biggest challenge facing Apple in this highly uncertain economic environment? Offering new iPhone models—the company's iconic cash cow—that will be compelling enough for consumers to buy, even when their spending power has been severly diminished by the brutal economic downturn.
Indeed, yesterday the U.S. reported shrank at a 4.8% annualized pace in the first quarter, the biggest slide since 2008 and the first contraction since 2014, as the need to fight the coronavirus forced businesses to close and consumers to stay home.
While Apple has reopened some of its stores in Asia and factories there have resumed production, it's still a wild guess whether consumers will remain eager to buy the company's newest iPhone models. About two-thirds of the smartphone's total sales come from the U.S. and Europe.
The latest media reports say that Apple is forging ahead with plans to release four new iPhone models later this year, after overcoming initial disruptions to its supply chains as the COVID-19 pandemic spread.
The phones, some with 5G connectivity, will vary in price and come in three sizes—5.4 inches, two measuring 6.1 inches, and one at 6.7 inches, all featuring organic light-emitting diode, or OLED, screens, the Wall Street Journal reported this week.
The timely launch of new models is crucial for Apple's as new phones account for the majority of iPhone sales for an entire year. In addition, the phone segment accounts for more than half of the company's total revenue.
Shares Rally On Recovery Hopes
A quick recovery in Apple's stock, after a sharp sell-off in March, shows that investors haven't lost faith in one of the most innovative companies in the world.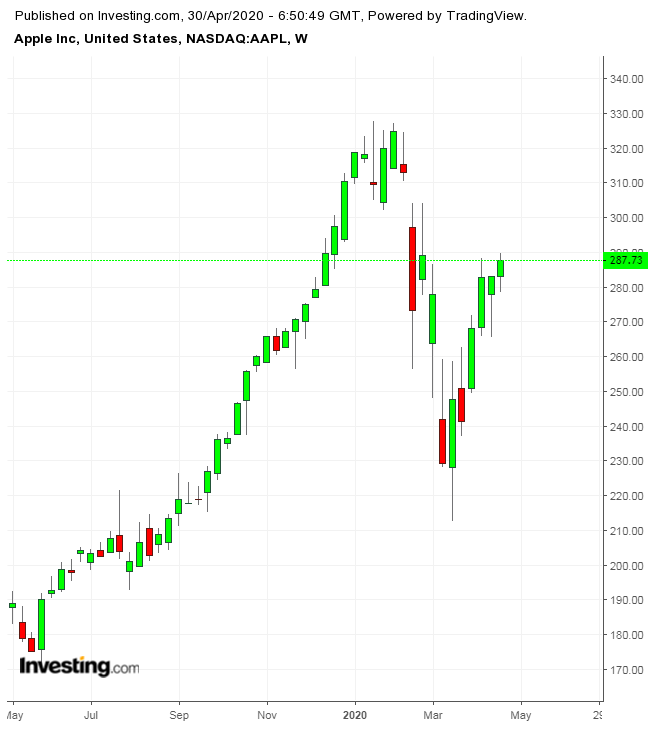 AAPL Weekly TTM
Shares of Apple have risen 28% off a low hit last month, outperforming the benchmark . The stock closed Wednesday at $287.73, after gaining 3.28% for the day.
Driving this extreme optimism is hope that Apple's iPhone business will get a boost when the company releases its 5G models, currently expected in September 2020, which will allow consumers to have a much faster connection speed and help iPhone shipments see growth for the first time in two years.
The potential 5G boost, the rapidly increasing revenue from Apple's AirPods, smartwatches and services such as streaming music subscriptions and mobile payments are also bolstering the belief that the corporation is succeeding in cutting reliance on the more cyclical hardware business and is on the way to becoming a service company.
But this powerful combination of services and hardware could still come under threat if the weak economy keeps consumers away from spending. Apple could see the number of iPhones sold slump by more than a third in the second quarter, according to a Goldman Sachs estimate.
Unit sales for iPhones are set to drop by 36% year-on-year in the second quarter, before recovering to just a 2% decline by the fourth quarter of this year, analysts for the investiment bank, including Rod Hall, wrote in a recent note.
Bottom Line
Apple has been left vulnerable by the economic disruption caused by the coronavirus, and its growth plans uncertain. During today's earnings release, the company needs to show it has a plan to overcome these challenges.
Source link