May 29, 2018
Posted by:

Trading

Category:

Currency Forecast
The theme that dominates financial markets today is the Italian political crisis that erupted on Sunday after President Sergio Mattarella refused to approve Paolo Savona, a euroskeptic economist as the country's finance minister. This development deepens the political divide in Italy—between supporters of the eurozone and populists. It also means that Italy, Europe's third largest economy, still doesn't have a confirmed ruling coalition, a situation that's existed since the country's March 4th election which resulted in a hung parliament.
The current impasse, which could necessitate new elections, has also weighed heavily on the , as any change in political positioning within Italy could call into question that country's participation in the eurozone if populist politicians gain additional traction. FX traders are justified in their concern; many remember the 3:1 'No' vote in December 2016 when then-President Renzi wished to reform the country's complicated government structure because he was an EU supporter.
Will Europe now once again go through the same uncertainty it did when the UK voted to disconnect from the European Union? Although there is no such vote on the docket, and markets have been quick to dismiss geopolitical risk of late, Europe has undoubtedly been going through a transformation, as far right parties have been mushrooming across the continent, becoming more visible for the first time since WWII.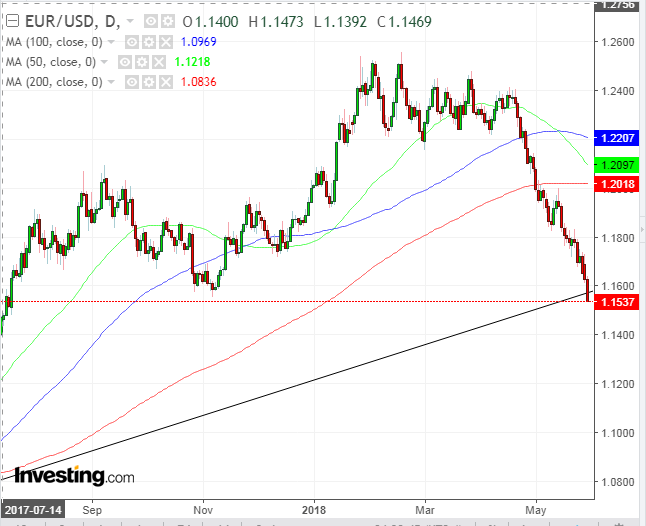 EUR/USD Daily Chart
From a technical perspective, the single currency is flirting with a reversal, from up to down. It has just breached an uptrend line since January 2017, as it registered a trough lower than the preceding, November 7, 1.1579 low.
As well, the 50 DMA (green) crossed below the 100 DMA (blue) on May 14. Since then, the 50 DMA has been falling towards the 200 DMA (red) in a challenge. Should it successfully penetrate its barrier on the downside, it would execute a Death Cross within a bearish moving average format, in which the shorter time frame is weakening more than a longer time frame, indicating that prices are worsening by multiple measures.
To clarify, right now the trend is still up, as it requires two consecutive, descending peaks and troughs to establish a downtrend. So far, the euro has registered only the necessary two lows but not the mandatory two highs. A correction of at least a third of the prior move is required to establish another peak, lower than one on April 17, at the 1.2400 level.
Trading Strategies – Short Position Setup
Conservative traders would wait for a second, lower peak, to establish a downtrend.
Moderate traders might risk a short position with the uptrend line penetration of at least 2 percent to 1.1346, to avoid a bear trap. It may be worthwhile to wait for a pullback, to enter at a better position.
Aggressive traders may short with a 1 percent penetration of the uptrend line to 1.1450. They too might wait for a potential pullback to the resistance of the broken uptrend line.
Source link