January 22, 2019
Posted by:

Trading

Category:

Currency Forecast
Earlier today, the reversed gains, though it has since inched higher, as it continues to trade at the top of a multi-week range, toward 1.3000. Any movement on the currency right now is being driven by hopes that some sort of Brexit-related deal between the U.K. and the EU would be reached before the March 29 deadline.
Konstantinos Anthis, Head of Research at ADSS, an Abu Dhabi based forex and CFD brokerage firm, believes that unless the British prime minister intends to commit "political suicide," an extension request is the most likely scenario. He thinks the EU will probably agree. This would be a positive development that would take the pound towards $1.30, he said. "Of course, on the off chance she doesn't request an extension, or the EU rejects such a request, the pound would crash to $1.25," he warned.
At the moment the pound is range trading, with no known fundamental or geopolitical change to provide some added energy—in either direction. In other words, 'informed money' could be acting ahead of an upcoming news release, or technicals are taking over.
On Thursday, the pound outperformed all major currencies, soaring to a more than two-month high, on growing confidence that a no-deal Brexit would be avoided. Cable's drop on Friday seemed unrelated to politics; rather it appeared to be sparked by the release of disappointing numbers for the holiday season.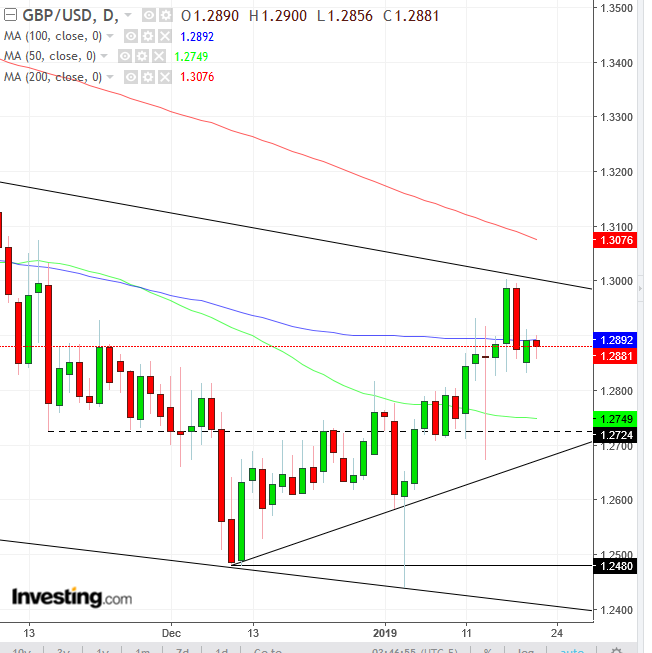 Technically, however, the pound dropped when it reached its downtrend line since May—the month, not the PM. The downtrend line's significance is reaffirmed with the 200 DMA falling toward it, indicating it's an important technical pressure point.
Yesterday's failed attempt to close above the 100 DMA, compounded by today's failed attempt to transcend the MA, confirms its technical significance as well. The next test might be the 50 DMA, which is hovering above the 1.27 level, a proven support/resistance level (dotted line).
Anthis's prediction that the pound will move according to Britain's ability to secure a deal matches the technical map—with 1.3000 at the top of the downtrend line (turned into a falling channel since August) and toward its December trough bottom in the 1.25 area, which provided support for the pound's flash crash in early January.
Trading Strategies: Short Position Setup
Conservative traders would wait for the short-term and medium-term trends to realign, after the price falls below the uptrend line since December 12.
Moderate traders may short after a close below the 100 DMA.
Aggressive traders my risk a short now.
Trade Sample
Entry: 1.2880
Stop-loss: 1.2900
Risk: 20 pips
Target: 1.2800
Reward: 80 pips
Risk-Reward Ratio: 1:4
Source link