October 6, 2018
Posted by:

Trading

Category:

Currency Forecast
expectations are sky high as the market predicts an 180K increase in September. This means that it's unlikely for the report to surprise to the upside while there is an increased potential for disappointment.
Regardless of the NFP, the long-term outlook is certainly higher. The Fed already hiked interest rates three times this year, and Fed Chair Jerome Powell's recent comments clarified that they're . Powell stated that the extraordinary accommodation was intended as a safety measure in order to support future weakness in the economy. He also repeatedly said that the US economy is healthy.
The US data dropped to the lowest level since 1969 and the added the most workers in seven months, according to the ADP research institute.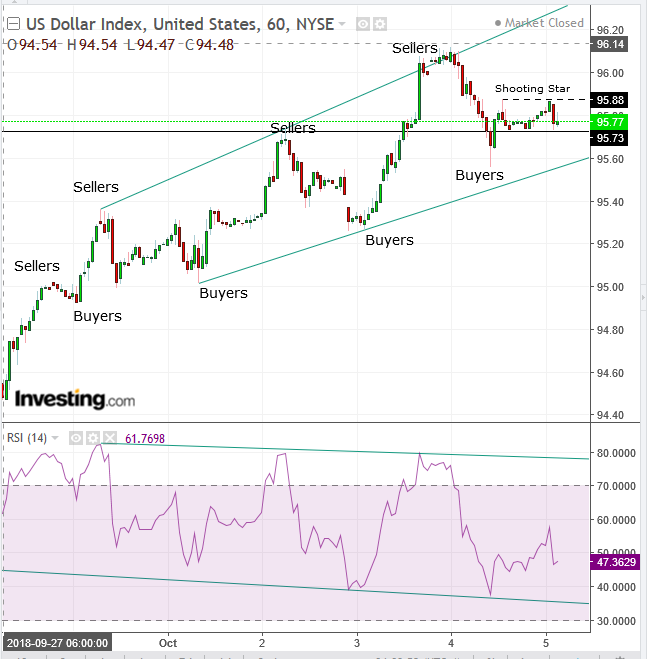 DXY 4-Hour Chart
With all these economic positives earlier in the week, even if the NFP meets expectations, all this good news is probably already priced into the dollar. This is evident by its 1.7 percent rise in the six day advance ending Wednesday. After opening 0.32 percent higher on Thursday, the dollar ended with a slight setback. It happened on the cusp of two key technical levels. The first technical level was the September 4 peak of 95.75. The second technical level was the uptrend line since May 14, which the price climbed back over on Wednesday, after violating it starting September 12 with 1.35 percent penetration. Perhaps traders are under the impression that the dollar rose too much too fast.
The greenback has been scaling upward within a rising channel since Monday morning. The pattern demonstrates that buying outpaces supply. Each time sellers push the price down, buyers catch it and push it back even higher. This pattern is already in its fourth cycle. Should buyers manage to push the price up past yesterday's 96.12 peak, it will have started a fifth cycle.
However, the RSI, which measures the momentum of the price, has been providing a negative divergence. Momentum has been stronger on the selling than on the buying. Since a movement is as strong as its momentum, this may be a sign that the current rising channel of the price is about to end.
Naturally, should the NFP provide an upside surprise, with say, a number higher than the psychological-round 200K, the dollar is likely to continue to scale higher. In this case, the test would be on the previous peak as a buying spring board once it's bested, or as a ceiling for selling if it holds.
Trading Strategies – Short Position Setup
Conservative traders should wait for a downside breakout of the rising channel before entering a position.
Moderate traders may rely on yesterday's shooting star, confirmed at 1:00 EDT, and enter at that level with a close stop-loss above 96.00
Aggressive traders may short now and hold on to what may follow the release, with a stop-loss above 96.00
Trade Sample
Entry: 95.85
Stop-loss: 96.00
Risk: 15 pips
Target: 95.00, round-psychological number.
Reward: 85 pips
Risk-Reward Ratio: 1:6
Source link