May 12, 2020
Posted by:

Trading

Category:

Analysis
, gold's cheaper but often overlooked precious metal associate, has completed a bullish pattern. It appears the white metal—which has both luxury and industrial uses—is about to catch up to , by replicating its medium-term surge even as the yellow metal has been beset by profit-taking during the same time that equities bottomed at the end of March.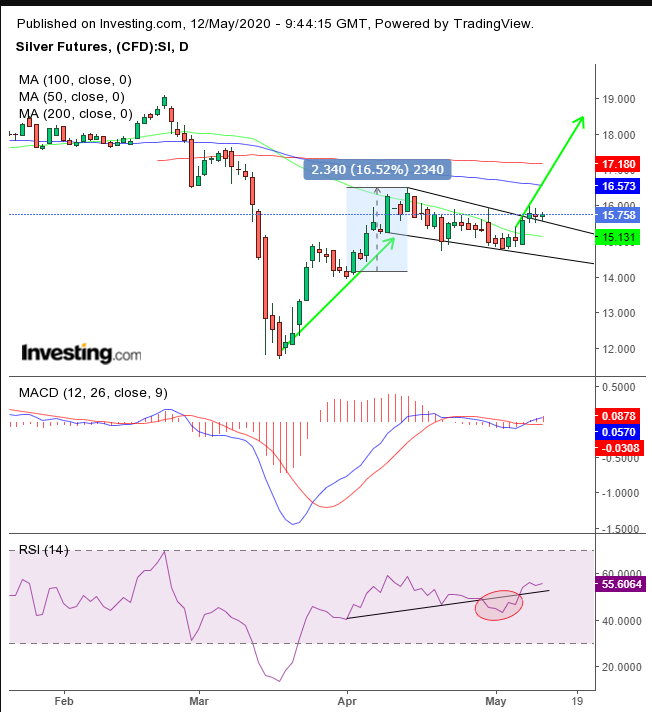 Silver futures have been trading according to a falling flag. That's a period when new bulls come in to pick up the profit-taking supply sold by earlier bulls. It's considered bullish after the range followed an advance.
The RSI developed a failure for a would-be H&S top, as momentum was slowing down per the dynamics of the falling flag, described above. The recent return above the neckline, demonstrates a spike in momentum to complement the upside breakout of the price.
Similarly, the MACD—which is a lagging indicator, as opposed to the momentum-based RSI—is showing the same thing, with the short MA falling, then climbing back above the long MA. It's demonstrating that the price advance has broad-based support, rather than it being just short-term noise.
Conversely, the actual price is better than the average price of the last 50 days, as the price crossed above the 50 DMA
Putting it all together provides an argument for another rally for silver, one that's even more powerful than the one seen for gold, as it closes the gap between them.
Trading Strategies
Conservative traders would wait for at least one long, green candle, followed by a return move to verify the tenacity of demand, with a bounce off the pattern.
Moderate traders may wait for the same deeper penetration beyond the pattern breakout, as well as wait for a pullback, for a better entry, not necessarily for proof that the supply-demand balance has returned to the preceding trend.
Aggressive traders may go long now, provided they accept the possibility of a bull trap and execute a plan accordingly.
Trade Sample
Entry: $15.75
Stop-Loss: $15.00
Risk: $0.75
Target: $18.00 – the minimum implied target based on measuring the jump before the pattern
Reward: $2.25
Risk:Reward Ratio: 1:3
Source link