September 20, 2019
Posted by:

Trading

Category:

Currency Forecast
The is caught in a downward vortex, heading still lower, despite expectations the BoE will leave following Japan's relatively earlier today, as continuing Brexit woes keep it firmly in a long-term downtrend.
UK Prime Minister Boris Johnson has as little as 12 days to deliver a Brexit plan to the European Union, while the country's supreme court hears arguments to rule on the lawfulness of the PM's five-week suspension of Parliament. Throughout all this uncertainty, political infighting continues as Johnson refuses to share details of his plan. His opponents are skeptical he even has one and demand sufficient time to review such a plan before submission to the EU.
The OECD has warned that a no-deal Brexit will reduce UK economic growth by 3%, leading the country into recession amid a global slowdown.
Where does that leave traders trying to make sense of such convoluted market fundamentals? The charts can offer some insight via a view of the overall supply and demand.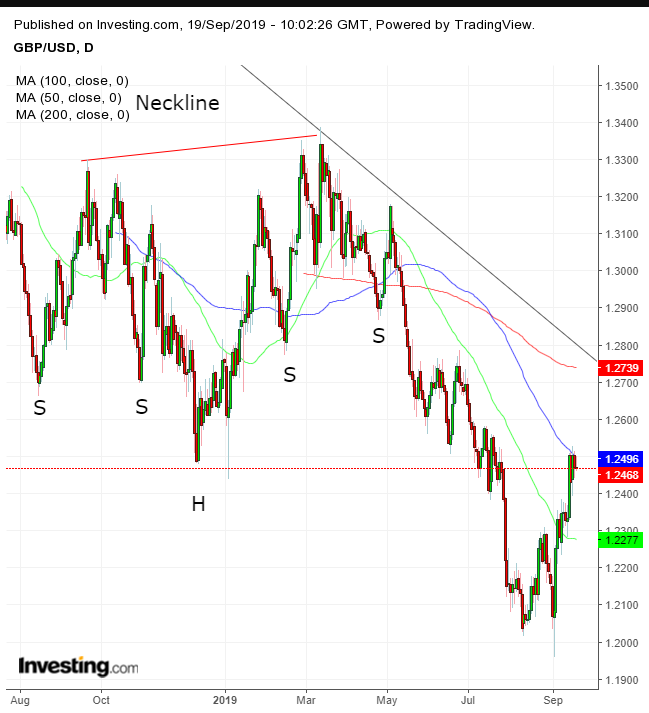 GBP Daily Chart
The pound hit a brick wall at the 100 DMA for the fifth day, after jumping more than 5% since the hammer low on Sept. 3 when the opposition forced Johnson back to a deal with the EU.
The resistance at this level fits into the puzzle as it agrees with December lows — the head of a failed H&S bottom, which is presumed to have flipped a bullish setup to an agreement among traders to continue lower.
Moreover, supply has halted demand as the price neared its downtrend line since April 2018.
Finally, the pound is unable to climb back above 1.2500. The roundness of that figure renders it a psychological barrier because people tend to think in whole numbers and are presumed to have placed sell orders at that level.
All this demonstrates the higher probability of another leg down, unless the long-term downtrend line at 1.2700 is breached.
Trading Strategies – Short Position Setup
Conservative traders would wait for either a full upward correction toward the downtrend line with evidence of supply or for a new low below the Sept. 3 trough of 1.1959.
Moderate traders may enter a position after a close below 1.2400 — where the price has found support since stalling at 1.2500 Friday — followed by evidence of resistance upon an attempted rally to cross back over the 1.2400 level.
Aggressive traders may trade at will, providing they can write a trade plan that fits their account's acceptable risk.
Trade Sample
Entry: 1.2475
Stop-Loss: 1.2575
Risk: 100 pips
Target: 1.2175
Reward: 300 pips
Risk:Reward Ratio: 1:3
Source link