September 13, 2018
Posted by:

Trading

Category:

Currency Forecast
The has been holding steady, even after the BoE this morning. As well, the central bank indicated that its August guidance remains on track. Future rate hikes will likely be gradual, and limited.
Indeed, the outlook for sterling now looks brighter on indications that the threat to UK Prime Minister Theresa May's Brexit plans by members of the eurosceptic European Research Group (ERG) were fading. The ERG had been angling to remove May, the Times reported, but the group failed to gather sufficient numbers to support open defiance. Moreover, backbench Brexiteers are said to have distanced themselves from the ERG position, further weakening the hoped-for rebellion.
If these reports are accurate—and the Times does have a reputation for accuracy—then the threat to Theresa May's quest to deliver a Brexit deal might have been exaggerated. Would this mean cable is headed higher?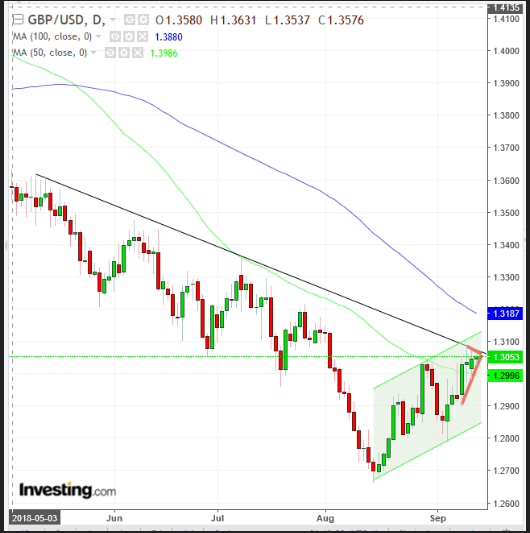 GBPUSD Daily
Technically, the pound has been falling since mid-April when it peaked 1.4378. Since early May the decline has moderated, as can be seen by the downtrend line. The price rebounded from the 1.2662 low of August 15 with an ascending channel, which is now testing the downtrend line.
Should the pound close at these levels, it will have been the tightest close to the downtrend line since it began forming four months ago. Additionally, it's the first time since the creation of the downtrend line that the price is above the 50 DMA (green).
Finally, the price has been consolidating for six sessions within a continuation pennant, bullish in an uptrend. It's in the midterm, thanks to the succession of rising peaks and troughs since the mid-August bottom.
An upside breakout of the pennant would include the downtrend line, suggesting that the midterm uptrend has beaten the long-term downtrend. The next test would be the 100 DMA under 1.32.
Trading Strategies – Long Position Setup
Conservative traders should wait for a close above the 100 DMA, then for a return move, which will hold above the downtrend line, in a demonstration that market psychology has flipped.
Moderate traders would wait for a close above 1.3100, after which they may wait for a return move, for a better entry.
Aggressive traders may risk an extended position with a close above the pennant and stop-loss beneath its top.
Trade Sample
Entry: Upon a return move to 1.3000, after it hit 1.3200
Stop-loss: 1.2975
Risk: 25 pips
Target: 1.3200
Reward: 200 pips
Risk-Reward Ratio: 1:4
Source link