June 16, 2018
Posted by:

Trading

Category:

Market Overview
by Darrell Delamaide
European Central Bank President Mario Draghi was at pains to avoid a taper tantrum as he announced the end of the bank's asset purchases on Thursday. His almost mantra-like repetition of "ample degree of monetary accommodation" during the following the meeting of the central bank's Governing Council was clearly meant to reassure investors.
The ECB, which originally had said asset purchases would continue at least through September, decided instead to briefly taper buying, reducing purchases to €15 billion from the current €30 billion a month for the last three months of the year, before ending buying altogether next year. But the central bank will continue to reinvest the principal payments from maturing securities "for an extended period of time," Draghi said, and in any case "as long as necessary" to maintain an ample degree of monetary accommodation.
As for interest rates, they are to "at least" through the summer of 2019, he said. When questioned about the likelihood of a rate increase then, Draghi repeated "at least" with emphasis. The key for him is that rates will remain unchanged "as long as necessary" to make sure really is converging with the bank's 2 percent target.
If his goal was to avoid a taper tantrum, Draghi got we wanted. The eased a bit following the announcement that asset purchases would end, but European stocks generally advance on what was seen as a dovish message from the central bank.
When challenged by a questioner that the ECB was abandoning asset purchases before inflation reached its target, Draghi responded that current levels are much higher than two years ago and the council is confident growth is strong enough to keep inflation on course to reach the target. Given the slowdown in the first quarter, ECB staff revised the forecast for growth this year downward to 2.1 percent, from 2.4 percent, while leaving it unchanged at 1.9 percent for 2019 and 1.7 percent for 2020.
The staff projections for eurozone inflation are 1.7 percent for this year as well as for the following two years. However, since the ECB reacts to incoming data and inflation, this could be subject to change. Indeed, the current forecast for 2018 and 2019 has been revised upward due to higher prices.
In his introductory statement, Draghi criticized some euro zone members for not observing existing treaties and rules. Countries with high debt need to focus on "rebuilding fiscal buffers," he said.
In remarks that seemed directed at Germany, he urged a "more growth-friendly composition of public finances," echoing comments from other institutions that Germany should do more to spur investment and consumption, even if it meant moving away from a balanced budget. Also, his remark about the importance the "macroeconomic imbalance procedure" was a veiled swipe at Germany's persistently high current account surpluses in violation of those imbalance rules.
As usual, the ECB president preferred to answer questions by returning to his opening statement. However, he did respond with some passion to repeated questions about the future of the euro. When asked about the uncertainty posed by the new government in Italy, Draghi, a former governor of Italy's central bank, said people shouldn't over-dramatize changes in policy. With 19 member countries, the eurozone is going to see 19 elections over the course of the next years.
These elections may indeed produce differences of opinion that must be discussed, he said. "But these differences are going to be discussed within the existing treaties," Draghi emphasized. Even changes to treaties must be debated within the framework of the current agreements.
He grew downright touchy, however, when he was asked a second time about his claim that the euro is "irreversible." This followed remarks by a journalist who noted that even in Germany there were questions about whether countries should be able to leave the euro just as they can leave the European Union itself. Draghi responded, in essence, that there was no point in discussing the existence of something that's irreversible. As the journalist waited for him to expand, Draghi tersely ended the discussion by saying, "that's it."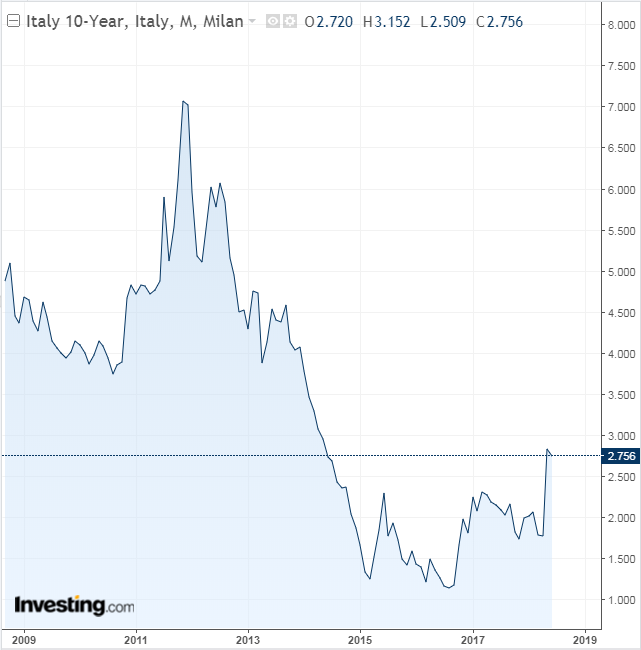 Italy 10-Y Monthly 2008-2018
With regard to the recent spike in yields on Italian bonds after the new government came to power, Draghi said it was nothing like the earlier crisis of confidence that hit the entire southern rim of the eurozone. Italian yields are well below crisis levels and there has been no evidence of contagion in other countries, he noted.
Source link