May 1, 2020
Posted by:

Trading

Category:

Market Overview
"We won't run out of money," may be the most important takeaway from Federal Reserve Chair Jerome Powell's remarks via a Wednesday after the meeting of the Federal Open Market Committee.
And the US central bank may need to deploy a lot of it, as policymakers see the coronavirus crisis weighing heavily on the in the near term and posing " to the economic outlook over the medium term," which Powell describes as the next year or so. In response to a question, Powell enumerated these risks as the course of the virus itself, the amount of damage done to the economy, and the global extent of that impact.
As Much As It Takes, As Long As It Takes
The Fed for one is willing to throw as much money at the crisis as necessary, and Powell feels fiscal authorities should pull out all the stops, too. He described himself as a fiscal conservative who urged consolidation of public debt even before coming to the Fed, but, he said, "now is not the time to act on these concerns."
Though not as succinct as "whatever it takes," the message from the Fed was that the US central bank will do whatever it takes to the extent that it can and that is a pretty wide extent.
Powell's remarks came at a lectern that clearly was not in his basement. His dark blue suit, crisp white shirt and tie (and a neat haircut which he somehow got even though barber shops are closed in Washington) conveyed a calm determination in the face of an unprecedented challenge.
The stakes were high and Powell was clearly reluctant to veer from his prepared remarks, often answering questions by repeating excerpts from them. Journalists wanted details on how long and how big Fed aid would be, which the Fed Chair could not and would not provide. Basically, as much as it takes as long as it takes was his answer.
On questioning, Powell said the Corporate Credit Facility to make loans to large employers would be ready to go "soon, very soon," while the Main Street Lending Program would be launched not quite so soon as the Fed reworks the term sheet to take account of comments.
Powell dodged a question about why the Fed doesn't simply call its new asset purchase program quantitative easing, and describe its length and volume as it has earlier QE tranches. But he did concede in his opening remarks that policymakers consider the purchases "accommodative" in monetary policy terms as well as effective in stabilizing markets.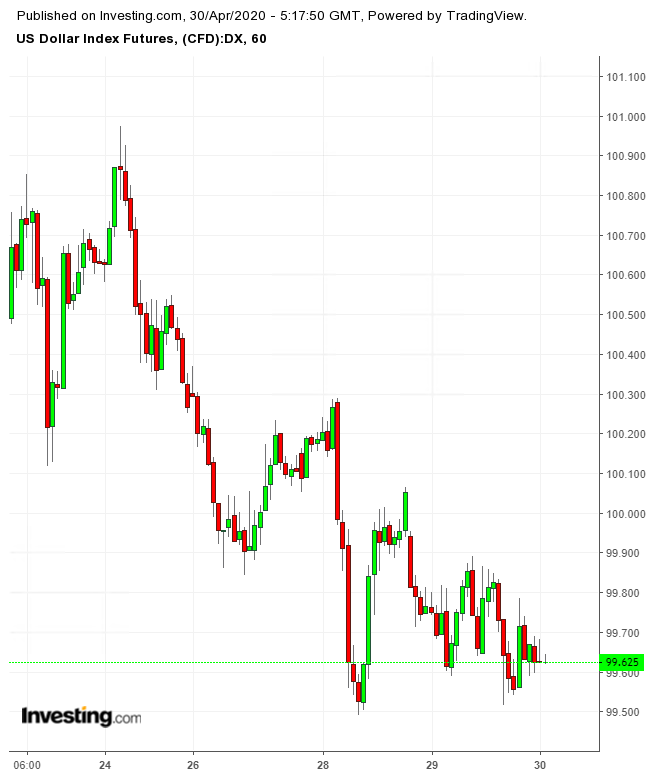 Though the edged lower after Powell's remarks, equities gained on Wednesday, albeit driven primarily by the news that Gilead Sciences (NASDAQ:) is making progress much more quickly than expected in finding a treatment for COVID-19. Powell's remarks brought back near highs for the day.
Powell's comment about not running out of money came in the context of a government fund of $350 billion to aid small business that was quickly depleted, prompting Congress to rush legislation to replenish it. But the Fed Chair repeatedly noted the Fed has authority to lend, not spend, and could only lend to solvent businesses that evidenced an ability to repay the loans. Nonetheless, the Fed loans are backstopped by $454 billion from the Treasury Department to cover the first losses, enabling the Fed to loan as much as ten times that amount.
When asked whether Congress would eventually have to do more, Powell responded with an unequivocal "Yes." Both monetary and fiscal stimulus will be needed to limit economic damage and to support recovery.
As for the Fed, will be staying at the effective lower bound—that is, near zero—for a considerable time, Powell said. That is what the markets are expecting and this is appropriate, he added.
There was no dissent from voting members about the FOMC decision to leave the benchmark rate at that level this time around, though Cleveland Fed chief Loretta Mester had objected at the emergency March 15 meeting to lowering it a full percentage point all at once, after the half-point cut March 3.
Bottom line: America, the Fed's got your back.
Source link