March 24, 2018
Posted by:

Trading

Category:

Market Overview
Dot plot shows Fed becoming slightly more hawkish
Dollar and Treasury reaction suggests markets expected more
4 rate hikes are just "one step" away
The Federal Reserve followed the script on Wednesday, raising by 25 basis points for the sixth time since 2015. While markets appeared to interpret the overall message as less hawkish than feared, risks remain skewed toward a possible fourth hike this year.
The Fed's updated showed an upbeat outlook on growth with GDP expectations lifted to from 2.5% to 2.7% this year and from 2.1% to 2.4% in 2019.
The US central bank forecast that inflation would move up "in coming months" but reiterated its expectations that it would stabilize near the 2% target in the medium term.
The highly watched "dot plot" gave markets little to fear with regard to a more aggressive Fed this year. Policymakers reiterated their forecast for only two more hikes in 2018.
Still, it's worth noting in the chart below that an equal number of FOMC members, six, were betting on either 3 or 4 total hikes in 2018 (as denoted by the 2.125% and 2.375% levels). That is a notably more hawkish slant when compared to the fact that only three members were considering 2.375% level back in December.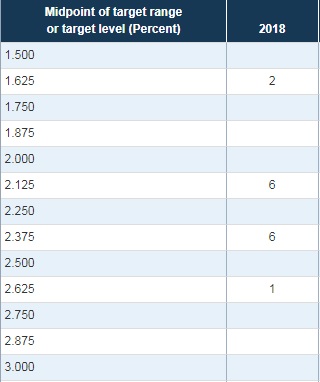 Fed 2018 Dot Plot
Source: FOMC economic projections
Holding back the hawks—and leaving the median forecast for just three hikes this year—were two votes for rates to remain at the current range of 1.50%-1.75%, compared to only one uber-hawk looking for five increases.
The relevant point is that it will only take one policymaker to shift their opinion higher in order to rebalance the dot plot toward four hikes this year. Furthermore, looking ahead to 2019 and 2020, the Fed added an additional hike to both years.
However, while on the surface the rate projections turned towards a more hawkish stance, markets didn't follow suit. The ended Wednesday off 0.7%, while yields on , and Treasuries all headed lower, signaling that financial markets interpreted the Fed communication to be less hawkish than what investors had priced in.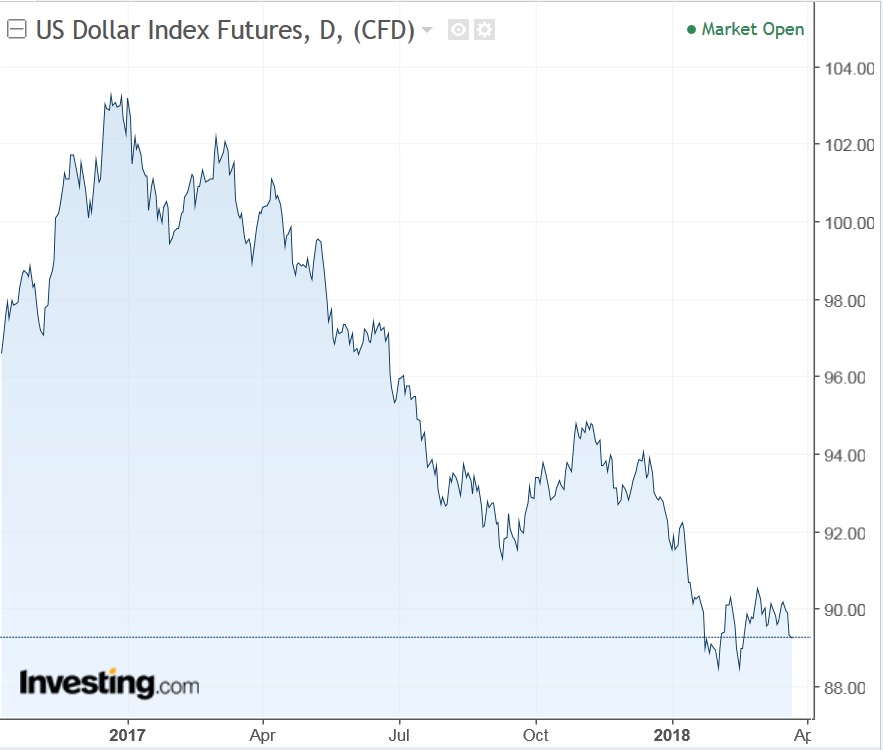 At this juncture, everything points to the dollar continuing the downward trend that began near the end of 2016 (see chart above). Still, risk remains skewed to the upside.
According to Investing.com's , Fed fund futures still price in the possibility of a fourth hike at around 35%. Add to that the aforementioned fact that only one of six Fed members needs to take a step toward a more hawkish stance and a fourth hike can't be ruled out for this year.
Source link