June 10, 2020
Posted by:

Trading

Category:

Analysis
Carmakers are among the biggest industrial victims of the global coronavirus pandemic. During the past three months, they've experienced plant closures and demand destruction as the worldwide health crisis pushed some of the weakest players into dire financial distress.
With economies reopening and investors turning their attention to cyclical stocks, including auto manufacturers, it's useful to know which producers are well positioned to successfully emerge from the downturn.
In this post we'll focus on the two largest U.S. automakers, Ford (NYSE:) and General Motors (NYSE:), to understand which stock is a better turnaround play in the current environment.
Ford: Belt-Tightening And Preserving Capital
Even before the latest crisis, Ford was battling some serious challenges. After many years of rising sales, helped by the robust global economy and strong consumer interest, the carmaker was facing powerful headwinds as demand for sedan cars slowed. Last year, its fell by more than half.
The company decided to exit the smaller car arena and focus instead on SUVs and trucks in the U.S., while also accelerating efforts to quickly enter the electric and self-driving vehicle markets. Last year, it announced it will spend $900 million to build electric and driverless cars at its Flat Rock plant south of Detroit.
But these moves failed to revive its beaten-down stock which has been trading below $10 for much of the past two years.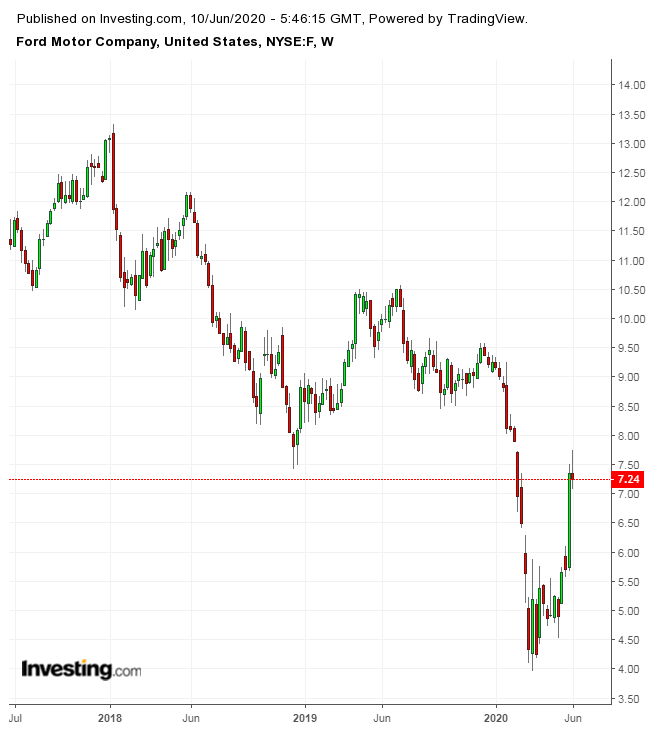 After falling to $3.96 during the March market crash, Ford shares are now trading at $7.24 as of yesterday's close.
Management believes the stock will improve from here after the company succeeded in preserving cash and avoiding bankruptcy during the current crisis. During a webcast of its annual meeting last month, executives said Ford is belt-tightening while preserving capital for key programs, including a revamped F-150 pickup truck and several new electric models currently in the works.
"We feel very good about our plan," said Ford Executive Chairman Bill Ford Jr. "Management's compensation is heavily tied to our stock, so it's in everyone's interest to get our stock price back up."
Wall Street analysts, however, don't have much faith in this turnaround plan. Of the total 24 analysts who cover Ford stock, only 4 have a buy rating on the equity, with an average price target of $5.67.
GM: Strong Cash Position
Unlike Ford, GM is in a much better financial situation from which to deal with the COVID-19 induced disruption to the industry. The latest evidence of this strength came last month, when the Detroit-based automaker produced that beat analyst expectations.
What's helping GM is the company's redesigned big pickups along with CEO Mary Barra's restructuring plan, directed at pulling the carmaker out of money-losing markets.
GM's full-size pickup deliveries surged 27% in the first three months of the year, with government shutdown orders disrupting only the last few weeks of the quarter. Chevrolet Silverado and GMC Sierra trucks also posted strong sales.
GM stock has withstood the recent selling pressure much better than Ford shares.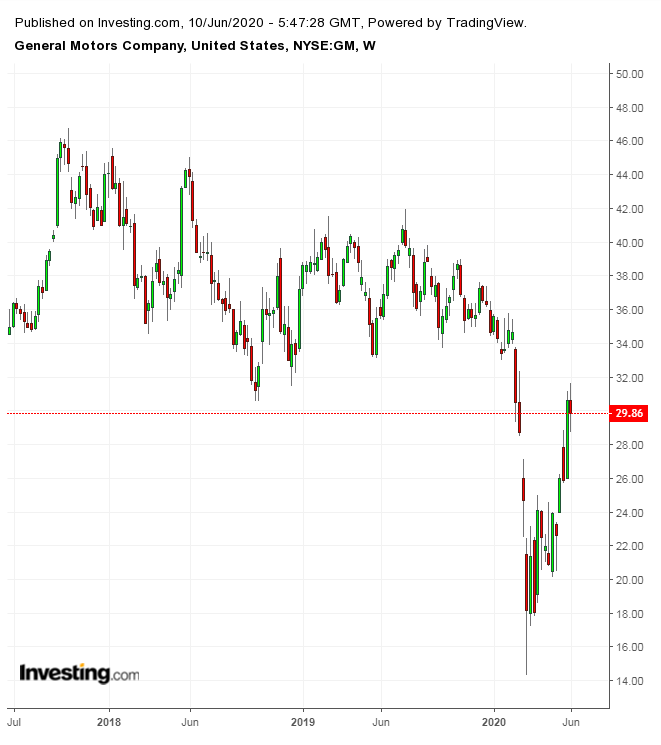 From its March low, the stock has soared 52% and is currently trading at $29.86 as of Tuesday's close. Of the 24 analysts who cover GM, nine have a buy rating on the stock while 13 are recommending a hold, with the average 12-month price target at $33.94.
In order to preserve cash, GM also suspended its dividend and share buyback program and boosted borrowing to amass $33.4 billion of cash, which is expected to sustain the company through this weak operating environment.
Over the long-run, GM is also more prepared to deal with the challenges associated with the shift to electric vehicles. GM has been one of the most aggressive carmakers when it comes to electrifying its lineup. It currently sells just one EV in the U.S. but is developing more than 20 plug-in models, including a Cadillac crossover and a Hummer pickup. Both will debut by the fall of 2021.
Bottom Line
When it comes to investing in traditional U.S. automakers, GM is certainly on firmer footing than rival Ford. The company's strong cash position, better product line-up and its aggressive move to add EVs to its fleet make shares of General Motors a better buy than Ford.
Source link