September 23, 2018
Posted by:

Trading

Category:

Market Overview
European markets, US futures seesaw amid heightened trade headwinds

Hong Kong's Hang Seng underperforms on fresh US tariff batch and typhoon damages

U.S. dollar falls back below week-old downtrend line

Oil gains on dollar weakness
Key Events
European equities and stock futures on the , , wavered on Monday, as the US pressed ahead with a new batch of tariffs on Chinese imports, exacerbating trade tensions. An ongoing exodus from emerging markets currencies supported the from a harder fall, though the buck still gave up all its Friday's gains.
The Europe-wide opened 0.1 percent lower, then found firmer footing, only to slip back into the red by late morning session. Carmakers and miners, which could take a hit in a less competitive export environment, led the decline.
Earlier, during the Asian session, Chinese shares bore the brunt of the selloff which followed the news that President Donald Trump instructed aides to impose an additional $200 billion in tariffs on Chinese imports—a move that could be made official as soon as today.
In parts of Asia, geopolitical headwinds weren't the only disrupters this morning. Hong Kong's underperformed, losing 1.30 percent, in the aftermath of Typhoon Mangkhut, the most powerful storm this year and responsible for more than $29.1 million in damages. The mainland's dropped 1.11 percent, for a two-day slide of 1.3 percent.
Shanghai Composite Daily Chart
The Shanghai Composite closed at 2651.79, the lowest level since November 28, 2014, after posting a trough lower than the January 28 close 2655.66. Technical purists would wait on declaring a major support break till the intraday 2638.30, registered a day earlier, is violated.
Korea's edged 0.66 percent lower. Australia's outperformed, climbing 0.32 percent. A rally in financials outweighed a selloff in healthcare stocks, hit by reports of a public inquiry into the aged-care system. Ironically, today's leading sector was recently the target of regulatory scrutiny as well.
Global Financial Affairs
Yesterday we argued that US equities look set for further rallies, after traders bought the dip and committed to their positions over the weekend. However, futures this morning seem to suggest lingering hesitation.
The argument could be made that it was two different groups of traders propping up prices over the weekend and sending them lower today, or that these traders are merely riding Monday's global selloff and will show more direction in the upcoming US session.
DXY Hourly Chart
Meanwhile, the dollar weakness, at least relative to FX majors, may signal that investors are less worried about potential impact of protracted trade tensions and have therefore rotated out of the safe haven currency.
Technically, the DXY fell back below its week-old downtrend line.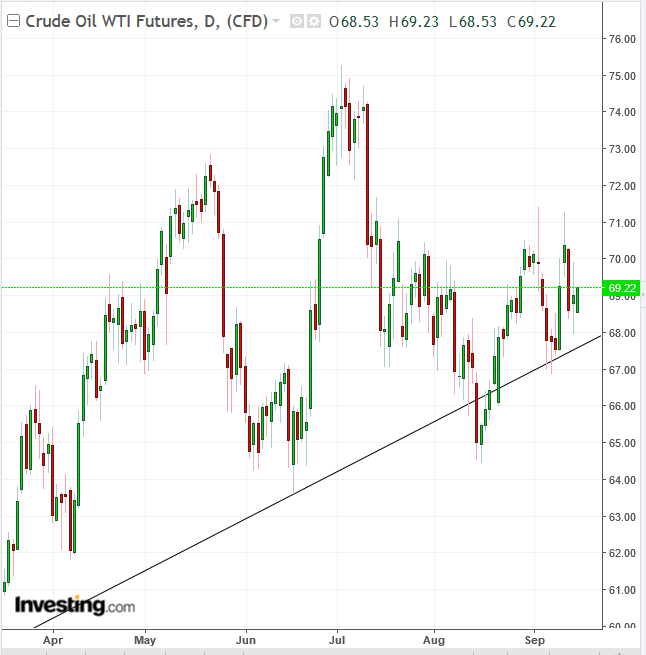 WTI Daily Chart
rebounded from a drop, as a weakening dollar probably helped it offset signs of increased drilling by US producers.
USD losses also helped rebound from an earlier slide, though at time of writing it has resumed its slide.
Up Ahead
Canadian for July are released Monday.

for July are released Monday.

Canadian for July are released Tuesday.

South Korean President Moon Jae-in visits Pyongyang for a summit with Kim Jong Un on Tuesday
The Bank of Japan holds on Wednesday.

Canadian is released Thursday.
Market Moves
All information correct as of time of writing
Stocks
Canada's closed up 0.07 percent last Friday.

The STOXX Europe 600 fell 0.2 percent.

Futures on the S&P 500 dropped 0.2 percent.

The ticked 0.2 percent lower.

The slipped 1.2 percent.
Currencies
The Canadian was up 0.08 percent against the U.S. greenback early Monday, trading at 0.7677.

The Dollar Index lost 0.15 percent.

The was 0.32 percent higher at $1.1660.

The gained 0.04 percent to 112.03 per dollar.

The gave up 1.5 percent to 6.2661 per dollar.

The inched 0.9 percent lower to 72.523 per dollar.

The fell 0.4 percent.
Bonds
Canada's was up early Monday at 2.359, a 0.60-percent decrease.

The yield on Treasurys fell one basis point to 2.99 percent.

Germany's yield was unchanged at 0.45 percent.

Britain's yield climbed less than one basis point to 1.53 percent.

The spread of Italy's bonds over Germany's slid eight basis points.
Commodities
The slipped 0.2 percent.

West Texas Intermediate crude ticked 0.3 percent higher to $69.19 a barrel.

LME copper dropped 1.3 percent to $5,895.50 per metric ton.

gained 0.1 percent to $1,195.47 an ounce.
Source link