January 8, 2019
Posted by:

Trading

Category:

Market Overview
European shares, US futures slip after Asian rally
Gold, Treasurys, yen rise confirming risk off
Dollar posts further signs of topping out
Trade talks, upbeat jobs data, Fed's dovish shift help US majors soar
Key Events
Futures on the , and and European shares slipped into negative territory this morning, reversing the upbeat trend seen in Asia earlier today as well as in the US on Friday. US equities wrapped up last week by posting their best daily session since June 2016 on signs that the US and China are finally making progress on trade talks as well as on an that beat analysts' expectations.
Europe's gave up early gains, led by Germany's —whose listed companies are particularly sensitive to exports amid a global trade war. Similarly, basic resources, also sensitive to tariff headwinds, ranked among the biggest gainers in the early European morning, climbing 1.2 percent, along with other trade sensitive sectors.
Chipmakers were also recovering from last week's heavy losses, sparked by Apple's (NASDAQ:) shock revenue warning on Wednesday. AMS (SIX:), which supplies the iPhone maker, was up more than 8 percent.
During the Asian session, regional equities started the week on the right foot with an exuberant rally, following last week's upbeat US jobs data, signs of policy easing from China and hints by the Fed that it will keep market conditions under consideration when fine-tuning interest .

China's advanced 0.72 percent, as the PBoC cut reserve requirements for banks and high-level representatives from the US and China begin talks in Beijing today.
Hong Kong's climbed 0.82 percent. Shares of China Mobile (HK:) gained 1.11 percent after Nomura upgraded the phone company's rating to "buy" from "neutral," citing its strong position for the "imminent" next-generation 5G wireless standard.
Japan's outperformed regional peers, edging 2.44 percent higher. Automaker Toyota (T:) surged 3.15 percent.
South Korea's ticked 1.34 percent higher, helped by steelmaker Dongbu Steel (KS:), which leaped 2.34 percent after the firm announced it will issue new shares to raise funding. Samsung (KS:) advanced 3.47 percent.
Australia's closed 1.14 percent higher, with most sectors in the green. The materials sub-index benefited from trade negotiation optimism, climbing 2.22 percent as shares of major miners gained ground; Rio Tinto (AX:) was up 2.69 percent, Fortescue Metals Group (AX:) gained 3.26 percent and BHP Billiton (AX:) jumped 3.03 percent.
Global Financial Affairs
On Friday, US shares soared on robust employment data, rising and robust . All major indices advanced at least 3 percent, with the gaining as much as 4.26 percent. Overall, the gains marked one of the steepest daily ascents of the current bull market. The question is whether they underscored persistent strength or just additional volatility within a downward trend.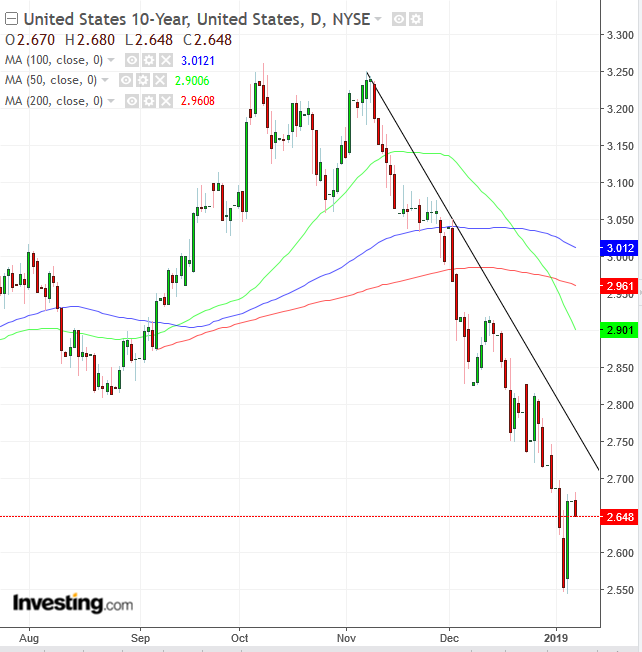 UST 10-Year Daily Chart
The yield on Treasurys fell below 2.65 after government bonds sold off on Friday, wiping out nearly two days of gains. Technically, yields are falling after nearing their downtrend line since November, when they reached the highest level since 2011. Also, last week the 50 DMA crossed below the 200 DMA, triggering a Death Cross, a widely followed technical indicator showing deceleration. However, they still remain more than 50 basis points below their November peak.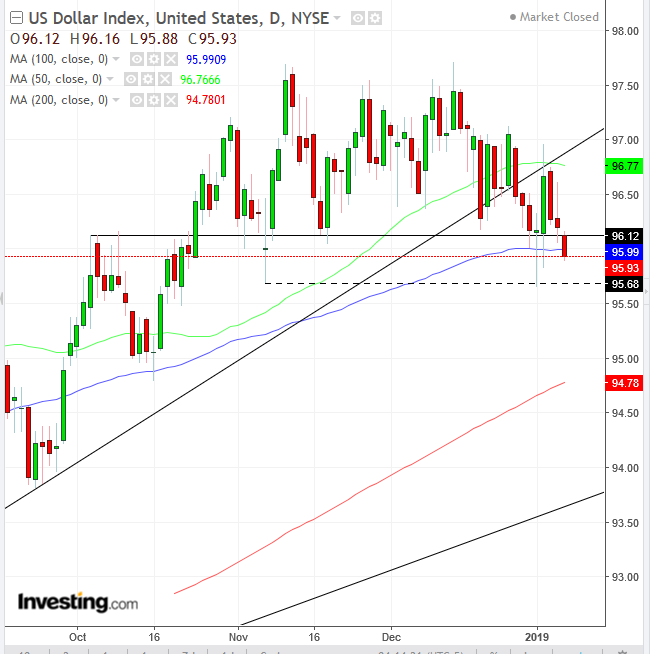 DXY Daily Chart
The followed yields lower, posting further signs of a top as it slid below the 96.00 support/resistance level since October 3 and below the 100 DMA.
In an unusual market occurrence, the is outperforming among major currencies, as Fed Chair Jerome Powell's dovish twist sharply reduced demand for the greenback. Furthermore, is rising alongside Treasurys: these are all telltale signs of market risk-off, even against upbeat equities. The last time stocks and bonds rose substantially in parallel was after Trump's presidential victory in 2016.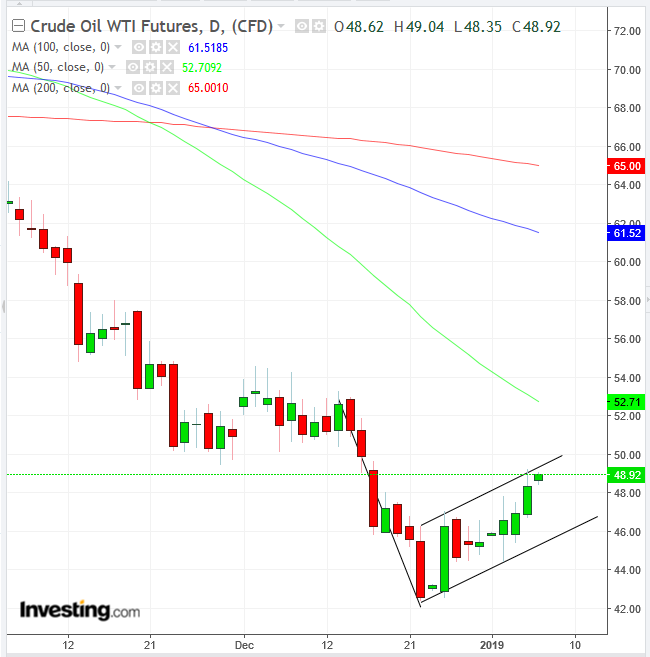 WTI Daily Chart
is climbing for the sixth straight day, inching toward the $49 level, for an accumulated 7.26 percent gain. Technically, the price is at the top of a rising flag, bearish in a downtrend, with a downside breakout.

Up Ahead
A U.S. delegation is in Beijing for trade talks with Chinese officials, the first face-to-face encounter since Trump and Xi agreed to a temporary truce on Dec. 1.
Wednesday sees the release of minutes from the Fed's Dec. 18-19 policy meeting. Powell will speak to the Economic Club of Washington D.C. on Thursday.
U.K. Parliament resumes a debate on the Brexit withdrawal bill, with Prime Minister Theresa May seeking to avoid defeat in a vote set for the week of Jan. 14.
Market Moves
Stocks
The MSCI Asia Pacific Index climbed for a third day, gaining 1.9 percent.
Futures on the S&P 500 gained 0.5 percent. The climbed 3.4 percent Friday, when the advanced 3.3 percent.
futures gained 0.1 percent.
Japan's index rallied 2.8 percent at the close.
Hong Kong's Hang Seng Index rose 0.7 percent.
The advanced 0.7 percent.
Currencies
The yen gained 0.3 percent for a third day decline of an accumulated 0.79 percent, to 95.89.
The added 0.3 percent to 6.8471 per dollar.
The Dollar Index dipped 0.31 percent.
The euro bought $1.1415, up 0.2 percent.
The pound rose 0.2 percent to $1.2749.
Bonds
The yield on 10-year Treasuries dipped to 2.66 percent.
Australia's 10-year bond yield rose four basis points to 2.27 percent.
Commodities
West Texas Intermediate crude climbed 1.7 percent to $48.8 a barrel.
Gold was at $1,291.55 an ounce, up 0.4 percent.
Source link