December 27, 2018
Posted by:

Trading

Category:

Market Overview
Futures, European shares halt biggest US daily rally since 2009
Reassurance from top White House economist sparks US stock surge
Dow makes biggest point leap on record; Amazon's climb underscores healthy consumer spending
Safe-havens gain ground on shift to risk-off
Key Events
This morning, European stocks and futures on the , and abruptly halted the momentum provided by yesterday's monster US rally, with the 's early climb quickly turning into a second-day slide while US contracts all edged more than 1 percent lower. Except for a 3.88 percent jump on Japan's , sentiment fizzled out after US shares managed to post an outstanding comeback from the cusp of a bear market in Wednesday's US session. Major indices jumped the most since March 2009, gaining about 5 percent with the scoring a record win of over 1,050 points.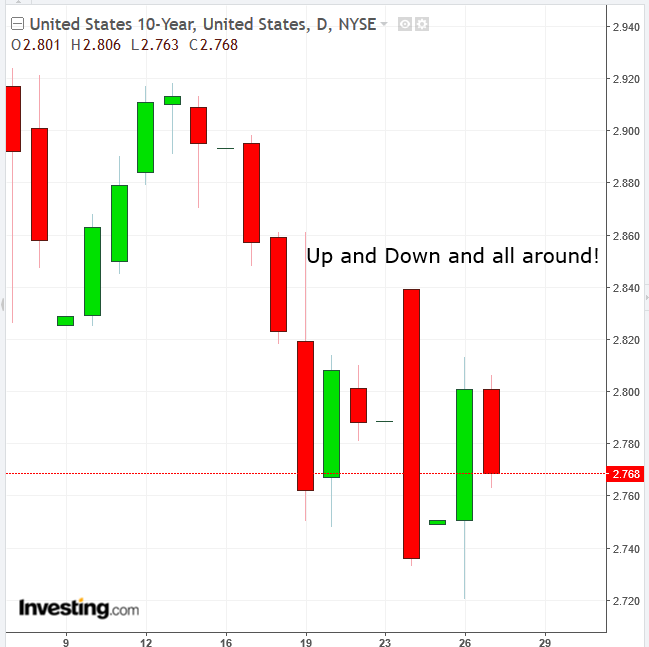 UST 10-year Daily Chart
The yield on Treasurys is falling, as traders are once again shifting funds from risky assets to safer ones.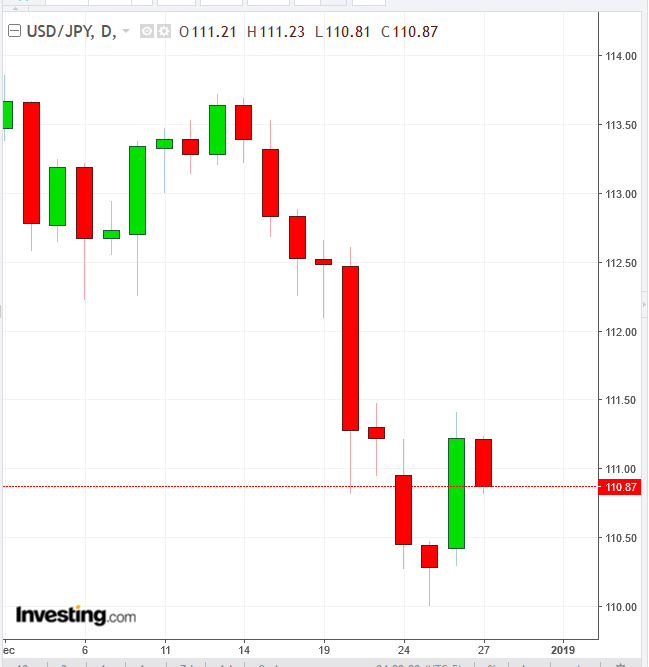 USD/JPY Daily Chart
The is rising against the dollar, paring half of yesterday's loss.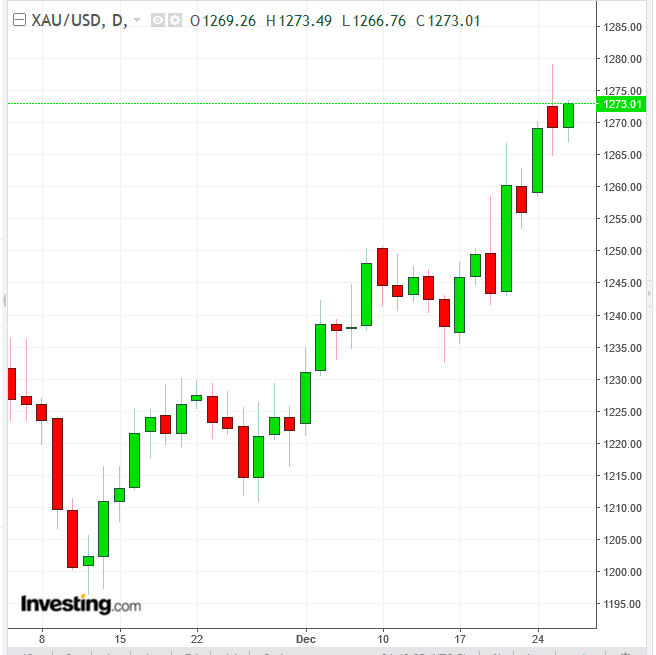 Further confirming the flight to safety, successfully erased yesterday's losses.
Global Financial Affairs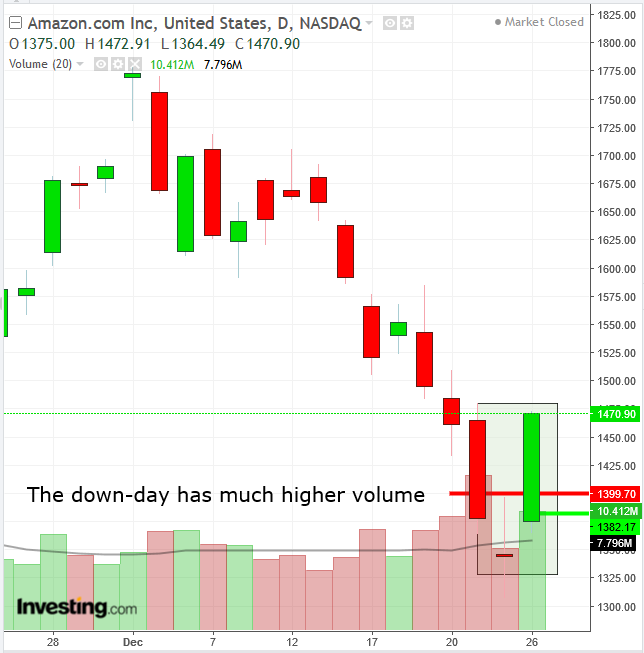 AMZN Daily Chart
On Wednesday, Amazon (NASDAQ:) stock capped a record holiday season by surging 9.45 percent, closing a mere 0.14 percent beneath the top of the session and completing a powerful morning star pattern, with no overlap between the pattern's three candles—a rare occurrence. Also, the third, green candle engulfed the first, red candle, also rare. However, the stock, as well as the broader market, remains in a downtrend, as highlighted by yesterday's trading volume: as forceful as the bulls may have been, participation has been less than that seen on Monday, when the morning star began.
Amazon's success helped the broader market bounce back, easing fears of a looming recession in an economy where consumer spending makes up 65 percent of the .
Mastercard (NYSE:) and Visa (NYSE:) rebounded after four days of declines. Mastercard said holiday sales increased 5.1 per cent to more than US$850 billion this year, marking the strongest growth in six years. Online shopping saw gains of 19 per cent compared with 2017, according to Mastercard SpendingPulse.
Bricks-and-mortar retailers also gained. Nike (NYSE:) jumped 7.21 percent, engulfing almost four candles. Macy's (NYSE:) surged 7.03 percent, posting an even more powerful morning star, with the green candle engulfing two red candles. Kohl's (NYSE:) leaped 10.25 percent, wiping out nearly all December's losses. PVH (NYSE:) jumped 6.14 percent, also erasing three days of losses. Again, all these impressive gains were made on volume lower than Monday's rout.
However, as much as these company reports may have placated some of the growing doubts over US economic growth, it was first and foremost an act of political reassurance that convinced investors to pull out all the stops.
Kevin Hasset, Chairman of the White House Council of Economic Advisers, told reporters that Jerome Powell's post as Chair of the Federal Reserve is "one hundred percent safe," driving stocks into an instant rally.
Further pushing shares higher were reports that a US delegation will be traveling to Beijing in January, for trade talks. The argument could be made that it would only take one more move by the Fed to tone down its hawkish stance a notch, allowing stocks to return to an uptrend. However, lingering political instability in the US and a global economic slowdown would still pose significant headwinds.
The jumped 4.96 percent during yesterday's session. (+6.22 percent) outperformed, tracking the more than 8-pecent rally in . (+5.62 percent) and (+6.04 percent) followed. FAANG stocks have proved to be the market leaders, in both downward and upward directions. Naturally, defensive shares in the sector (+1.36%) were the day's laggard.
The Dow Jones gained 4.98 percent, or 1,086 points—its biggest recorded leap on an absolute point basis. The was the main winner of the session (+5.84%) thanks to the outperformance of tech shares. The climbed 4.55 percent.
We have been warning about rising for months. Seeing equities rebound from the worst Christmas Eve performance ever, the weakest December on record and nearly the most disastrous quarterly performance since 2008 to the biggest rally since 2009 is a sign of the times.
We had forecast a rally, though one that would be limited to the short-term. The latest price moves described can be likened to the last flicker of a candle before the flame dies out: equities are still very much in a downtrend, and we expect them to slip into a full-fledged bear market after this rally.
In line with the general risk-off shift, WTI crude is down 2.08 percent, trimming yesterday's 7.49 percent surge, which had been spurred by optimism on global economic demand. Oil's price moves into 2019 could be driven by many of the same catalysts that weighed on the commodity in 2018.
Up Ahead
US are due on Thursday.
Baker Hughes releases its weekly data on active on Friday.
Market Moves
Stocks
The gained 0.4 percent to the highest level in a week.
The climbed 0.3 percent, the first advance in more than a week.
Currencies
The dropped 0.25 percent.
The edged 0.3 percent higher to $1.1388, the biggest advance in a week.
The Japanese yen jumped 0.5 percent to 110.86 per dollar.
The gained 0.2 percent to $1.2657.
The gained less than 0.05 percent, the largest rise in more than a week.
Bonds
The yield on 10-year Treasuries slid four basis points to 2.77 percent.
Germany's yield fell one basis point to 0.24 percent, the lowest level in a week on the largest dip in almost two weeks.
Britain's yield was unchanged at 1.263 percent, the lowest level in almost two weeks.
The spread of Italy's bonds over Germany's rose four basis points to 2.6195 percentage points to the widest gap in more than a week.
Commodities
The slipped 0.3 percent.
fell 1.2 percent to $53.79 a barrel.
LME gained 0.9 percent to $6,009.00 per metric ton, reaching the highest level in more than a week on the first advance in more than a week and the biggest increase in more than two weeks.
Gold climbed 0.1 percent to $1,268.69 an ounce.
Source link