April 29, 2021
Posted by:

Trading

Category:

Market Overview
Fed believes inflation will only be temporary
Promises to warn ahead of any rate hikes
Apple, Facebook report blowout earnings
Key Events
Yields on US Treasuries jumped along with futures on the , , and as well as European stocks on Thursdsay, ahead of the New York open. The confirmation by the Federal Reserve that it would continue its accommodative policy was compounded by strong earnings which sealed the case for a resurgent American economy.
For the second consecutive day, Bitcoin dropped. 
Global Financial Affairs
Contracts on the NASDAQ were outperforming at the time of writing, ahead at one point by almost a full percent after earnings from (NASDAQ:) and (NASDAQ:) beat expectations, giving long positions a big win.
In European trading the Index rose to within a whisper of its Apr. 16 record close. Finnish telecom network equipment producer Nokia (HE:) catapulted higher by almost 14%, due to an in sales of network and 5G equipment. 
Consumer goods behemoth Unilever (AS:) climbed over 3% thanks to strong in China, which has been enjoying a robust economic recovery; adding to that was increased demand for home cooking supplies during global lockdowns. The Dutch headquartered giant announced it will be buying back shares to the tune of up to 3 billion euros (US$3.6 billion)
Oil majors (LON:) and  (PA:) both jumped about 1.5%, after posting strong quarterly results. UK based Shell also raised its dividend. Sshares in France-based Total have rebounded and are now close to pre-COVID levels.
French plane maker (PA:) climbed 3%, also thanks to quarterly results, displaying higher core earnings.
On Wednesday, US stocks ended a rocky session by closing lower, with the the only index in the green, 0.28% higher. The declined in the precise symmetrical proportion of 0.28%—demonstrating a clear negative correlation, as each index represents a side of the reflation trade. However, following Apple and Facebook reporting after the closing bell, the NASDAQ ETF () jumped aftermarket. 
Stocks had hit session highs earlier in the trading day after the Fed delivered a positive message about the strength of the economy, while downplaying inflation risk. The US central bank reaffirmed its continued support, implying it is prepared to allow the economy to continue running hot, and also promised to give a substantial heads up before hiking rates.
Traders optimism on the US economic recovery received a boost from President Joseph Biden's speech to Congress on Wednesday evening, in which he unveiled a $1.8 trillion spending plan that included childcare, education and paid leave.
Despite this, rates on the Treasury note are headed for their biggest weekly increase since Mar. 19, but could face resistance.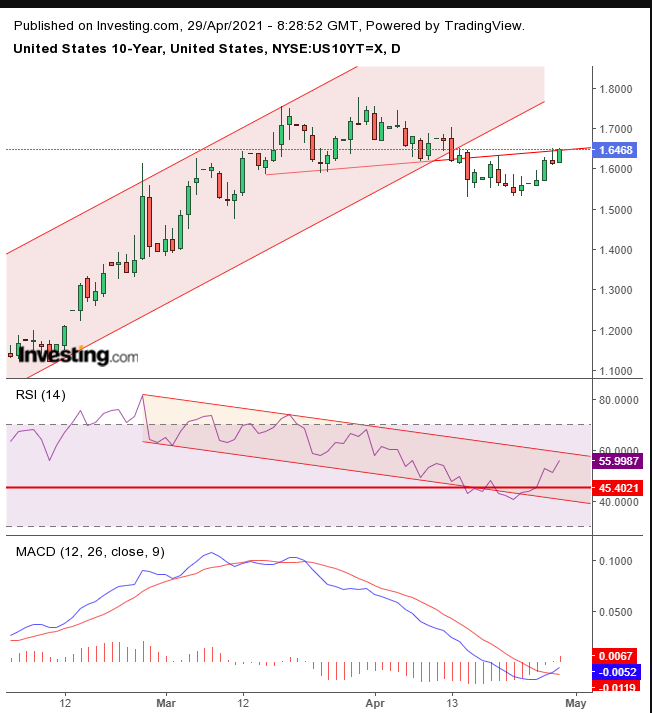 Yields got stuck when hitting the neckline of a double top from below, confirming the resistance of yesterday's shooting star. While the RSI is on a downward path, having provided a negative divergence to rising rates since late February, the momentum gauge may have found support, bouncing off its lowest levels in late-September. The MACD triggered a bullish cross. We expect declines in yields, unless they close above 1.7%.
The seems to have found its footing after the Federal Reserve clobbered it over the head by promising that any interest rate hikes are a way in the future.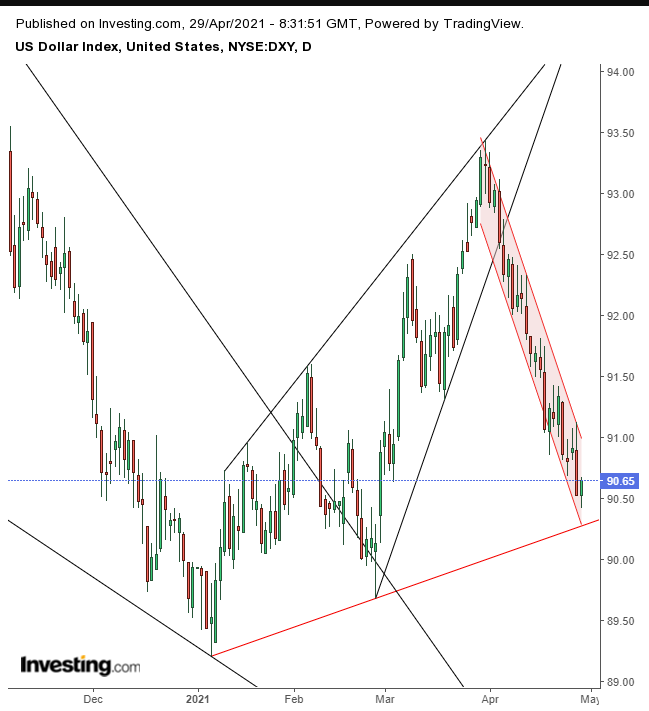 Dollar Index Daily
The greenback found support by its uptrend line (red) since the bottom. The US currency had been falling after completing a rising wedge, but now it is nearing the massive falling wedge since the 2020 peak.
completed a second straight bullish flag, after completing a double-bottom. It's therefore expected to rise until it retests its falling channel.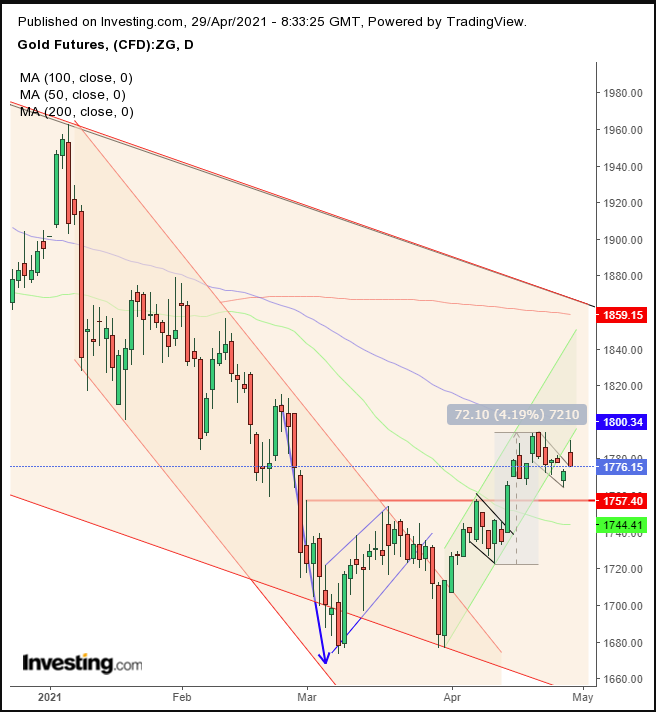 In the short-term, the yellow metal is bullish, but remains bearish in the medium-term.
Despite the boost should have received as an inflationary hedge, the cryptocurrency is falling for a second day.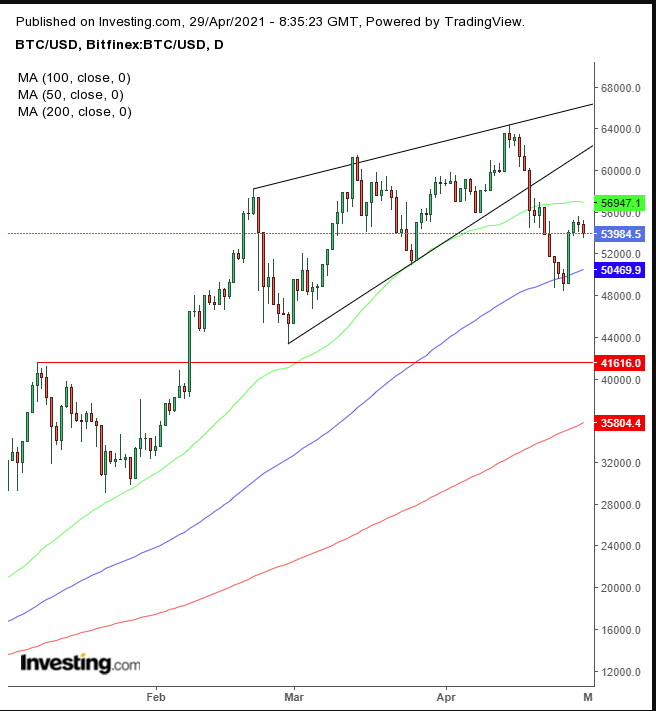 The slide could be because it completed its return-move, after completing a rising wedge. We expect it will now to return to the $40,000 levels, before continuing higher.
extended gains on a confident outlook on demand from OPEC and its allies, despite the threat from India's COVID-19 crisis.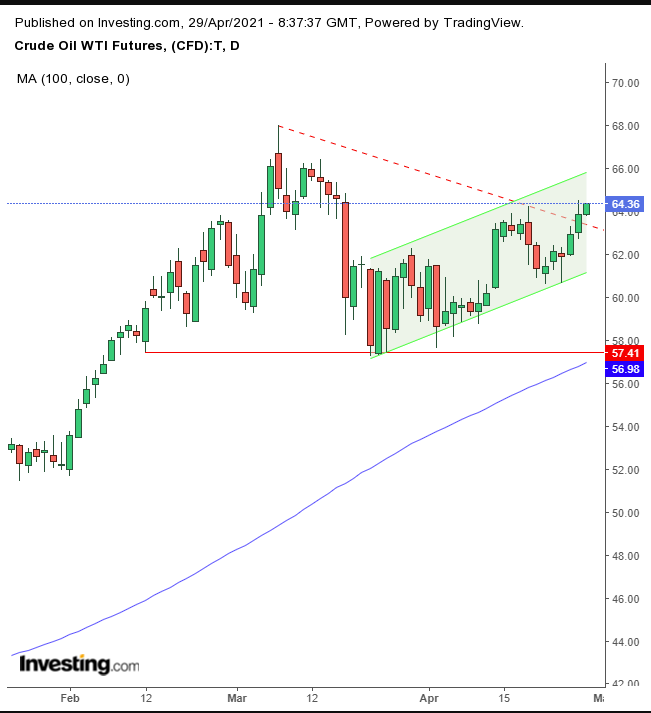 Oil has provided a topside breakout to a descending channel. Should the price remain above the pattern, it will blow out the bearish pattern, potentially turning into a bullish one.
Up Ahead
On Thursday, US is forecast to show growth accelerated in the first quarter.
US oil majors, Exxon (NYSE:) and Chevron (NYSE:) report results ahead of the US open on Friday. 
Market Moves
Stocks
Futures on the S&P 500 Index advanced 0.6% as of 8:35 a.m. London time.
The STOXX 600 Index increased 0.5%.
The Index climbed 0.4%.
The Index gained 0.5%.
Currencies
The Dollar Index rose 0.2%.
The was little changed at $1.212.
The advanced 0.2% to $1.3964.
The strengthened 0.2% to 6.468 per dollar.
The weakened 0.2% to 108.82 per dollar.
Bonds
The yield on 10-year Treasuries advanced four basis points to 1.65%.
The yield on Treasuries climbed one basis point to 0.17%.
Germany's yield increased one basis point to -0.22%.
Britain's yield advanced two basis points to 0.817%.
Japan's yield gained one basis point to 0.098%.
Commodities
West Texas Intermediate crude increased 0.4% to $64.09 a barrel.
gained 0.4% to $67.54 a barrel.
Gold weakened 0.1% to $1,779.65 an ounce.
Source link