June 9, 2020
Posted by:

Trading

Category:

Market Overview
German exports plunge
S&P 500 yesterday erased all YTD losses
NASDAQ posts new record
Gold rises despite dollar strength
Key Events
US futures for the , , and all slumped on Tuesday along with European stocks after German economic data for April proved to be than anticipated.
The dollar jumped along with Treasurys. Gold and the yen strengthened for the second day while oil's retreat continued after yesterday's declines.
Global Financial Affairs
Contracts on the were higher during a mostly green Asian session, but after data released this morning showed Germany's in April, as well as its for that month had collapsed, US futures have been falling.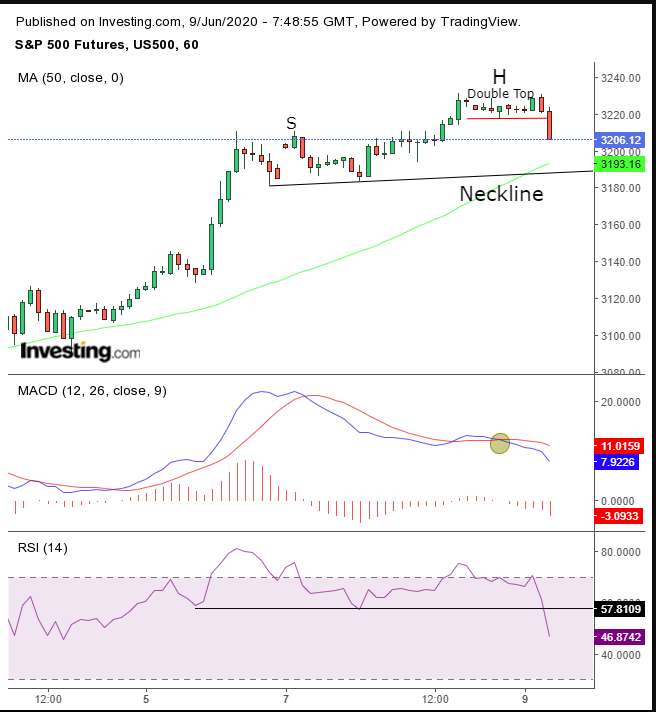 Futures on the SPX completed an hourly double-top, which might be part of a larger hourly H&S top. The MACD and the RSI both provided sell signals.
An advance in travel shares as reopening boosted airline stocks was outweighed by a selloff in bank shares, pressuring the . Traders took the 24% dive in German exports and its falling trade surplus as a cue to cash in.
Most Asian indices were closed ahead of the release so were unaffected by the bad news from the eurozone's economic steam engine. This morning, Asia's regional shares followed yesterday's powerful US rally, in which the posted a new record, higher.
The , (-0.4%), was the only major index in the red, after Japan reported dropped to -0.6% both on a monthly and annual basis, missing +0.1% expectations for both. The surprise decline came after an apparent second wave of coronavirus cases prompted Japan to retighten its lockdown after already having reopened the economy.
Australia's surged to a 3-month high on Tuesday, (+2.4%), after having been closed on Monday for a holiday. The exuberance was fueled by optimism of a quick economic recovery after Friday's surprisingly positive US and could have led to a short squeeze. This morning's release, a measure of business conditions, revealed that activity picked up and confidence had rallied from April's lows, as the economy down under restarted.
The beat—although still in recessionary territory—bolsters the economic recovery narrative that has taken hold of markets.
Yesterday, the advanced 1.2%, to the highest level since Feb. 21, and within 4.8% of the Feb. 19 record.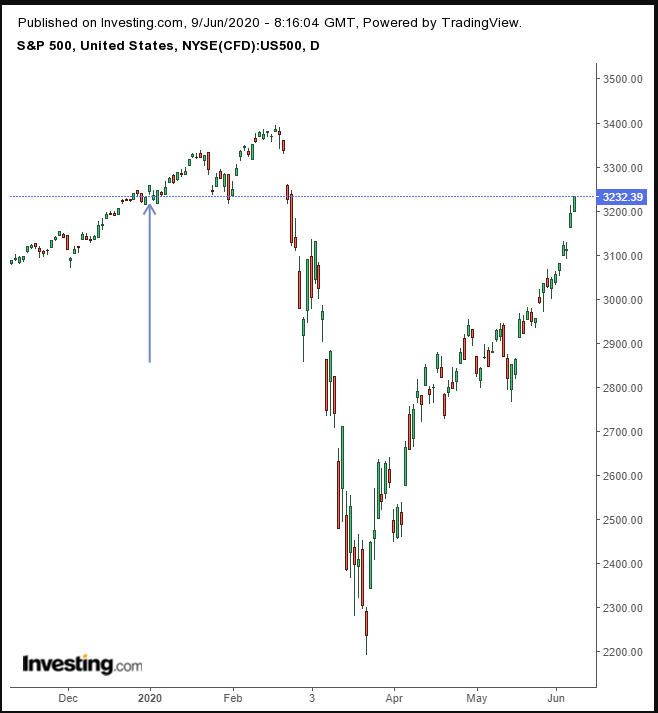 This year's losses were wiped out by yesterday's moves and the benchmark index is now in the green YTD. Its leap from the March bottom is approaching an amazing 45%.
Yields, including for the Treasury note, fell for the second day, as they did yesterday, even amid a rise in equities. Nevertheless, recently, risk-hungry investors have mostly been .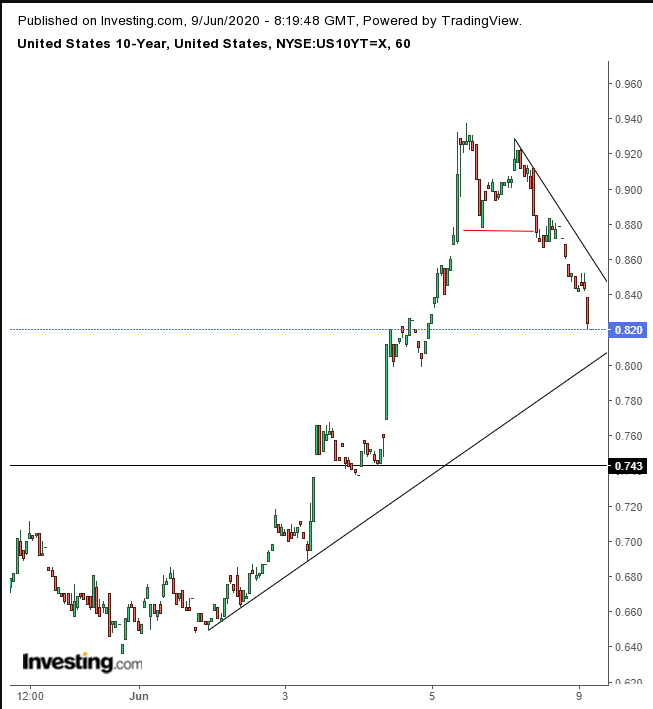 Yields have topped out and will retest an uptrend line at 0.8 percent. If that doesn't hold, the next presumed support is the 0.7% May range top.
The followed Treasurys higher. If the USD were to retain this advance at the close of today's trade, it will have confirmed yesterday's inverted hammer which itself confirmed an earlier potential hammer.
A close above 97.07 would complete a short-term bottom, which may be the catalyst for a return move after the dollar's downside plunge out of a range. If the previous range holds, it may support a Bloomberg Opinion that a crash is coming for the global reserve currency.
climbed for the second consecutive day, for the first time this month.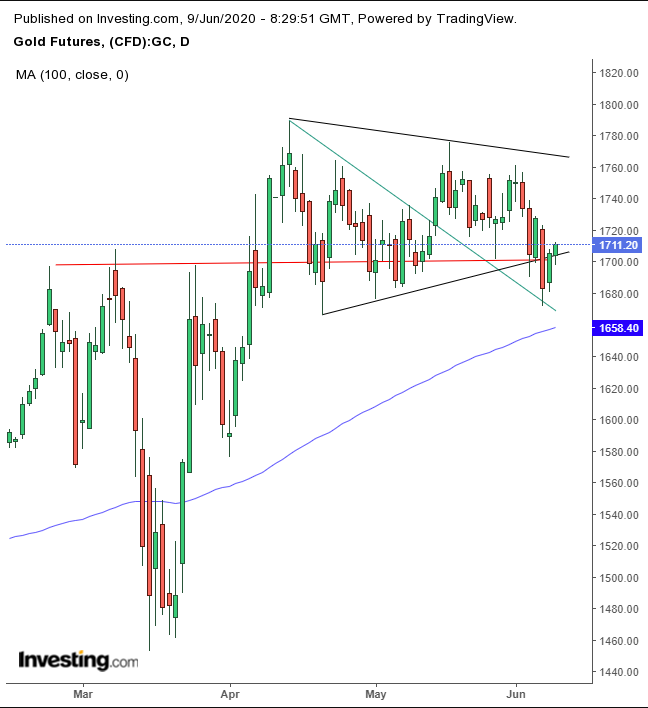 Gold Daily
Today's advance, albeit small, is impressive considering a strengthening dollar is weighing on the precious metal. Demand has likely increased with the futures and equity selloffs and the support provided by the H&S and symmetrical triangles (smaller, which it completed, and larger, in which it still trades).
had its first back-to-back decline in more than a month, since May 7.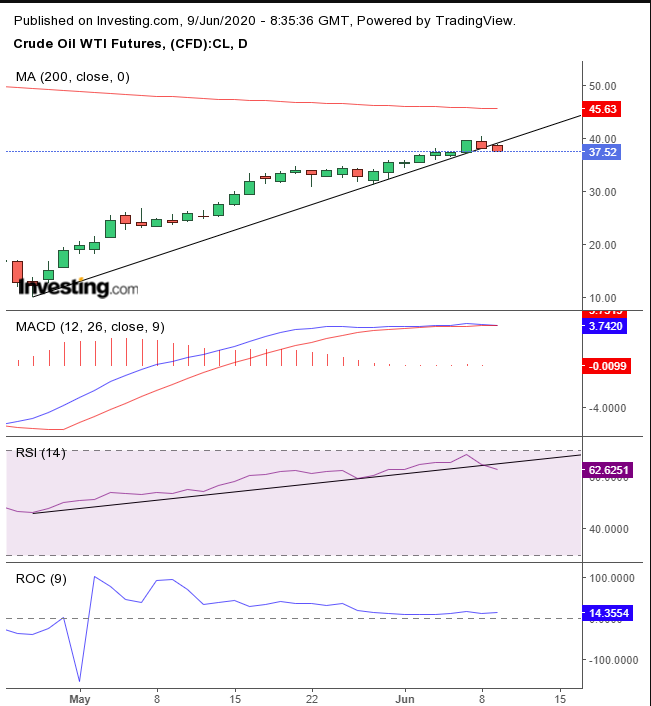 The WTI futures slip occurred after seven sessions in which the contract hugged its uptrend line. The price was unable to replicate its earlier rebound, in which it scaled well higher.
Of course, everything is relative. The advance from $30 to $40 is, naturally, very impressive. However, momentum has slowed since the jump from $10 to $30. The RSI demonstrates that momentum is waning as well, while the more momentum-sensitive ROC shows how it spiked in early May but has sputtered since. The MACD is about to provide a negative cross.
Up Ahead
The Fed's next will be announced on Wednesday. Officials are expected to leave rates where they are, above zero.
The OECD releases its economic outlook Wednesday, a twice-yearly analysis of the economic prospects of member countries
Euro-area finance ministers meet Thursday to discuss the EU's recovery package and Eurogroup presidency succession.
Market Moves
Stocks
The Stoxx Europe 600 Index dropped 1.3%.
Futures on the S&P 500 Index decreased 1%.
Nasdaq 100 futures declined 0.6%.
The increased 1%.
Currencies
The Dollar Index increased 0.4%.
The declined 0.3% to $1.1254.
The dipped 0.7% to $1.2631.
The strengthened 0.4% to 108 per dollar.
Bonds
The yield on 10-year Treasuries sank four basis points to 0.83%.
The yield on Treasuries dropped five basis points to 1.59%.
Germany's yield declined one basis point to -0.33%.
Britain's yield declined two basis points to 0.313%.
Commodities
was little changed at $40.82 a barrel.
Gold was little changed at $1,697.79 an ounce.
decreased 1.5% to $100.76 per metric ton.
Source link