November 5, 2018
Posted by:

Trading

Category:

Market Overview
US futures, European shares bounce back from disappointed trade deal hopes
Yield on US Treasurys slips into short-term correction on investor cautiousness
Earnings data conveys fastest growth in 8 years
Oil slides as Iran shuns US sanctions
Key Events
European stocks as well as futures for the , and came under pressure on Monday after waning expectations for a US-China trade deal weighed on Asian trade overnight.
However, both US contracts and the —which was weighed on by carmakers and bank shares—managed to bounce back, climbing into positive territory by late European morning.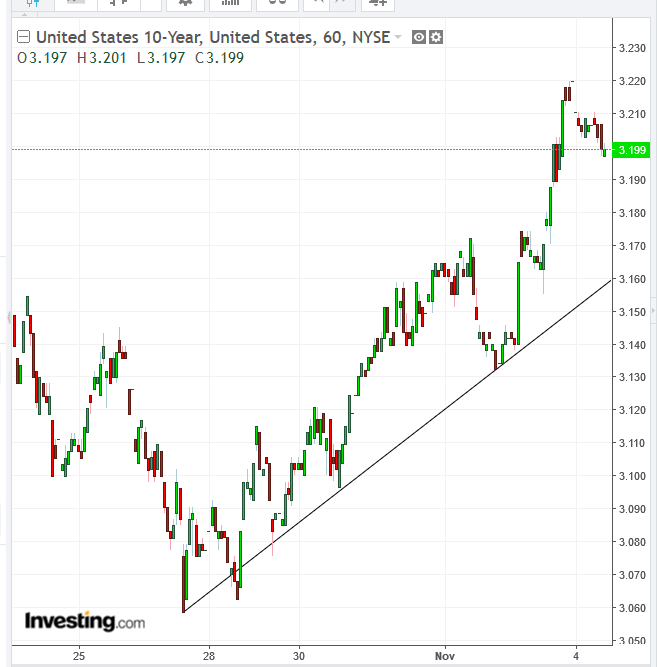 Investors bought into US Treasurys, probably motivated by ongoing equity declines and Friday's strong monthly , which bolstered the case for the Federal Reserve to keep . The rotation pushed the yield on bonds into a short-term correction, below 3.2 but still well above the short-term uptrend.
Global Financial Affairs
On Friday, US stocks took a hit after the White House's top economic advisor Larry Kudlow contradicted hints by US President Donald Trump of a forthcoming trade agreement with China. Despite losses on the last session of the week, the still managed to seal its best weekly performance in six months.
Nonfarm payroll figures smashed expectations, showing a labor market still in expansion mode. Perhaps more significant, year-on-year passed the three-percent level for the first time since 2009, underscoring the possibility of robust consumer spending—which makes up 75 percent of US economic growth.
US companies, three quarters of which have already reported financial results, are on track for posting their fastest earnings growth in 8 years, thereby helping support the country's upbeat economic outlook. (NYSE:) and (NYSE:), for instance, which are among the companies that reported results on Friday, confirmed the strongest quarterly performance in four years. After their respective releases, the stocks—as well as their dividends—may be even more attractive.
(NASDAQ:), which can be seen as a barometer of the broader tech sector universe, beat estimates and hit an all-time record on services revenues. However, the tech giant's stock suffered its biggest selloff in four years on softer guidance. Does Apple's slide signal a plateau in the market, as investor appetite for growth has become unrealistic? Or does it underpin a period of correction in an otherwise bull market?
Wall Street is sharply divided on the issue. While we have highlighted some glitches in the current equity market, we lean towards the latter explanation.
In FX trading, the is weaker against the dollar, as the greenback became the favorite safe-haven currency during trade jitters. The dollar is set to close at the highest level in almost a month.
In commodities markets, gave up early gains but remained in positive territory.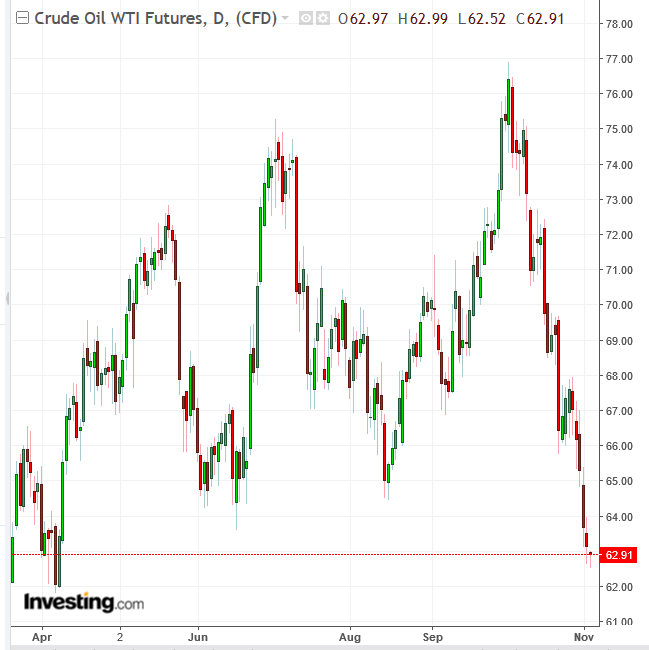 WTI Daily Chart
Conversely, kept falling for the sixth consecutive day, breaking below the $63 level for the first time since early April. A day after the official start of US sanctions against Iran, fears of a supply squeeze were eased by some waivers as well as comments by the Middle Eastern country's President Hassan Rouhani that Tehran will shun restrictions and resume selling oil.
Up Ahead
On Monday, the EU's chief Brexit negotiator Michel Barnier delivers a speech to the Grandes Conférences Catholiques in Brussels
Tomorrow, U.S. mid-term elections will determine whether Republicans keep control of Congress, setting the stage for Trump's 2020 re-election bid
Also on Tuesday, the Reserve Bank of Australia holds its November
Fed officials are expected to leave the main at their penultimate policy meeting of the year on Thursday
Trump plans to meet Russian President Vladimir Putin on the sidelines of Armistice Day celebrations on November 11.
Market Moves
Stocks
The slid 0.3 percent, the first retreat in a week.
The gave up 1.1 percent, the first retreat in a week and the largest decline in almost two weeks.
Currencies
The Dollar Index is flat.
The slid less than 0.05 percent to $1.1385.
The fell 0.8 percent to 5.4725 per dollar.
edged 0.6 percent lower to 14.3869 per dollar.
The slipped 0.3 percent, the most significant drop in almost two weeks.
Bonds
The yield on 10-year Treasuries fell two basis points to 3.20 percent, the biggest drop in more than a week.
Germany's yield fell one basis point to 0.42 percent, the most significant drop in more than a week.
Britain's yield declined one basis point to 1.486 percent, the biggest drop in more than a week.
The spread of Italy's bonds over Germany's notes climbed five basis points to 2.9449 percentage points.
Commodities
The rose 0.4 percent to the highest level in a week.
West Texas Intermediate crude slipped 0.3 percent to $62.94 a barrel, reaching the lowest level in seven months on its sixth straight decline.
LME dropped 0.7 percent to $6,239.00 per metric ton.
Gold gained less than 0.05 percent to $1,233.25 an ounce.
Source link