September 23, 2021
Posted by:

Trading

Category:

Market Overview
Fed said bond purchase paring could start in November
Powell stresses taper not tied to interest rate decision
Gold failed to rise on weak dollar amid risk-on resurgence
Key Events
Wednesday's indication from the Fed that it will start paring monetary stimulus drove futures on the , , and as well as European stocks higher in trading on Thursday ahead of the New York session open. 
Bitcoin's recovery continued for a second day. 
Global Financial Affairs
Yesterday, Fed chair, Jerome Powell stated that the central bank may start reducing its bond purchasing as early as November. However, he temporized, by stressing that this will have no implication on interest rates, softening what some may have otherwise considered a hawkish statement. Powell's aim was to be seen as flexible in an effort to avoid a so-called 'taper tantrum,' something that by and large, the Fed has been able to avoid thus far.
All four US contracts were up significantly. In particular, futures on the Russell 2000 almost doubled gains on NASDAQ futures, indicating renewed expectations of economic expansion. The small cap index benefits from a recovery, whereas the tech benchmark excels amid a contraction.
In Europe, the Index advanced broadly. The reflation trade that appears to be dominating US futures was not as obvious there. While travel and leisure—sectors sensitive to a restarting economy—led the gains, so did technology stocks. All we can figure is that investors broadly consider prices to be at bargain levels after the recent selloffs.
The sharp market declines earlier in the week were due to fears that China's giant real estate developer, Evergrande (HK:), might default, causing the type of financial fallout brought on by the collapse of Lehman Brothers in 2008. 
Markets calmed as Beijing pumped the local financial system with liquidity, indicating China won't echo President George W. Bush's decision to let the investment bank collapse. Also, private negotiations led to an announcement by Evergrande that its September bond coupon would be paid, keeping a default away, for now.
China's  and Hong Kong's —where the property developer is listed—advanced slightly. The group's shares, which rallied initially, trimmed gains, suggesting traders are not yet convinced the company is out of trouble, as it has failed thus far to publish a plan to reduce its more-than $300 billion debt burden. That leaves a level of uncertainty for adjacent, non-equity markets as well.
Yields on the Treasury note jumped, as bond holders sold off at the prospect of an end to monetary stimulus.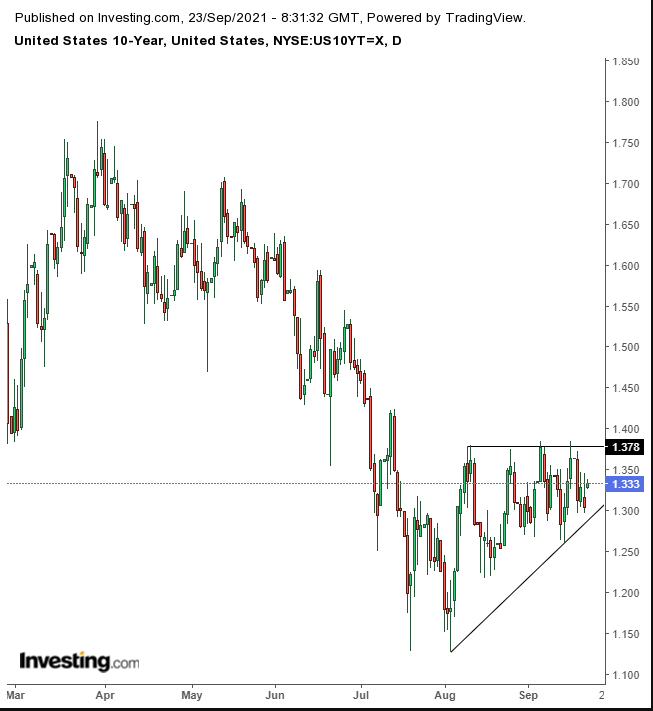 We're still waiting for an upside breakout of an ascending triangle.
The was dragged down by US currency-denominated Treasuries, wiping out yesterday's sharp gains.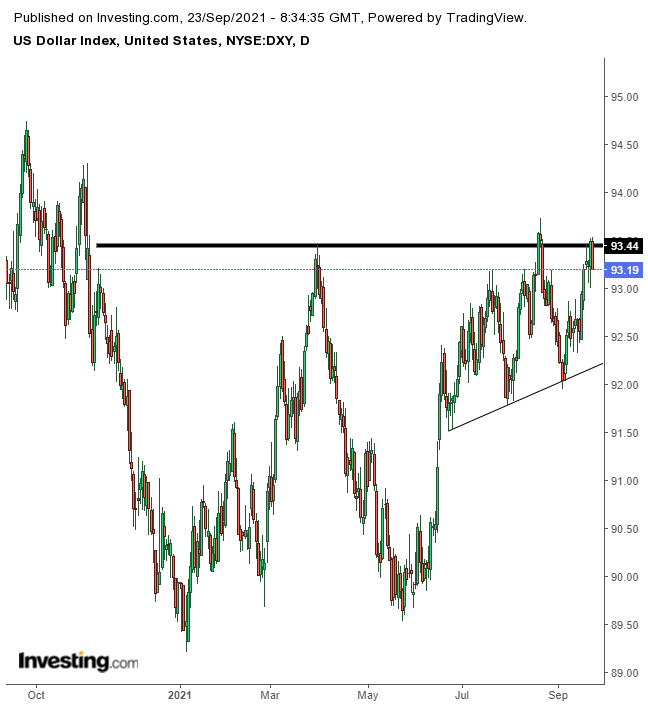 Dollar Index Daily
This reversal occurs at a crucial price level—below the head of a H&S top and the neckline of a massive double bottom sprawling since November.
was little changed despite significant dollar weakness, presumably due to an increased appetite for risk rerouting funds away from the precious metal and toward risk assets such as stocks.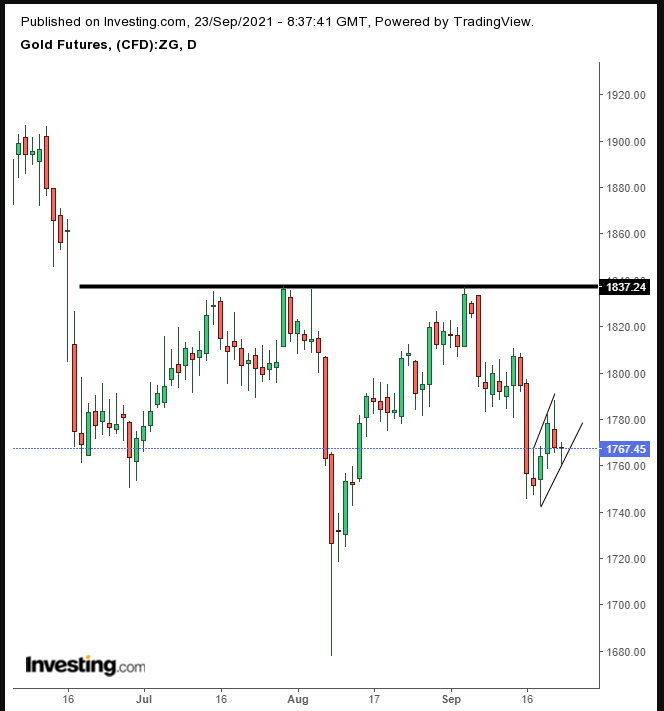 The yellow metal may be developing a rising flag, bearish after the preceding plunge. On the other hand, the same price action could be forming the right shoulder of a H&S bottom. Our advice, therefore, is to proceed with caution.
extended its rebound.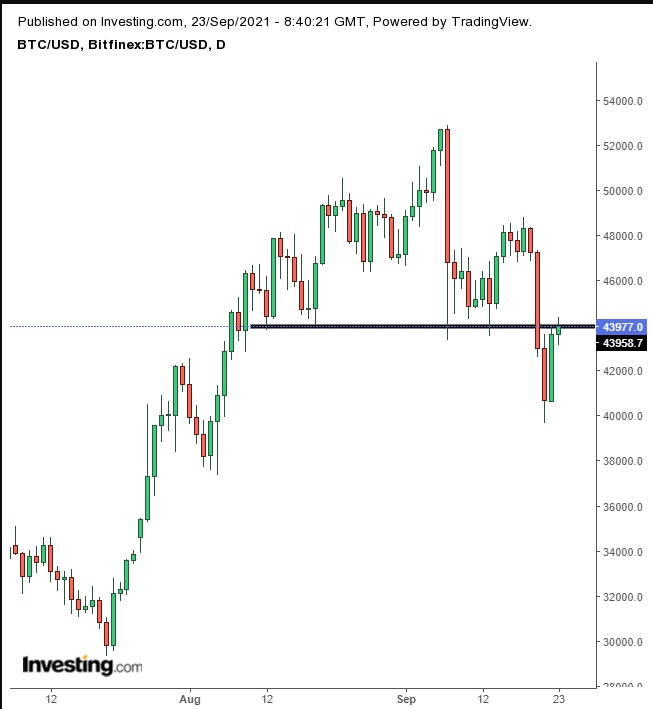 However, the advance is losing steam, as it finds resistance by the neckline of a H&S top. As well, gains by other crytocurrencies could be rejiggering which digital assests will dominate the asset class going forward.
rose for the second day.
Up Ahead
On Friday, the German is published.
US figures for August are released on Friday. 
Jerome , Fed Governor Michelle Bowman and Vice Chairman Richard Clarida discuss pandemic recovery on Friday.
Market Moves
Stocks
The STOXX 600 rose 0.8%
Futures on the S&P 500 rose 0.5%
Futures on the NASDAQ 100 rose 0.3%
Futures on the Dow Jones Industrial Average rose 0.5%
The Index rose 0.4%
The rose 0.5%
Currencies
The Dollar Index fell 0.2%
The rose 0.3% to $1.1717
The fell 0.2% to 109.96 per dollar
The was little changed at 6.4710 per dollar
The rose 0.2% to $1.3648
Bonds
The yield on 10-year Treasuries advanced three basis points to 1.33%
Germany's yield advanced three basis points to -0.30%
Britain's yield advanced two basis points to 0.82%
Commodities
rose 0.3% to $76.39 a barrel
fell 0.3% to $1,763.44 an ounce
Source link