May 18, 2020
Posted by:

Trading

Category:

Market Overview
Much of California will be open for business today, increasing demand for risk assets
Markets may be overly optimistic, pricing in a recovery even when data is still dire
Commodities, commodity stocks and commodity currencies are this morning's biggest gainers
Key Events
US futures for the , , and , as well as European stocks, advanced on Monday as investors' risk appetites were boosted by the prospect of reopening economies. In addition, out of Europe helped propel contracts and equities higher.
Oil and metals surged, driving commodity currency gains.
Global Financial Affairs
This morning, S&P 500 futures opened the trading week higher as loosened lockdown restrictions in California signaled that 75% of the Golden State's workers would be easing back to business. With the largest state economy within the largest global economy back online later today, investors were happy to continue narrowly focusing on good news while ignoring the bad.
That includes Fed Chair Jerome Powell's warning on Friday that stocks are likely to fall if COVID-19 worsens. He also noted that even as things currently stand, the economic slump could persist for at least another 18 months.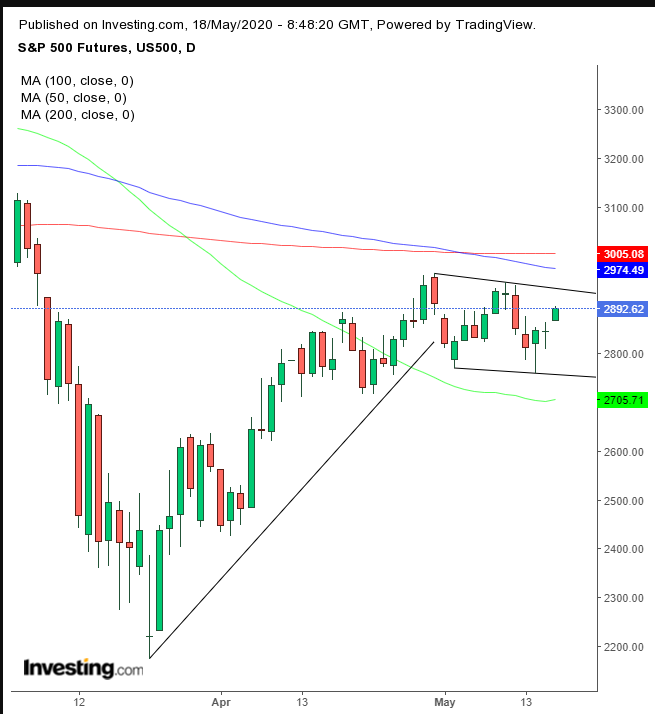 On Monday, S&P 500 futures jumped within a declining pattern whose upside breakout would render it a bullish flag. A fall below 2,700 would indicate a continued decline.
The outlook of a spike in commodity and product demand, as major economies return to business, buoyed sectors that have been suffering during the lockdown. Energy, mining and automobile producers led the higher.
During the Asian session, the digital board was completely green as warm weather has been enticing many economies to loosen restrictions that have kept much of the region indoors.
Australia's outperformed, (+1.03%), as soaring and prices lifted the commodity exporter's local equities. China's underperformed, (+0.24%), even after rising home prices suggested a gradual recovery. Still, tech shares offset much of that enthusiasm, after new US restrictions made the sale of crucial semiconductors to Huawei more difficult.
Despite market exuberance caused by the global easing of pandemic-related constraints, economic data this coming week will likely hit the US and global economies when they're already down: earlier today, though Japan's first quarter YoY came in better than expected, it was still a breathtaking -3.4%. This week's new metrics will come after recent releases revealed the US was undergoing the since the Great Depression, along with the worst and on record.
And even after Friday's gains, the slumped 2.25% for the week, its since the March bottom.
Yields, including for the US Treasury, and the were flat. The dollar surged versus the after China announced guidelines to revive large infrastructure projects.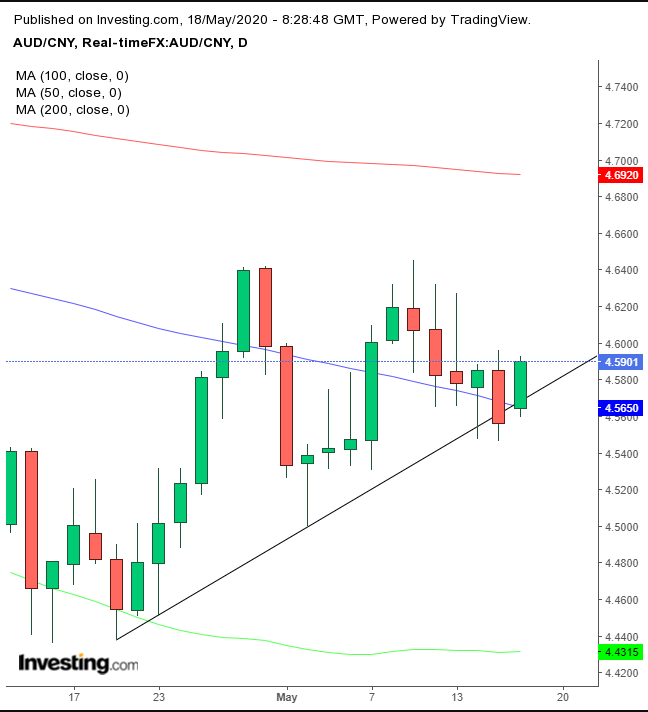 AUD/CNY Daily
The pair found support at Thursday's hammer, compounded by the 100 DMA, confirming the uptrend line since the April 21 low.
gapped higher, adding 3.9% to a three-day rally that saw the white metal gain more than 13%.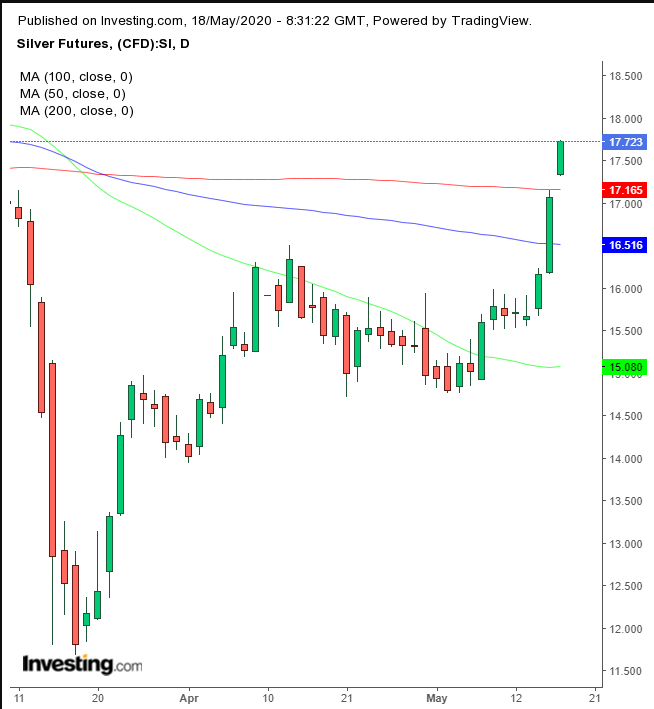 This is the highest point for the precious metal since February, after it scaled above the 200 DMA.
also gapped up, rising above $31, to a more than two-month high.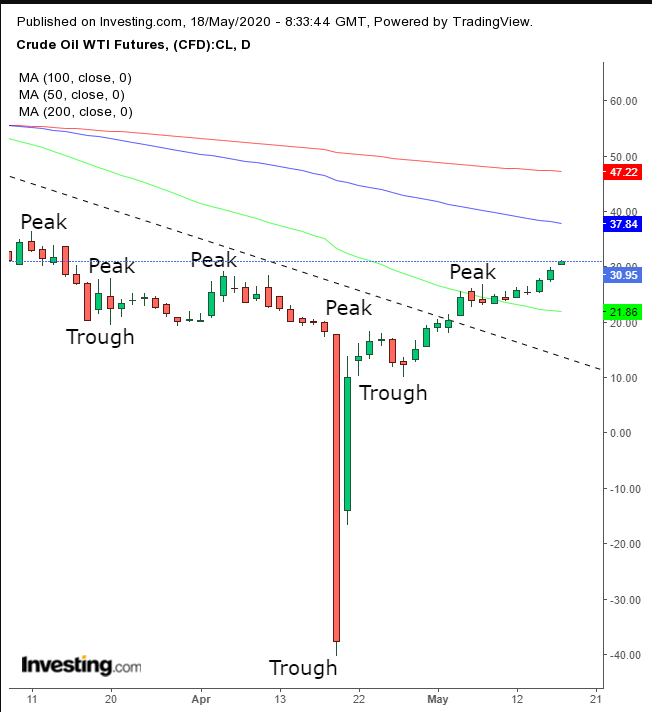 The price move has been driven by producers cutting production. However, due to its unprecedented subzero trough, it's difficult to determine when a trend reversal for this particular commodity will take place. When excluding the negative pricing, at least one more trough is required before calling an uptrend.
Up Ahead
The RBA will release its later today.
The UK reports on Tuesday; it will likely show that surged.
Germany's , released Wednesday, is forecast to jump, even after the country slipped into recession.
Data on is expected to soar on Wednesday.
US will be eyed Thursday, after a total of over 36-million Americans have already filed unemployment claims.
Market Moves
Stocks
The STOXX Europe 600 Index Index climbed 1.9%.
Futures on the S&P 500 Index rose 1.5%.
Germany's climbed 2.4%.
The rose 0.2%.
Currencies
The was flat.
The was little changed at $1.0822.
The dipped 0.1% to $1.2106.
The weakened 0.2% to 107.23 per dollar.
The strengthened 0.6% to 23.818 per dollar.
Bonds
The yield on 10-year Treasuries increased less than one basis point to 0.65%.
Germany's yield rose less than one basis point to -0.53%.
Britain's yield declined one basis point to 0.221%.
Portugal's yield climbed less than one basis point to 0.882%.
Commodities
West Texas Intermediate crude increased 5.9% to $31.18 a barrel.
Gold strengthened 1% to $1,760.36 an ounce.
Iron ore rose 3.4% to $93.60 per metric ton.
Source link