April 14, 2021
Posted by:

Trading

Category:

Market Overview
S&P 500, NASDAQ 100 hit new records
JNJ vaccine paused due to side effects
Dollar falls as yields may top out
Key Events
Futures on the , , and as well as European stocks edged higher in trading on Wednesday, and global gauges scored fresh records, ahead of the next major market catalyst, earnings season.
The dollar remains under pressure and fell for the third consecutive day, while Bitcoin continued rising.
Global Financial Affairs
In Europe, the Index managed to advance toward Friday's record after shares in luxury-goods group, LVMH (PA:) surged 2.6% to an all-time high on better than expected performance and a stronger revenue forecast, overshadowing a selloff in Barclays (LON:) andTesco PLC (LON:) shares.
The British multinational grocery retailer's year-on-year sales were chipped away by increased costs. From a technical perspective, the stock is facing long-time pressures that are catching up with it.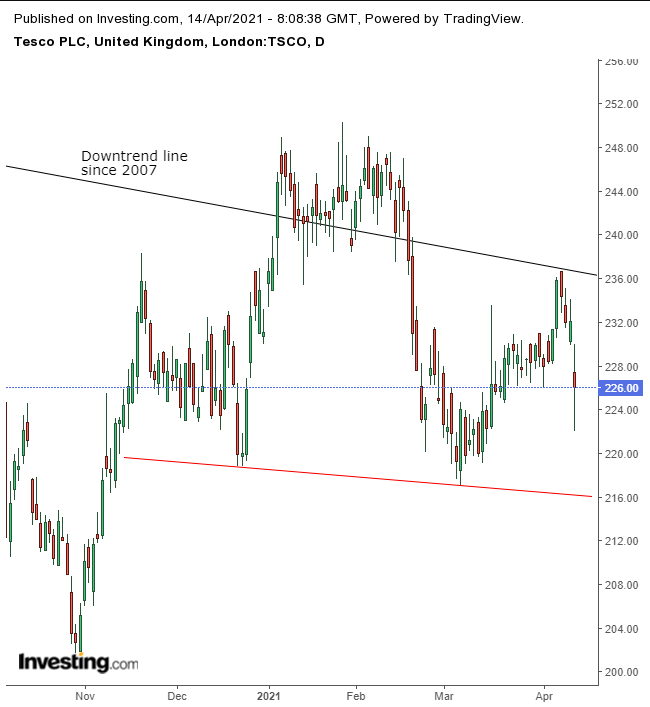 TSCO Daily
The price is developing a H&S pattern after finding resistance by the downtrend line since the 2007 all-time high.
Most Asian benchmarks followed the move higher on Tuesday in US stocks. Japan's dropped 0.4%, bucking the trend, on concerns of rising cases of coronavirus just 100 days ahead of the postponed 2020 Olympics, which Tokyo is hosting in July.
MSCI's of Asia-Pacific shares outside Japan climbed 0.6%, while the of equity performance in 49 countries rallied 0.15%, carving out another new record.
Yesterday during the Wall Street session, the and the hit new records, despite Federal officials recommending pausing Johnson & Johnson (NYSE:) vaccination program, as it emerged that 6 women suffered serious side effects—including one death—due to rare blood clots. The , which includes JNJ, fell more than 2% and was the only gauge in the red, with 17 of 30 stocks closing in negative territory.
Goldman Sachs (NYSE:)—which reports earnings today before the US market opens—underperformed, plunging more than 4%, after falling yields reduced expectations for rising rates, banks' bread-and-butter.
US —a measure for inflation —climbed more than expected in March, but the move was not deemed sufficient to move a staunchly dovish Federal Reserve to reverse policy.
Investors are still unsure about the direction of yields, including for the note, which have been moving sideways for a month.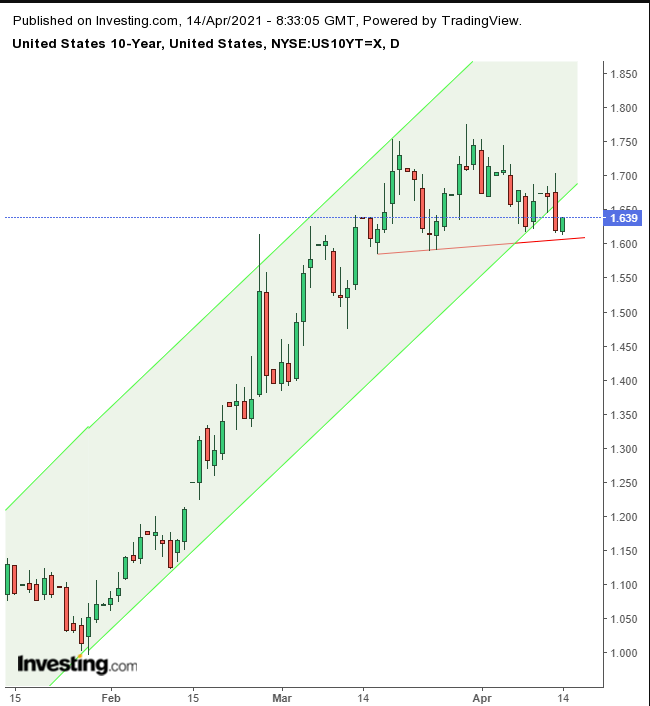 10-year Treasuries Daily
Yields have been ranging, but a fall below 1.6% would complete a top. Alternatively, topping the 1.8% would likely trigger a resumption of the bond selloff, sending yields toward the 2% highs not seen since mid-2019.
The fell for a third straight day, its longest losing streak since Mar. 11, taking us by surprise.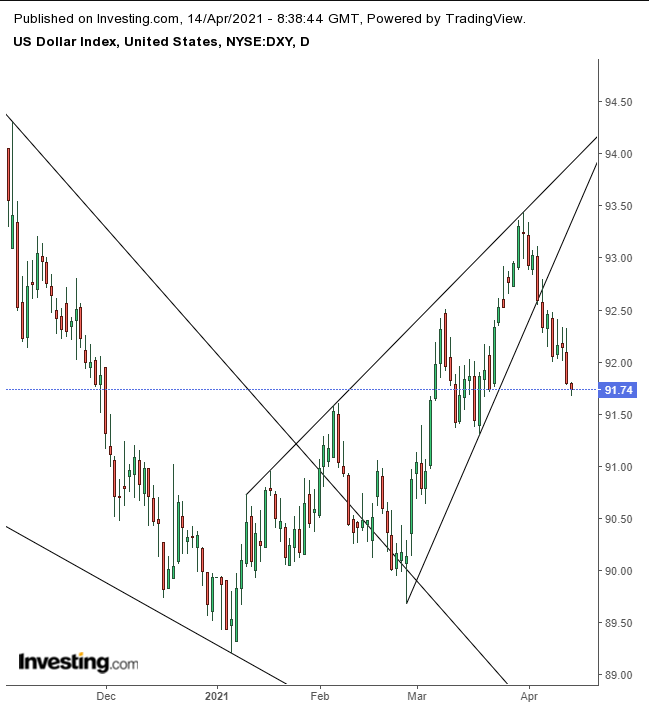 Dollar Index Daily
At this point, we believe that a rising wedge has been completed. That's bearish after the preceding plunge since March. The wedge's target is its base, which would retest a preceding, much larger falling wedge since the March peak. Now, we expect the dollar could be falling toward 90, which could be triggered by the aforementioned top in yields.
Declining yields and a falling dollar could boost .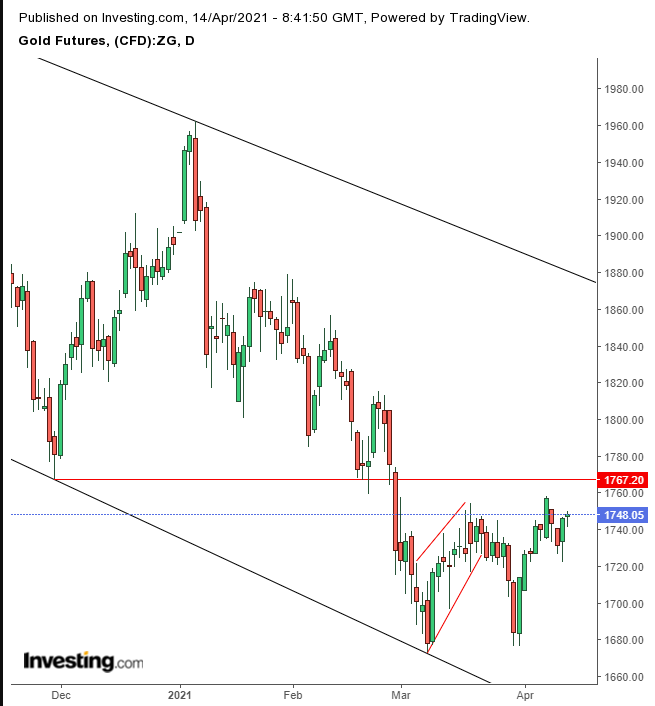 This would return the yellow metal towards the top of its falling channel since the March peak, which would happen if the previous bearish flag blows out and the price tops the $1,770 level, an important support-resistance level.
posted a new all-time high of $64,374, ahead of today's direct listing of crypto exchange Coinbase (NASDAQ:). The cryptocurrency is inching toward the $65,000 level. However, keep an eye on its trajectory, as it might be forming a bearish wedge.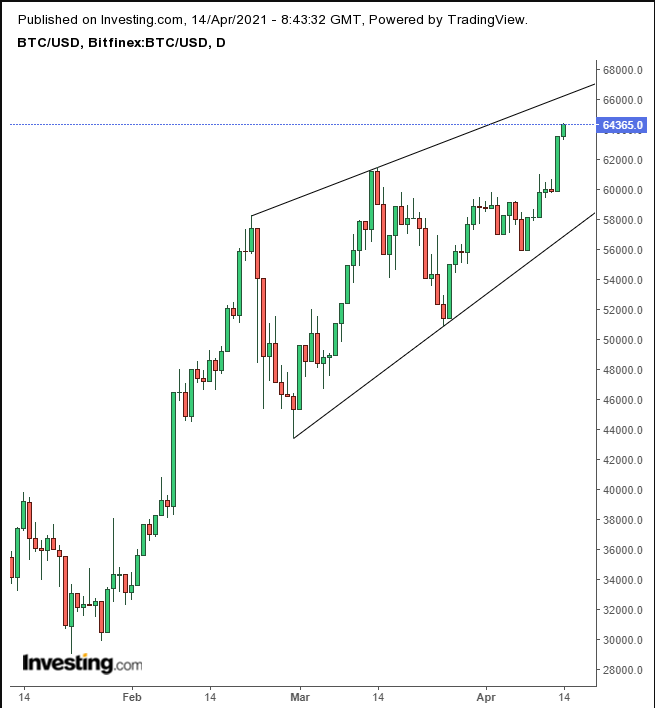 The Coinbase offering will likely create a buzz, attracting new investors to the stock and the digital currency and incentivizing other crypto-related endeavors to go public while also boosting additional digital tokens.
opened higher, overtaking the $61 level.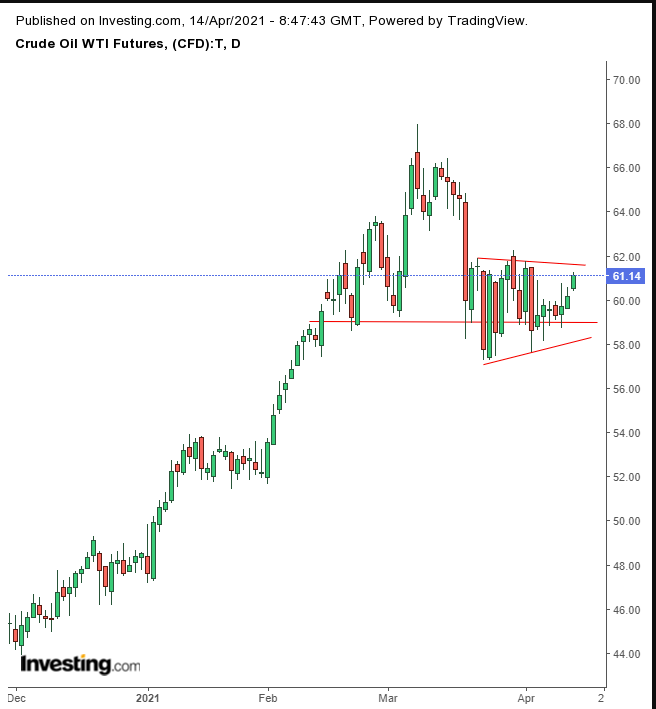 However, it remained within a potentially bearish range, the right shoulder of a possible H&S top.
Up Ahead
Banks and financial firms begin reporting first-quarter earnings, including JPMorgan Chase (NYSE:) and Goldman Sachs (NYSE:) report today, Citigroup (NYSE:) and Bank of America (NYSE:) on Thursday and Morgan Stanley (NYSE:) on Friday.
Federal Reserve Chair, Jerome Powell is attending the Economic Club of Washington for a moderated Q&A on Wednesday.
On Thursday, US data including , and are released.
China publishes , and figures on Friday.
Market Moves
Stocks
Futures on the S&P 500 Index increased 0.1%.
The Stoxx Europe 600 Index climbed 0.1%.
The Index increased 0.7%.
The Index increased 0.9%.
Currencies
The Dollar Index dipped 0.1%.
The gained 0.1% to $1.1965.
The gained 0.4% to $1.3799.
The strengthened 0.1% to 6.536 per dollar.
The n strengthened 0.1% to 108.97 per dollar.
Bonds
The yield on 10-year Treasuries jumped two basis points to 1.63%.
The yield on Treasuries increased less than one basis point to 0.16%.
Germany's yield decreased less than one basis point to -0.30%.
Britain's yield declined one basis point to 0.774%.
Japan's yield decreased two basis points to 0.091%.
Commodities
West Texas Intermediate crude increased 1.3% to $60.96 a barrel.
increased 1.2% to $64.43 a barrel.
Gold was little changed at $1,745.12 an ounce.
Source link