June 22, 2021
Posted by:

Trading

Category:

Market Overview
US, European stocks jumped the most in over a month on Monday
Bitcoin continues to head south
Analysts forecast $100 oil
Key Events
US contracts on the , , and as well as European stocks were all trading slightly lower on Tuesday, while earlier, most Asian shares were up after Wall Street's rebound on Monday as dip buyers took advantage of share price weakness. Investors are now eagerly awaiting Federal Reserve Chair, Jerome Powell's testimony before Congress at 2.00PM EDT.
Meanwhile, Treasury yields were little changed.
Global Financial Affairs
Powell's later today is sure to gain more attention than usual after the Fed chair finally conceded that inflation was up "notably," and that although there is economic improvement, the pandemic remains a risk. Futures on the Russell underperformed, while futures on the Dow—which lists blue chip value stocks—were only just in the red. Yesterday, the Index rallied the most in five-and-a-half weeks.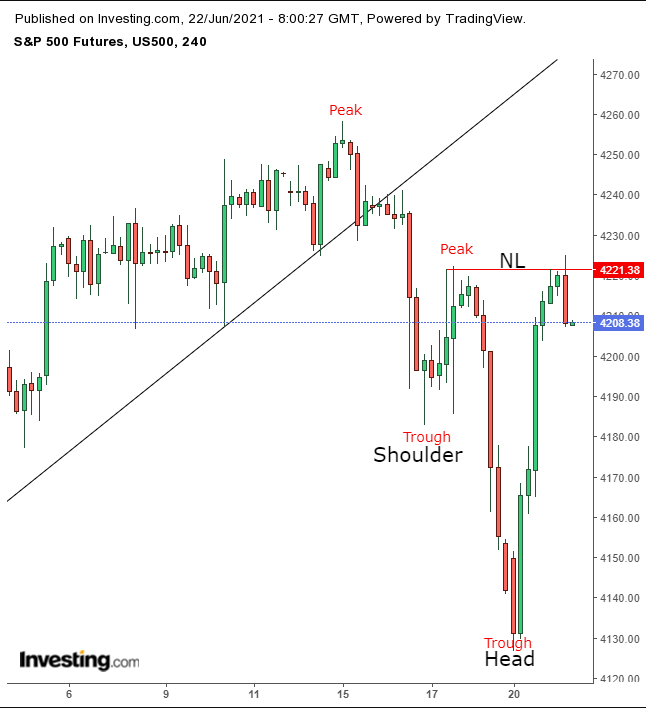 S&P Daily
Contracts on the S&P 500 found resistance by last Thursday's highs, after having fallen below the uptrend line since the Mar. 17, 2013 low. While the peak-trough direction is down, today's price tested the previous peak, forming a possible H&S bottom.
In Europe, the Index oscillated, as gains in energy-related stocks countered a slide in technology shares, resuming the reflation rebound. Over the past two days we've pointed out that while value shares led rallies sporadically, using weekly, monthly, three monthly and YTD measures, growth stocks dominated the market this year. Yesterday, the pan-European benchmark jumped the most in a month.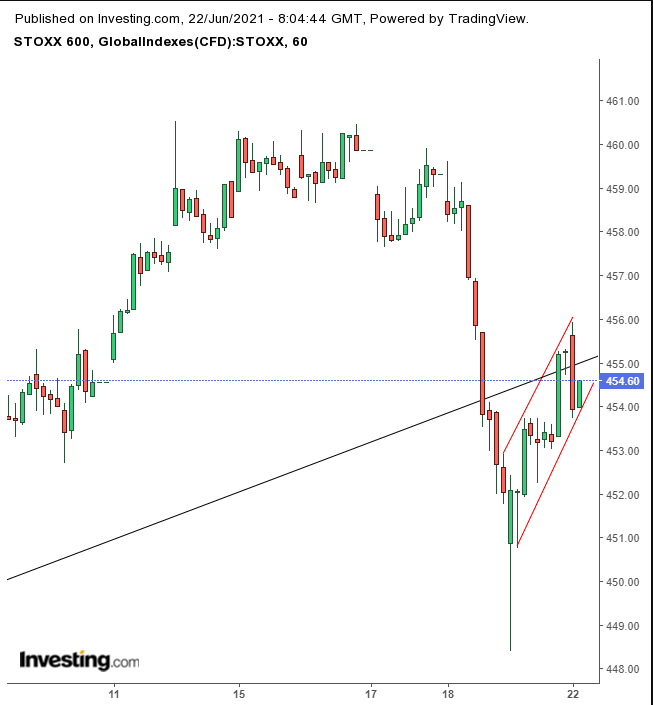 European stocks found support at the bottom of an hourly rising flag, as bulls attempt to climb back above the monthly uptrend line, while bears await a downside breakout to signal the next stampede lower, to repeat Friday's plunge.
This morning, most Asian benchmarks tracked Monday's recovery on Wall Street, buying into the dip of a panicked selloff after the Fed reminded the market that every party has to end and the US central bank will have to begin removing support, at some point, sooner than it had previously indicated. Japan's jumped 3.1% leading the regional rally. The only major gauge in the red was Hong Kong's which slid 0.8%
Yields on longer-dated Treasuries rebounded in the US session yesterday, even as short-end rates remained anchored. That undid some of the curve-flattening that swept across markets after Fed officials last week accelerated their expected pace of policy tightening.
Yields on the Treasury note crawled higher, extending slightly yesterday's rebound.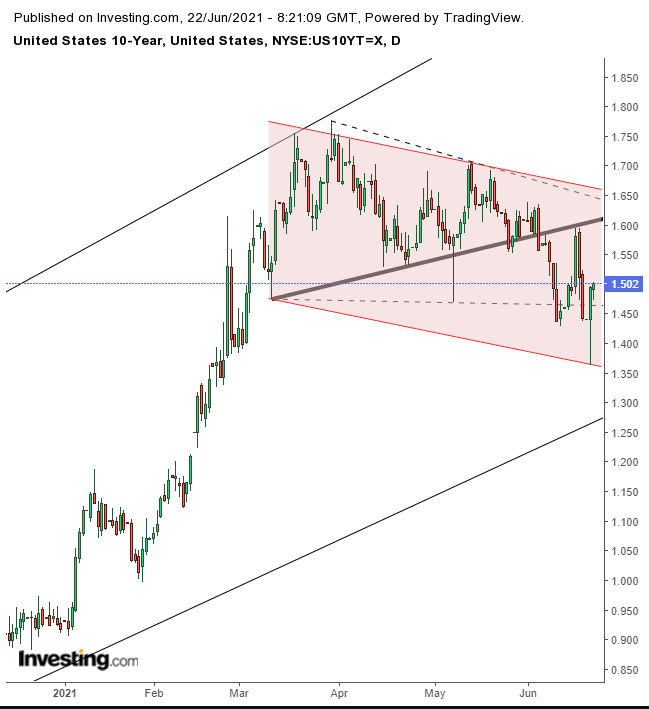 10-year Treasuries Daily
After topping out, yields may have found support having neared the bottom of what may prove to be a falling channel (red), while finding potential support, having neared the bottom of a rising channel since the August bottom
The rebounded from its retreat after surging on a hawkish Fed.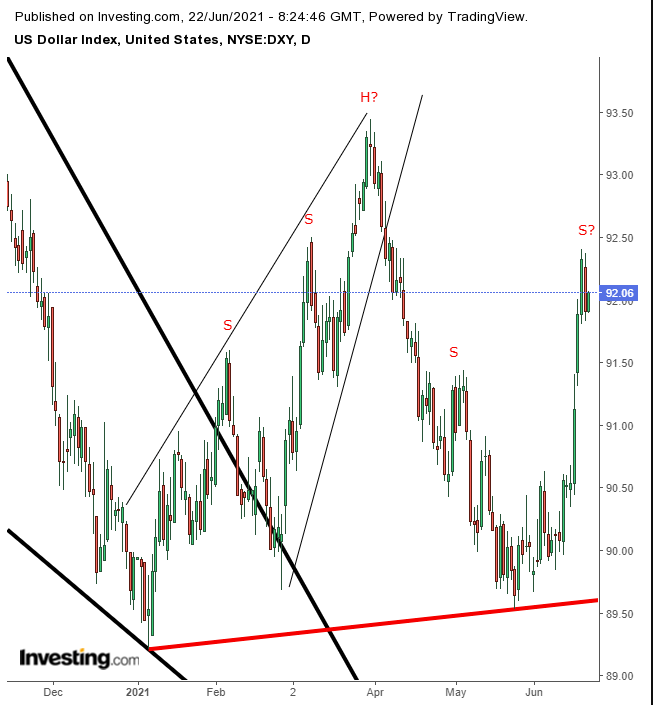 Will the massive falling wedge (thick black lines) from the March 2020 peak retain its support (thick red line) for another go up, or will prices fall below 89.50, completing a large H&S continuation pattern, heading toward 2014 lows? Only time will tell.
In mirror image of the dollar, pared yesterday's gains.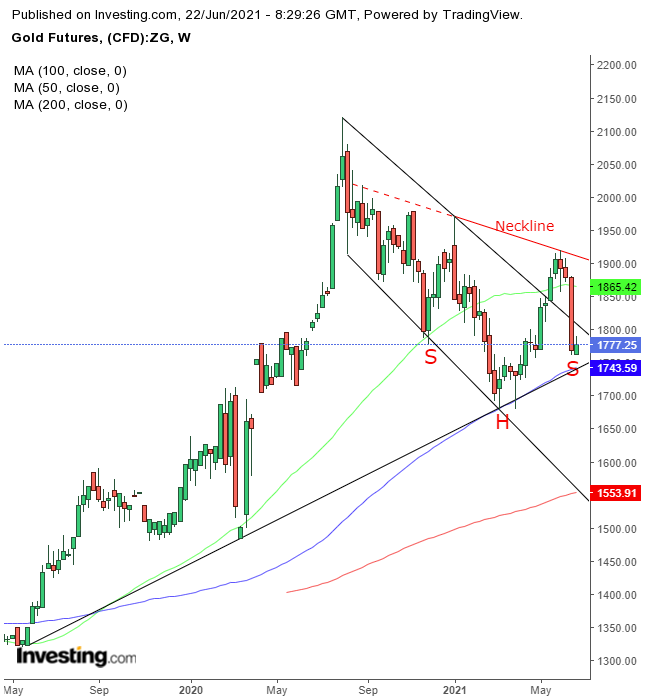 Gold Daily
While returning into its falling channel since its 2020 peak record, gold found support at the Nov. 27 low, building a case for a H&S bottom, supported by its long-term uptrend line since the May 2019 low, reinforced by the 100-weekly MA. 
has been under a concerted attack of negative news, ranging from Elon Musk's flip-flop on allowing Tesla (NASDAQ:) to accept the digital coin to purchase its EV cars, El Salvador's challenge to adopt the cryptocurrency as legal tender and ongoing Chinese crackdowns. On the bright side, despite it all, BTC prices managed to maintain support for a full month.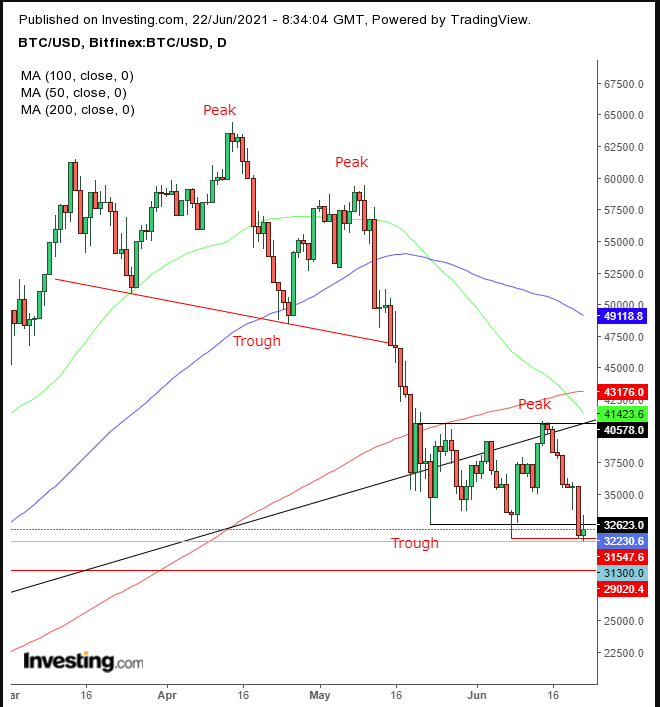 While Bitcoin bulls will have to prove their commitment, after the cryptocurrency fell bellow its uptrend line, triggering a Death Cross, following a H&S top that established a descending peak-trough formation, risk-takers have an incredible long-position from a risk-reward perspective, considering the price is near support, which will allow for potential gains in the event of rebounding to the range top.
Analysts at Bank of America and the Trafigura Group think could hit $100 if the current demand trend persists. Meanwhile, Iran's new hardline President-elect Raisi has ruled out a meeting with US President Joseph Biden. The Iranian president to be is posturing to his public—which will likely slow down a return of Iranian oil to markets, limiting supply.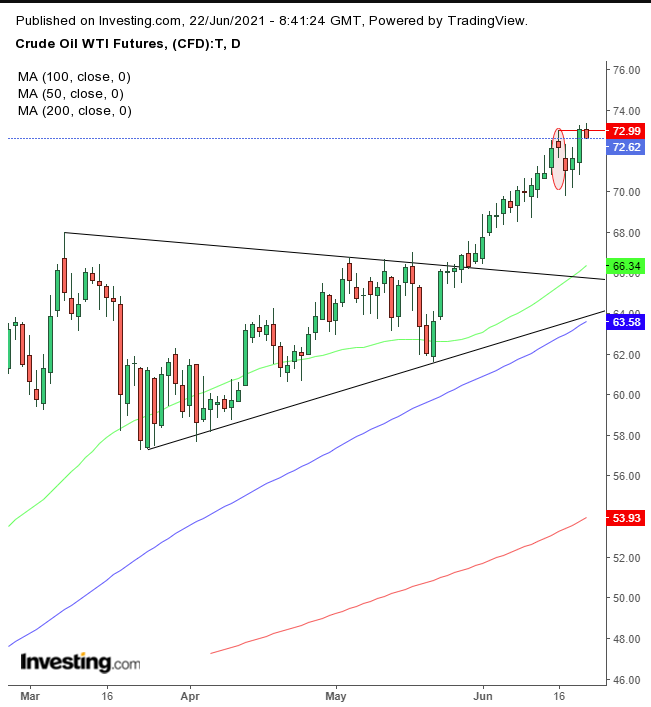 While we have been bullish on oil since it completed a bullish triangle on Monday, we want to see it clear last week's evening star, which could signal a return-move toward $66, before another leg up toward that beckoning $100 goalpost.
Up Ahead
Crude oil are released on Wednesday.
On Thursday US are published.
Bank of England interest rate Thursday.
Market Moves
Stocks
The STOXX 600 fell 0.1%
Futures on the S&P 500 were little changed
Futures on the NASDAQ 100 fell 0.1%
Futures on the Dow Jones Industrial Average were little changed
The Index rose 1%
The Index was little changed
Currencies
The Dollar Index rose 0.2%
The fell 0.1% to $1.1906
The was little changed at 110.37 per dollar
The fell 0.1% to 6.4756 per dollar
The fell 0.3% to $1.3898
Bonds
The yield on 10-year Treasuries was little changed at 1.49%
Germany's yield was little changed at -0.17%
Britain's yield advanced one basis point to 0.78%
Commodities
was little changed
fell 0.1% to $1,781.40 an ounce
Source link