May 13, 2021
Posted by:

Trading

Category:

Market Overview
Inflation concerns persist
Pressure on tech sector
Dollar recovers
Key Events
Futures on the , , and as well as European shares paused on Tuesday, ahead of the US session open as traders remain on high alert after Monday's technology sector selloff.
Bitcoin faltered and we expect it to continue to retreat.
Global Financial Affairs
Tech giants including Tesla (NASDAQ:) and Amazon (NASDAQ:) dragged the NASDAQ 100 lower on Monday while the and closed higher as investors moved into stocks that are expected to benefit from the economic reopening.
Although the was in the green, the , a broad measure of European shares was trading lower.
Analysts are forecasting that UK stocks may benefit from an expected super cycle in commodities, as the FTSE 100 is heavy with mining stocks. Both the and the were down against the dollar. A weaker pound may be positive for British stocks. The UK is an island nation that has recently left the EU and is therefore heavily dependent on exports. As sterling weakens, exports become cheaper which boost sales for UK corporates.
If the forecast for a super cycle in commodities comes to fruition it should boost the pound, maybe not significantly against the dollar, as it is the base currency for commodities, but against the euro, its main currency peer.
may have completed a rising wedge, bearish within its downtrend.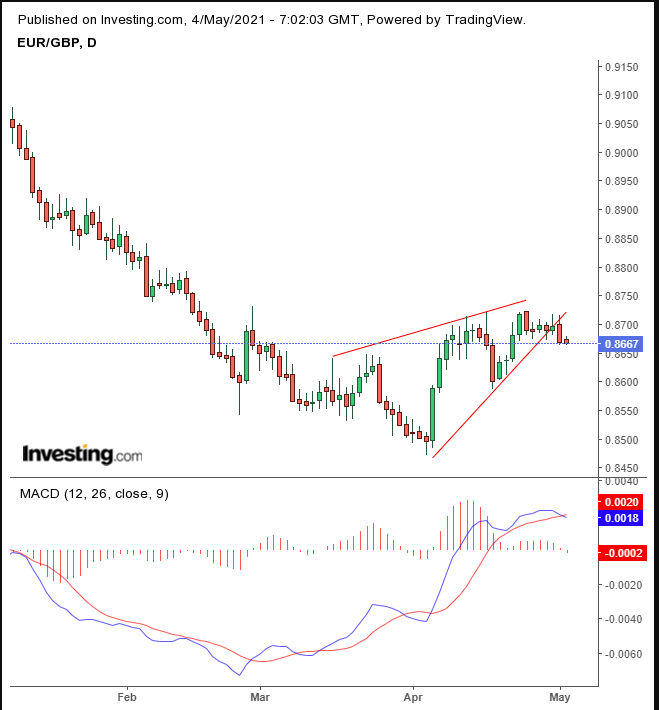 The MACD has provided a sell signal.
In Asia, Hong Kong's , Australia's and South Korea's closed in the green, up over 0.5%. Taiwan's trimmed a 3.3% selloff to close down 1.6%. Some investors cashed out after the index outperformed all major global benchmarks in April, while others bought the dip. Japan and China's markets were closed for holidays.
In the US, stocks closed near session lows on Monday as traders are weighing the possible outcome of faster than expected . Federal Reserve Chair Jerome Powell's ability to allay concerns that an interest rate hike is likely may have been temporary, as other noted figures, including Warren Buffet and noted economist and president of Queen's College Cambridge, Mohamed El-Erian warn that any of the recent increases in prices are not transitory.
S&P 500 tech and retail firms underperformed while commodity and industrial stocks outperformed. Pfizer (NYSE:) advanced as the White House said it will help it export American made coronavirus inoculations, and Moderna (NASDAQ:) climbed after agreeing to provide up to 500 million doses of its COVID-19 vaccine to the global vaccination program, COVAX. Skin care and makeup company Estee Lauder (NYSE:) sold off after missing earnings estimates.
Yields on the Treasury note are slightly higher today, along with the expectation of higher inflation, and therefore higher rates. Investors are aware of comments from Dallas Federal Reserve Bank President Kaplan on Friday, who broke ranks with the Fed boss by insisting that the US central bank should begin to discuss tapering its balance sheet, as well as raising rates earlier than it has said. Still, from a technical perspective, rates face resistance.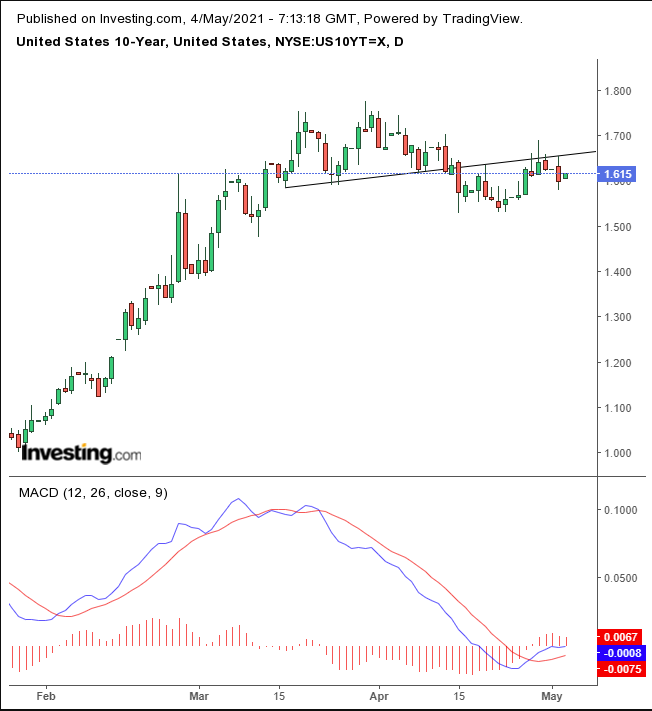 Yields are still below the extended neckline of a top, and while the MACD suggests conditions are ripe for rates to climb higher, as long as they remain below the neckline we consider it a risk to the downside. Bond traders will be closely watching the US report on Friday.
Rising yields pulled on the .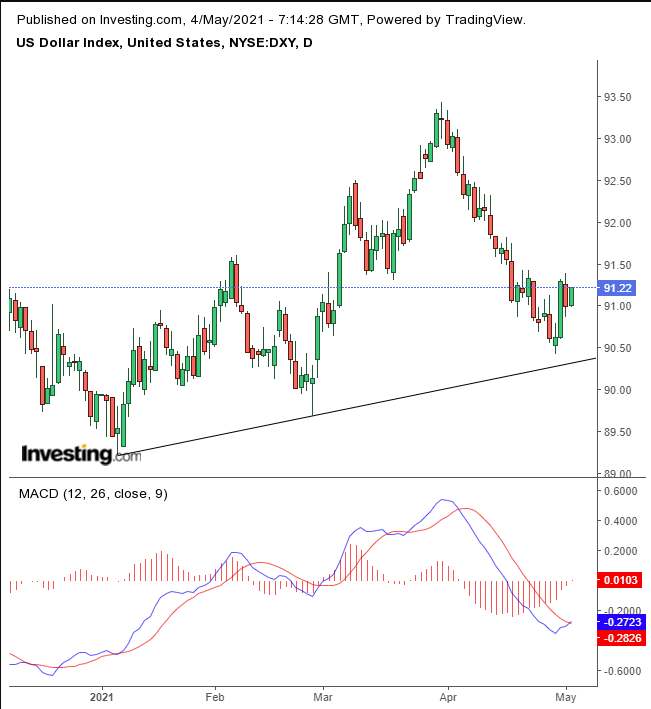 The greenback has bounced off an uptrend line and the MACD just gave the hint of a bullish cross.
is struggling to move higher above the second bullish flag in a row, which can be seen with the MACD's short and long MAs intertwined.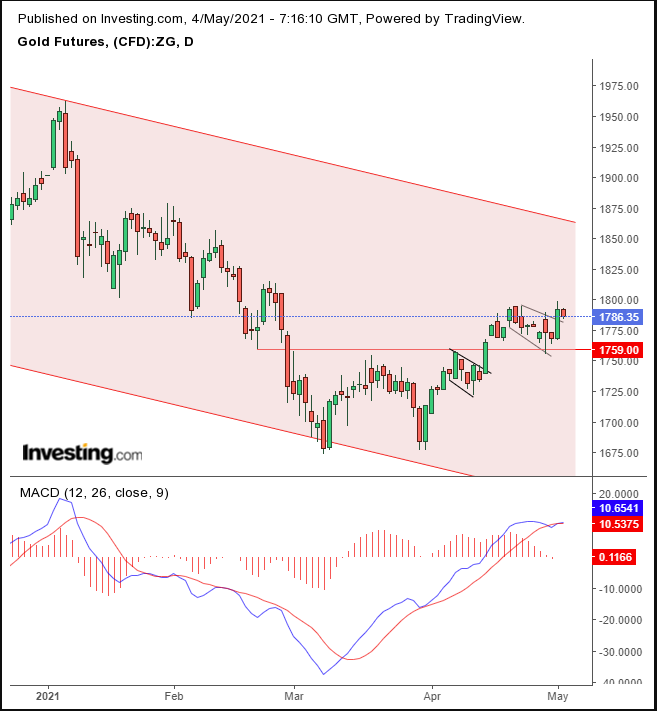 While we expect the precious metal to move higher, we remind readers that it is within a medium-term falling channel.
We can see the same struggle with .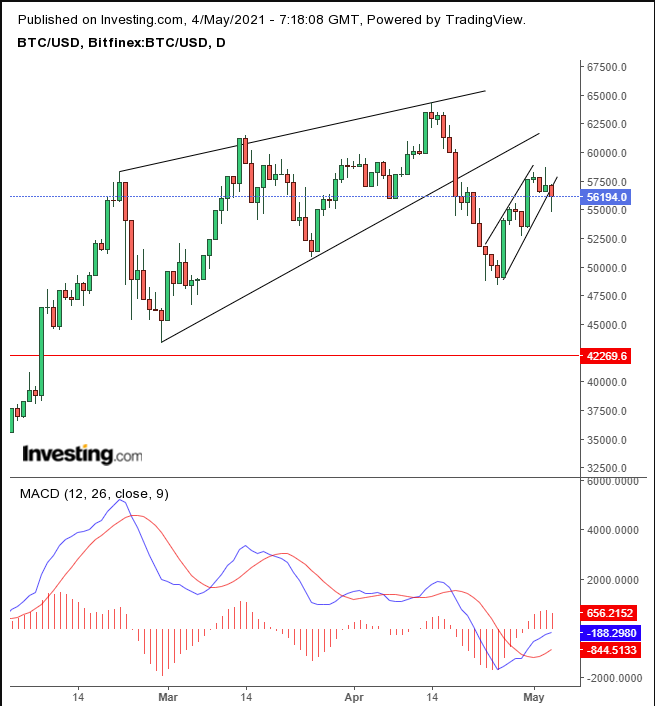 The cryptocurrency is struggling with the downside breakout of a bearish flag, confirming the bearish wedge. The MACD is showing that conditions are ripe for another advance, from a comparative averages perspective. We however, expect a downside breakout, and if one does follow through the pattern, we expect a dip to as low as the $40,000 levels.
And, finally, we can see the same conflict with .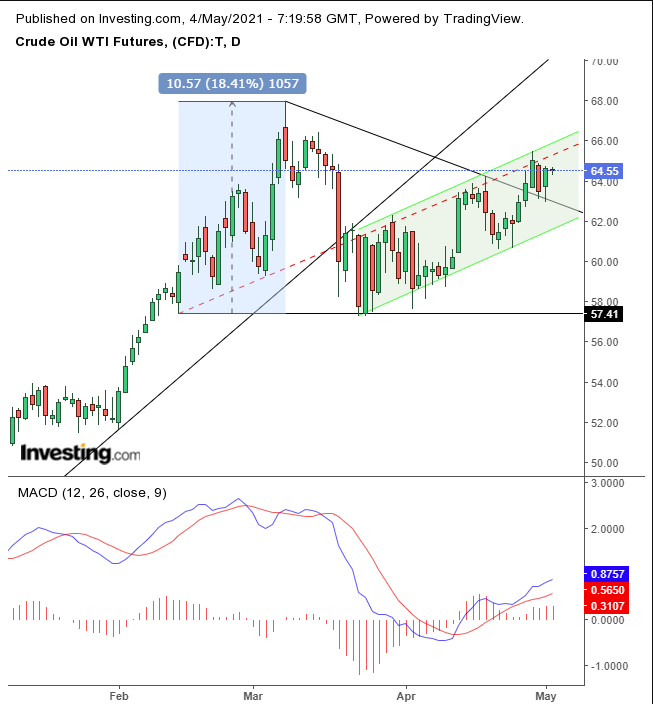 Oil is being squeezed between the upside breakout of a descending triangle—which should reverse positions and catapult prices higher—and the top of its rising channel. The MACD provides a bullish signal.
Up Ahead
Today the US , , are released.
On Wednesday, Chicago Fed President Charles Evans gives a virtual speech at an event hosted by Bard College and Cleveland Fed President Loretta Mester gives a virtual speech to the Boston Economic Club.
The Bank of England announces its rate on Thursday.
Market Moves
Stocks
S&P 500 futures fell 0.07%.
Australia's Index rose 0.5%
South Korea's KOSPI rose 0.4%
Hong Kong's Hang Seng Index rose 0.5%
The futures rose 0.1%
Currencies
The fell 0.2% to 109.30 per dollar
The was at 6.4767 per dollar
The Dollar Index rose 0.2%
The euro traded at $1.2039, down 0.2%
Bonds
10-year Treasury futures were little changed.
Cash Treasuries were closed in Asia.
Australia's bond yield was at 1.76%
Commodities
West Texas Intermediate was at $64.43 a barrel
was down 0.3% to $1,786.86 an ounce after climbing 1.3%
Source link