November 12, 2018
Posted by:

Trading

Category:

Market Overview
US futures waver, European stocks slip
Dollar continues to thrive at the highest levels since June
Oil holds on to gains on Saudi supply cuts

Key Events
European stocks slipped lower and futures on the , and wavered this morning, after shaking off Asian market weakness this morning. The leaped, and is set to end a ten-day selloff.
The gave up a strong opening that was boosted by gains in shares of commodities producers which tracked the climb in oil prices. After initially opening 0.17 percent higher and extending the advance to 0.6 percent, the pan-European benchmark lost 0.26 percent, with no apparent cause as of 4:07 EDT.
Earlier, the Asian session was beset by volatility, with the dropping 1.19 percent. Most regional benchmarks opened lower as signs of softening demand in China—underpinned, among others, by the forward outlook posted by one of the country's retail giants, (NYSE:)— rekindled anxiety about the outlook for world growth. However, an optimistic outlook on key economic data coming out this week, such as industrial production figures from and , may have convinced dip buyers to pull prices off their lows.
Japan's started 0.6 percent lower and extended the drop to 0.9 percent, but later managed to eke out a thin 0.09 percent higher close.
China's opened 0.22 percent lower. Unlike the Nikkei, it averted bigger losses, to rebound 1.22 percent after Chinese Premier Li Keqiang announced Beijing will further open the domestic economy to stave off rising protectionism. Hong Kong's started higher and kept advancing. However, it lost its upward momentum and closed flat.
Global Financial Affairs
US majors slid on Friday as the on-again, off-again tech stock rout picked up after disappointing corporate results, dragging the 1.67 percent lower. However, on a weekly basis, shares advanced. This is the second consecutive week that saw gains, only to have equities sink on Friday. Although two negative closes at the end of the trading week are insufficient to mark a pattern, investors should ask themselves whether they signal a build up of uncertainty, as traders are unwilling to be locked into positions over the weekend.
The outperformed its peers, both over the one-week and two-week period. The posted a mirror-image trajectory, underperforming over the same two timeframes. This seems to underscore trader conviction that trade uncertainty—which would favor stocks of domestic companies over export-sensitive mega-cap shares—is not an immediate threat.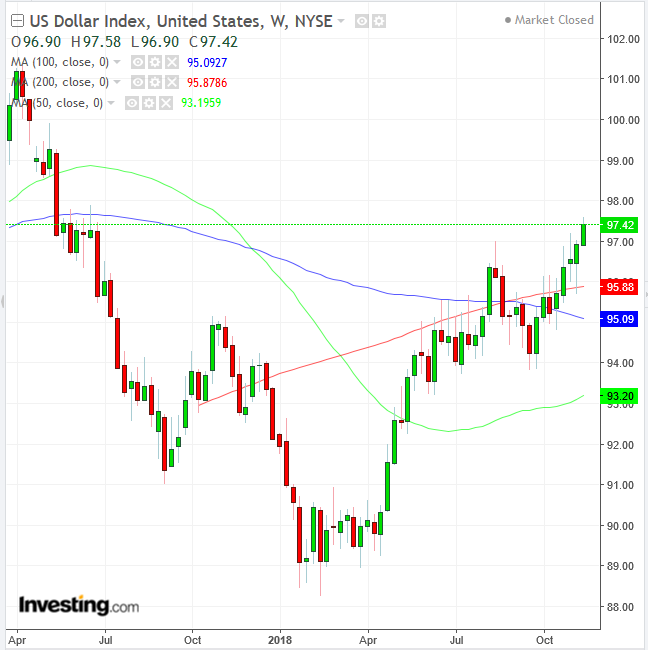 DXY Daily Chart
The greenback jumped on last week's favorable US data, including Friday's and the Fed's following the , all pointing to higher interest rates. The USD is currently trading at the highest level since June last year.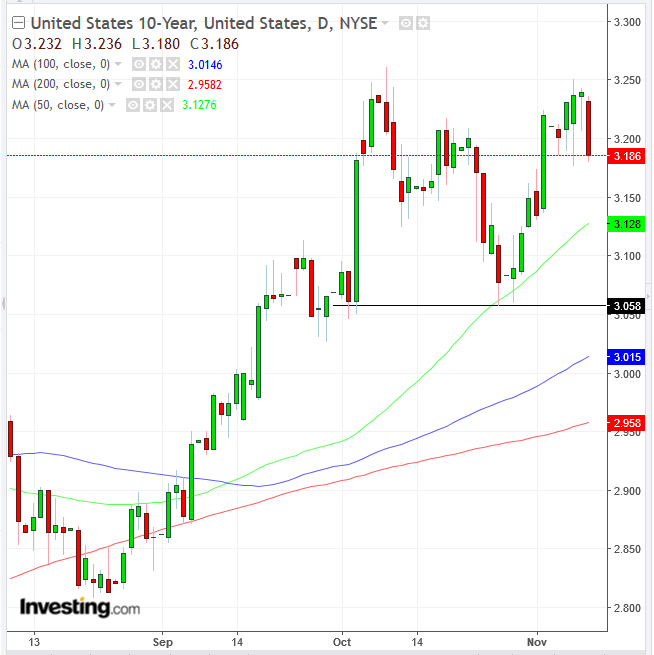 Meanwhile, savvy traders won't have Treasury data to analyze as bond markets remain closed for Veterans Day. The yield on notes dropped five basis points to 3.19 percent, creating the potential for a double top.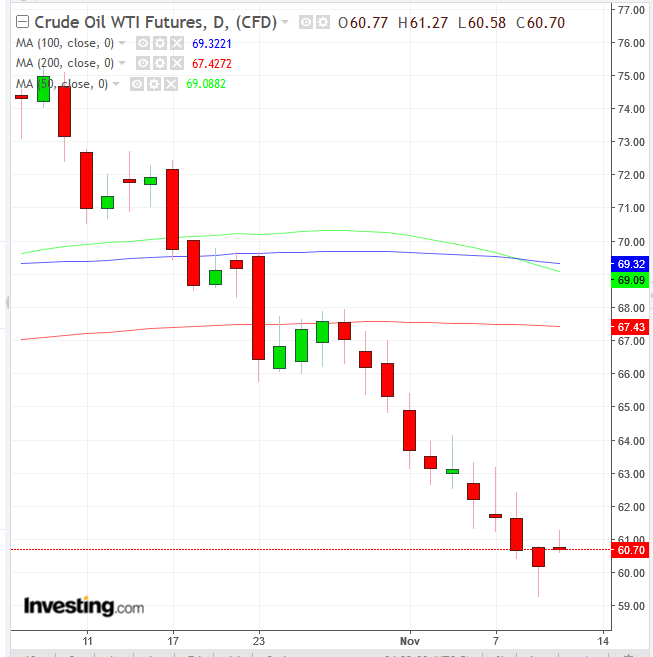 Oil prices are on track to snap a 10-day straight loss, though giving up biggest early gains. Crude is at the lowest level since March, and the 50 DMA crossed below the 100 DMA. Traders in this space may need further signs of bigger supply cuts to continue driving prices up.
Up Ahead
San Francisco Fed President Mary speaks on the economic outlook at a regional development conference in Idaho Falls on Monday
Tuesday marks the deadline set by the EU for Italy to revise its budget
Chinese industrial production and data due on Wednesday
Also on Wednesday, Fed Chairman Jerome Powell discusses national and global economic issues with Dallas Fed President Robert Kaplan at an event hosted by the Dallas Fed.
US consumer inflation probably rebounded in October after easing in September. data is projected to show a 0.3 percent increase on Wednesday.
Policy decisions are coming from central banks in , , and .
Market Moves
Stocks
Italy's was little changed.
The UK's jumped 0.7 percent to the highest level in almost five weeks.
The slipped 0.2 percent.
Currencies
The Dollar Index climbed 0.52 for a combined three-dayadvance of 1.48 percent to the highest level in 18 months.
The slid 0.7 percent to the weakest level in almost 17 months on the largest decrease in more than six weeks.
The fell 0.9 percent to $1.2859, the weakest level in more than a week on the biggest dip in more than seven weeks.
The dropped 0.3 percent to 114.13 per dollar, the weakest in almost six weeks.
Bonds
Germany's yield lost one basis point to 0.40 percent, the lowest level in more than a week.
Italy's yield advanced less than one basis point to 3.406 percent, the highest level in more than a week.
Britain's yield gave up two basis points to 1.491 percent, the lowest level in more than a week.
Commodities
West Texas Intermediate crude climbed 0.65 percent, giving up an earlier 1.6 percent advance, the first in more than two weeks and the largest gain in six weeks.
advanced 2.2 percent to $71.74 a barrel, the first gain in a week and the biggest gain in six weeks.
gained 0.1 percent to $2.69 a pound.
slipped 0.3 percent to $1,205.43 an ounce, reaching the weakest level in more than a month on its seventh consecutive decline.
Source link