March 24, 2018
Posted by:

Trading

Category:

Alerts
Talking Points:
$1.3 trillion funding bill averts government shutdown

The bill provides sweeping increases to military spending, domestic spending, and tools for combatting opioid addiction

Markets rebounded slightly after the bill was signed but soon continued sliding
Learn the number one mistake traders make when trading. Download our Traits of Successful Traders Guide in the Beginner section of the DailyFX Trading Guides page.
Under the gun of another shutdown, the US government rushed through a sizable spending program that will keep the lights on through early September. The government spending bill passed quickly through rounds of voting in the House (256-167) and a subsequent passage from the Senate (65-32). The Senate vote may be the last opportunity for major legislation change before the midterm elections in November. The $1.3 trillion bill received criticism from fiscal conservatives over the amount of spending at a time when Republicans have complete control of the federal government. Despite criticism, the massive bill provides funding for key issues of each party.
Highlighted within the bill are appropriations for increased military spending, domestic spending, border security, election security, and funds to battle opioid addiction. House Speaker Paul Ryan praised the increased military spending saying "this critical legislation begins to reverse the damage of the last decade and allows us to create a 21st century fighting force." The bill presents the largest increase in military spending in the last 15 years and provides increased pay to military personnel. Spending was also increased on specific military equipment like jets, submarines, and tanks.
Domestic spending and border security were next on the docket as funds were given to the tunnel project between New York and New Jersey, a key sticking point for President Trump leading up to the signing. A $1.6 billion was provisioned for border security and $700 million for election security as midterm elections draw nearer. In recent weeks, opioid addiction has been an area of concern for both parties and was awarded $2.8 billion. President Trump asserted he would never sign another bill similar to the bill presented today, expressing his unhappiness with the length and size of the spending appropriations.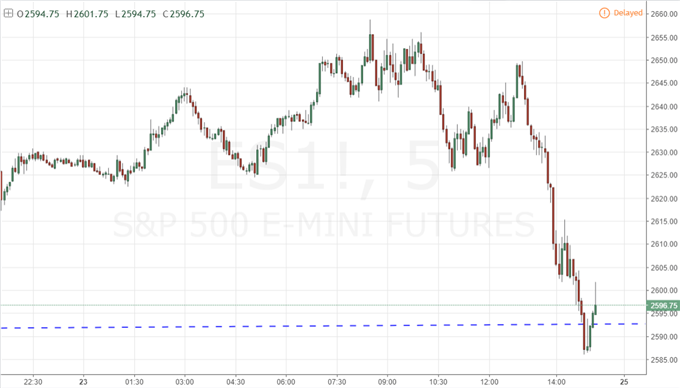 Although trade tensions have been the dominant force in markets this week, the bill provided a slight intraday bump to US equities. However, markets seem unable to shrug off the ongoing trade tensions and the bump was quickly erased as markets continued their downward trend from earlier in the day. In the address, President Trump was optimistic about nearing a conclusion to trade negotiations with ally South Korea and Commerce Secretary Wilbur Ross said the deal is due to be completed next week. In contrast, the introduction of a tariff on $60 billion worth of Chinese goods Thursday suggestions tension will not simply abate.
Read more on how trade tariffs and trade wars can impact the US economy and its Dollar.
Source link