August 29, 2019
Posted by:

Trading

Category:

Currency Forecast
The is slumping again, dragging U.K. bond yields back down to record lows, after Prime Minister Boris Johnson revealed his plan to ensure the country leaves the European Union as scheduled on Oct. 31.
Johnson formally asked the Queen on Wednesday to open a new session of parliament on Oct. 14. Given that parliament is traditionally suspended—or, in constitutional language, 'prorogued'—in the period before a new session, that denies lawmakers the time and opportunity to block his plans, either with legislation of their own, or with a no-confidence motion that would bring his administration down entirely.
The move forestalls attempts by opposition Members of Parliament and lawmakers from Johnson's own Conservative Party to avoid a 'No-Deal Brexit,' which they say would inflict huge damage on the U.K. economy. As such, it makes the 'No Deal' outcome more likely.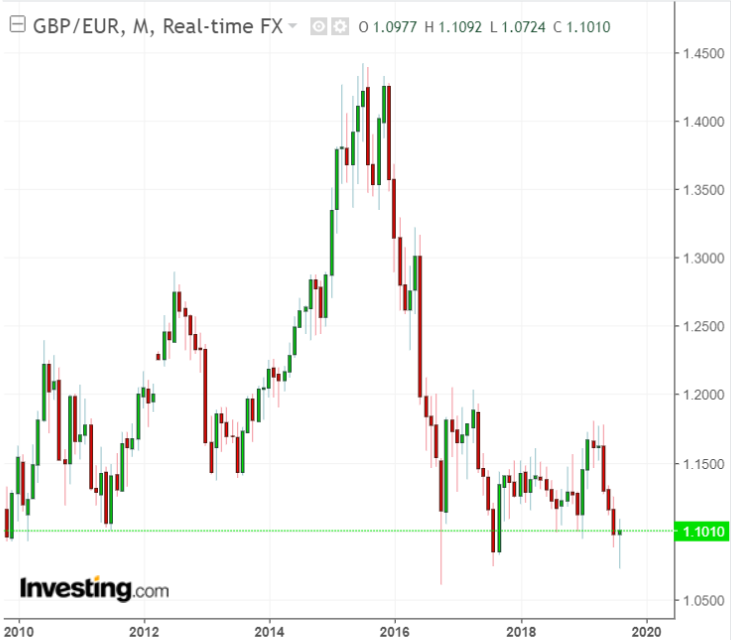 Charts powered by TradingView
The pound lost nearly a cent against the to trade at 1.1004 by 7 AM ET, and fell by around the same amount against the dollar, to trade at $1.2203. Investors sought safety in government bonds, pushing the yield on the U.K. government bond lower by some four basis points to 0.46%, only six basis points above the all-time low it hit earlier in the month.
"Suspending parliament would accentuate the Hard Brexit risk and accentuate the U.K.'s constitutional crisis," said Berenberg Bank chief economist Holger Schmieding in a note to clients.
Many analysts feel that sterling is now trading at historically cheap levels, and that further downside risk is limited given the time markets have had to adjust expectations since Johnson took power. Still, the risk of disappointment remains large: the last U.K. government under Theresa May itself argued that the country would be worse off in all Brexit scenarios—with a disorderly Brexit causing the most damage.
Analysts at Morgan Stanley have argued that the pound could fall as low as parity with the dollar in the event of 'No Deal.' Analysts at JP Morgan, led by Meera Chandan, recommended on Friday that investors continue to hedge against the tail risks of a Hard Brexit through put options.
Johnson's move means that parliament, which returns next week, will sit for barely three weeks between now and the scheduled Brexit date. Today's move would essentially extend the summer break by making it impossible for the appropriate parliamentary protocol and debate that's part of a new government ascencion to take place ahead of the official Brexit deadline.
Those opposed to No Deal had agreed at an informal meeting on Tuesday to seek to block that outcome with new legislation. The alternative, of trying to form a "government of national unity" foundered on the refusal of centrist Liberal Democrats and rebel Conservatives to support installing Labour's Jeremy Corbyn, the hard-left leader of the opposition, as an interim Prime Minister.
Sterling has fallen to its lowest levels in over 30 years against the dollar as Johnson's policy of forcing through Brexit at all costs has moved ever closer to reality. Even though opinion polls suggest there has never been a majority in favor of "No Deal" either in the population or in parliament, and irrespective of Johnson's only mandate to rule coming from a tiny sliver of the electorate (namely, Conservative Party members), opponents of No Deal have so far failed to find any practical means of stopping him, due to their own internal divisions.
While Tuesday's events to rally the opposition had led to the pound bouncing as high as $1.2309, it quickly succumbed—as it usually does—to news suggesting that Johnson was staying at least one step ahead of his opponents.
John Bercow, who as Speaker of the House of Commons determines the chamber's agenda on a day-by-day basis, called the move "a constitutional outrage."
"However it is dressed up, it is now blindingly obvious that the purpose of prorogation now would be stop parliament debating Brexit and performing its duty in shaping a course for the country," he said in a statement.
Berenberg's Schmieding, meanwhile, cautioned against taking anything for granted on the back of Johnson's initiative.
"A need for a Prime Minister to suspend his own parliament because he seems to lack a majority for his key policy – the approach to Brexit – is not exactly a sign of strength, to put it mildly," he noted.
Source link