October 9, 2018
Posted by:

Trading

Category:

Market Overview
The first week of the third quarter was another good one for the US dollar.
The soared to multi-year highs versus the and dollars and extended its gains against most of the major currencies. Although Friday's report surprised to the downside, the relative strength of the US economy and the Federal Reserve's resolve to tighten monetary policy is unquestionable. As long as the US continues to report strong data while other nations report weakness, investors will be drawn to the dollar. So while we saw a pullback at the end of last week, bargain hunters should be looking for opportunities to buy the dollar at lower levels. With the exception of the US-China trade war, much of the political risk that held the markets captive over the past few months are subsiding, so underlying fundamentals will become a more important driver of FX flows.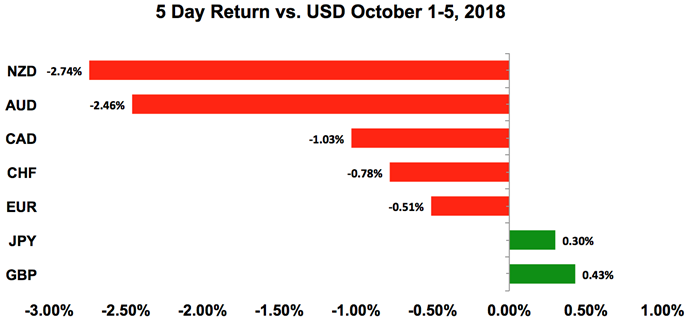 US Dollar
Data Review
Change in 134k vs 185k Expected
3.7% vs 3.8% Expected
0.3% vs 0.3% Expected
0.1% vs 0.4% Expected
59.8 vs 60 Expected
230k vs 184k Expected
53.5 vs 53 Expected
53.9 vs 53.4 Expected
Composite 61.6 vs 58 Expected
2.3% vs 2.1% Expected
0.1% vs 0.1% Prior
4.4% vs 4.5% Expected
0.0% vs 0.1% Prior
-$53.2b vs -53.6b Expected
Data Preview
– Potential for downside surprise given weaker Empire and Chicago PMI, Stronger Philly
– Will have to see how ISM manufacturing fares
and Orders – Manufacturing data is hard to predict but improvement expected after a drop in July
and – NFP is notoriously volatile but data likely to be softer after last month's strong read
Key Levels
Support 113.00
Resistance 115.00
Over the past week, the US dollar rose to its strongest level against the in 11 months and its highest level against the and dollars in more than 2 years. While other currencies didn't see similar milestones, the fact that is trading so close to 1.1500 and is just under parity is significant. Friday's jobs report fell short of expectations with the US economy adding the fewest jobs in 6 months but this was largely due to Hurricane Florence, which put 299K people out of work. The details of the report weren't nearly as bad with the unemployment rate falling to a 48-year low and job growth for August revised up by 69K. The only bad news was earnings, which maintained a steady 0.3% pace of growth in September. The prior number was revised slightly lower but as that figure was the strongest in more than a year the modest adjustment followed by steady growth is not worrisome. Service-sector activity is very strong so job growth should recover in October.
Why The Dollar's Rally Is Durable
Looking ahead, the main focus next week will be inflation and there's a good chance that and price growth will beat expectations, renewing the dollar's rally. rose to their strongest level since 2014 last month causing a number of Federal Reserve officials to talk about upside price risks with some raising concerns that inflation will accelerate faster than the central bank anticipates. Fed Chair didn't touch on price growth in his speech last week but he said the expansion can continue for quite some time and they expect to see more increases in wages. He feels that is above normal levels and they may have to go past neutral rates, even though they are a long way from that point now. In response to all of the Fed's hawkish comments, investors are starting to consider the possibility of 3 instead of 2 hikes next year. have also been on a tear, supporting the move in the greenback. Lastly, President Trump's Chief Economic Adviser Larry Kudlow described the US-China relationship as broken, which is positive, not negative for . So for all of the reasons summarized, we believe that the dollar's rally is durable.
1.The US economy is strong and do not refute that – Ignoring the hurricane distortion, job growth in August was revised sharply higher, hits 48-year low and wage growth is steady at 0.3%. 2.Hawkish Fed comments – A number of Fed officials see significant upside risk to inflation. Fed Chair , in particular, believes that the expansion can continue for quite some time. Prices in the service sector increased and there's a good chance that and will rise as well. 3. hit 11-year highs, which is consistent with rising to at least 115. USD/JPY is trading above the 200-week SMA for the first time since early January and a move like this usually coincides with a 300-400 pip rally from the SMA at 113.00 4.Data abroad hasn't been great – While the US prints better than expected numbers, the latest Eurozone, UK, Australia and New Zealand were weaker. Until this changes, diverging economic performance is a big reason why the dollar's rally can last.
Euro
Data Review
GE -0.1% vs 0.5% Expected
GE 53.7 vs 53.7 Expected
EZ 53.2 vs 53.3 Expected
EZ 8.1% vs 8.1% Expected
EZ 0.3% vs 0.2% Expected
GE 55.9 vs 56.5 Expected
GE 55.0 vs 55.3 Expected
EZ 54.7 vs 54.7 Expected
EZ 54.1 vs 54.2 Expected
EZ -0.2% vs 0.2% Expected
GE Construction PMI 50.2 vs 51.5 Expected
GE 0.3% vs 0.2% Expected
GE 0.3% vs 0.2% Expected
Data Preview
GE – Lower manufacturing PMI offset by a rise in factory orders
GE and Balance – Potential for downside surprise given weaker manufacturing PMI index
EZ – Will have to see how GE and FR industrial production fares
Key Levels
Support 1.1400
Resistance 1.1500
EUR/USD in Downtrend Unless 1.1650 is Breached
made a brief trip below 1.15 this past week as the rally gained momentum. Although concerns about Italy are beginning to subside after Economy Minister Tria promised to bring debt levels back to levels agreed with the European Union, the one part of the world with unequivocally weak data was the Eurozone. growth slowed significantly in August, the Eurozone PMIs were revised lower and contracted for the second month in a row. Similar deterioration in spending and activity was seen in Germany although on Friday we learned that price pressures in the Eurozone's largest economy improved slightly. Factory orders also jumped, which suggests that despite broader troubles in the region, Germany's outlook is bright. We'll get a better sense of whether that's true with Germany's industrial producer and trade balance next week. Yet these reports are not big movers so keep an eye on risk appetite and the dollar. Technically, EUR/USD is in a downtrend and needs to clear 1.1650 for that to change and preclude a moved down to 1.13.
British Pound
Data Review
Net 1.118b vs 1.3b Expected
Net on Dwellings 2.6b vs 3.5b Expected
66.44k vs 64.5k Expected
53.8 vs 52.5 Expected
0.3% vs 0.2% Expected
52.1 vs 52.9 Expected
(YoY) 0.2% vs 0.1% Prior
53.9 vs 54.0 Expected
Composite PMI 54.1 vs 54 Expected
Data Preview
, , , – Potential for upside surprise given stronger UK manufacturing PMI index
Key Levels
Support 1.2900
Resistance 1.3200
Sterling Lifted by Brexit Hopes, but Talks Could Break Down Easily as New Proposals are Shared Next Week
Last but not least, sterling was the only currency to outperform the greenback as is still trading on Brexit headlines. Investors have not given up on the hope for a Brexit deal and their optimism was reinforced by EU Chief Negotiator 's comment that they are prepared to offer the UK a "super charged" free trade deal that is more comprehensive than any agreement offered before. However this means they will be rejecting Prime Minister May's demand for frictionless trade so the Brits may not be happy with the deal. At the Tory Conference last week, May made it clear that the UK is still willing to leave the EU with no deal rather than a bad one so if she feels that the offer falls short, Brexit negotiations could break down again. Barnier is scheduled to formally present the proposal on Wednesday of this week after which we'll probably get a response from the UK. The Irish border is still an unresolved issue – the UK hopes to present a solution in the coming week and we'll see how the EU responds. Meanwhile UK data was mixed with manufacturing activity improving and services and construction activity slowing. Data in the coming week including the trade balance and industrial production reports, which will take a backseat to Brexit offers.
AUD, NZD, CAD
Data Review
Australia
RBA Keeps unchanged
AU 59.0 vs 56.7 Prior
AU 52.5 vs 52.2 Prior
AU -9.4% vs 1.0% Expected
AU 1.604b vs 1.450b Expected
AU 49.3 vs 51.8 Prior
AU 0.3% vs 0.2% Expected
CH PMI 54.9 vs 54.0 Expected
CH PMI 50.8 vs 51.2 Expected
CH Composite PMI 54.1 vs 53.8 Prior
CH Caxin Manufacturing PMI 50.0 vs 50.5 Expected
New Zealand
Canada
PMI 54.8 vs 56.8 Prior
PMI 50.4 vs 61.9 Prior
5.9% vs 5.9% Expected
Net Change in 63.3k vs 25.0k Expected
Change 80.2k vs 20k Expected
Full-Time Employment Change -16.9k vs 15.0k Expected
International Merchandise Trade 0.53b vs -0.52b Expected
Data Preview
Australia
CH – Chinese data is very market moving but hard to predict
New Zealand
Manufacturing PMI – Potential for downside surprise as China remains in trouble and dairy prices continue to fall
Canada
Key Levels
Support AUD .7000 NZD .6400 CAD 1.2800
Resistance AUD .7200 NZD .6600 CAD 1.3000
Australia and New Zealand Still in Trouble
Economic underperformance is the main reason why the and dollars ended last week at 2.5-year lows. There was very little upside for both currencies with the Australian dollar falling 4 out of the last 5 trading days and the New Zealand dollar declining for 7 straight days. The selling pressure for both currencies is strong and there could be another cent decline before there's support in either currency. Data from Australia hasn't been terrible with rising more than expected, the is growing and service-sector activity is expanding. However, the recent mortgage rate hikes are starting to have a significant impact on housing and investors are worried that it will only be a matter of time before the US-China trade war (which hasn't improved at all) catches up to these economies. Therefore next week's and confidence reports may not help AUD. New Zealand's economy, on the other hand, is truly underperforming with continuing to fall and job ads are slipping. We expect next week's business PMI reports to reinforce the weakness. The most market-moving piece of data for both countries could be China's and more specifically, their activity.
Canadian Dollar Unfazed by Trade and Oil
Canada secured a trade deal with the US at the beginning of last week but instead of rising, the Canadian dollar sold off against the greenback, driving back above 1.2900. In fact, higher , rising bond yields AND a trade deal failed to lift the currency. Part of the reason is that data was mixed casting doubt on the market's expectations for Bank of Canada tightening. While Canada turned a in August, activity in the sector slowed significantly in September. Although the improved and increased by the largest amount this year, investors are worried that the labor market is being sustained primarily by part-time work. Weaker average hourly earnings growth also raised concerns for consumer spending going forward. Looking ahead, next week's housing-market reports shouldn't have a significant impact on the currency as investors take their cue from the market's appetite for . Technically, the rally in USD/CAD could extend to 1.3000 before there's any meaningful resistance.
Source link