May 28, 2018
Posted by:

Trading

Category:

Alerts
Talking Points:
Proposed auto tariffs announced days before metal and aluminum tariffs take effect on June 1

st

The US accounted for nearly 24% of all imported cars by value in 2016

Many EU members rely heavily on auto exports, suggesting a strong response may occur

Auto manufacturers will also suffer if proposed tariffs take effect
Learn the number one mistake traders make when trading. Download our Traits of Successful Traders Guide in the Beginner section of the DailyFX Trading Guides page.
On Wednesday, President Donald Trump announced the launch of a section 232 probe on auto imports citing national security risk. The probe is similar to the steel and aluminum tariffs imposed by the administration which were also justified under section 232. As NAFTA talks remain stagnant, President Trump claimed the potential 25% duty on auto imports was another negotiating tool on the table. In response to the probe, Canadian foreign minister Chrystia Freeland said the idea that autos could pose a security risk was "frankly absurd" because many vehicles cross borders multiple times in the production process.
While the intention of the probe may be as a source of leverage in NAFTA talks, the broadness of the proposition has much larger implications. Last year, approximately 44% of autos sold in the US were imported. However, 98% of these imports came from major allies like Canada, Mexico, the EU, Japan, and South Korea. Of these allies, all but South Korea stand to receive tariffs on metal exports, while Canada and Mexico have received exemption as they await a new NAFTA deal. This leaves the EU and Japan subject to the metal tariffs when they take effect on June 1st . Should auto tariffs be imposed on top of metal tariffs, the impact to US allies would be significant. To learn more about trade wars and their impact, the history of trade wars provides a brief overview and insight.
Table 1: Auto Exports to the US by Country for 2017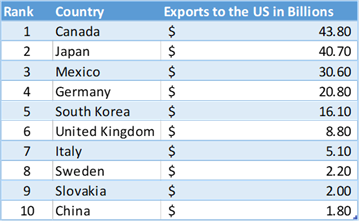 Compared to steel and aluminum exports, auto exports constitute a larger portion of the EU's exports to the US. Germany is especially tied to autos, exporting roughly $20 billion a year to the United States in finished vehicles alone. The UK and Italy also have significant interest in auto exports to the US, but to a lesser extent. Similarly, Japan is the second largest auto exporter to the US with nearly $41 billion in 2017. The proposed tariffs highlight the importance of NAFTA, and why auto rules have been a sticking point in talks for weeks, with Canada exporting nearly $44 and Mexico $30 billion.
Table 2: Auto Exports as % of Total Exports and Exports as % of GDP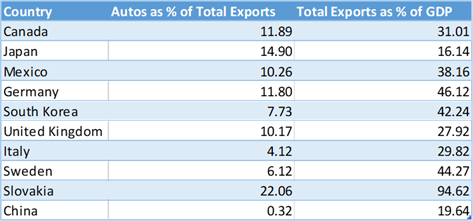 Although countries could have their economies impacted should the tariffs take form, the tariffs provide a more specific risk for auto manufacturers. Shares of auto giants like Toyota and Honda have already reacted to the announcement by President Trump as any tariff enacted would significantly harm their bottom line. In conjunction with the proposed tariffs, many manufacturers are already facing reductions to their bottom line from the steel and aluminum tariffs. Together, the tariffs would deal a significant blow to key exports from Germany, Japan, and NAFTA members if a new agreement is not reached.
The next steps for the Trump administration and the countries involved are unclear. NAFTA progress should be watched closely as well as the implementation of steel and aluminum tariffs on June 1st. These events may provide some insight into the likelihood and effects of the auto tariffs moving forward.
Source link