September 11, 2018
Posted by:

Trading

Category:

Currency Forecast
September is a busy month in the Forex market where economic performance and monetary policy divergences is becoming very apparent.
Last week we had the and rate decisions and this week, the and the are up to bat. Like the RBA and BoC, the ECB and BoE are widely expected to leave interest rates unchanged. However, with the extending its gains over the past week on the back of a strong , investors will be thinking about how their policies compare to the Fed's steady hand. The is the only currency that has managed to outperform the greenback whereas all other currencies struggled to find buyers. The worst performer was the , followed by the and . Looking ahead, we expect US dollar bulls to remain in control as we look for equities to descend further.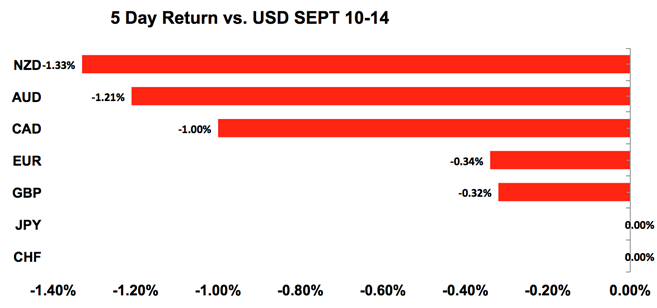 U.S. Dollar
Data Review
61.3 vs 57.6 Expected
58.5 vs 56.0 Expected
-$50.1bn vs -$50.3bn Expected
163k vs 200k Expected
54.8 vs 55.2 Expected
54.7 vs 55 Prior
ISM Non-Manufacturing Composite 58.5 vs 56.8 Expected
-0.8% vs -0.6% Expected
0.2% vs 0.4% Prior
-1.7% vs -1.7% Expected
0.1% vs 0.2% Prior
Change in s 201k vs 190k Expected
3.9% vs 3.8% Expected
0.4% vs 0.2% Expected
Data Preview
– No major changes in gas prices but the dollar has been strong so prices could be lower
Fed Release – Beige book likely to highlight ongoing improvements in the economy
– Will have to see how PPI fares but gas prices were steady. Inflation could rise
– Potential for upside surprise given strong wage growth. Redbook also reported an increase in spending
The Report – Potential for upside surprise given strong stocks and strong wage growth
Key Levels
Support 110.00
Resistance 112.00
There are a number of reasons why we think September should be a good month for the . On the top of the list is the prospect of an from the Federal Reserve on September 26. The market is pricing in a 96% of a quarter point hike and after the latest nonfarm payrolls report, a rate hike is guaranteed. This week's retail sales and inflation reports should also be strong, reinforcing the case for tightening and solidifying the greenback's positive momentum. Not only was there more than 200K jobs created in the month of August, but wages are growing! Average hourly earnings rose 0.4% last month, which was the strongest pace of growth in nearly a year. Between the record highs in US stocks last month and the pickup in earnings, retail sales should rise nicely in August. We're not looking for any major changes in inflation because and prices have fallen but between these 2 reports, retail sales is definitely more important. Comments from US policymakers have also been hawkish with Fed Presidents , and looking for the policy rate to move toward neutral. The US dollar should also benefit from ongoing trade tensions. Two weeks into the latest round of talks, a deal has not been reached with Canada and now investors are worried that President Trump will turn his focus on Japan.
While the USD could outperform , and other major currencies, trade tensions pose a big problem for . Safe-haven carry flows returned home after President Trump hinted that Japan could be the target for their next trade fight. He's focused on reducing deficits and in a phone interview with the Wall Street Journal he said they may not be happy "as soon as I tell them how much they have to pay." At the end of last week, he also tightened the noose on China by threatening to impose another $267bn in tariffs. These threats make it very difficult for stocks and USD/JPY to rise. Although the yen crosses could be hit the hardest, if Trump throws out more threats next week or China-Japan return with hard words of their own, USD/JPY will fall as well. At the beginning of the month, we talked about how September is historically a weak month for stocks and President Trump's trade war could make things even worse.
, ,

Data Review
Australia
RBA Leaves Unchanged
AU 56.7 vs 52 Prior
AU 0.0% vs 0.3% Expected
AU -$13.5b vs $-11.0b Expected
AU 52.2 vs 53.6 Prior
AU (QoQ) 0.9% vs 0.7% Expected
AU $1551m vs $1450m Expected
New Zealand
Index (QoQ) 0.6% vs 1.0% Expected
GDT Auction Prices Fall 0.7%
Canada
Bank of Canada Leaves Unchanged
International Merchandise Trade -0.11b vs -0.80b Expected
-0.1% vs 1.0% Expected
6.0% vs 5.9% Expected
Net Change in -51.6k vs 5.0k Expected
40.4k vs 35k Expected
-92k vs -30k Expected
61.9 vs 61.8 Prior
Data Preview
Australia
AU Report – Weaker services employment offset by stronger employment in manufacturing so tough call
CH and – Chinese data is hard to predict but can be very market moving
New Zealand
Manufacturing PMI – Potential for downside surprise given lower dairy prices and weaker NZ activity
Canada
Key Levels
Support AUD .7000 NZD .6500 CAD 1.3000
Resistance AUD .7200 NZD .6600 CAD 1.3250
The big question everyone is asking is whether the commodity currencies could extend their slide and we think the answer is 'yes.' The Australian and New Zealand dollars hit a 2-year low and further losses are likely. The Reserve Bank ignored the mortgage rate hikes by local banks and maintained a neutral but optimistic tone. Yet fell sharply as Trump increased pressure on China. Stronger than expected growth failed to help the currency because investors are worried about how slower growth in China could affect Australia's economy. We've already seen retail sales stagnate and service-sector activity slow. Between the mortgage rate hikes, global trade tensions and weakness, the outlook for Australia is grim and for these reasons, AUD/USD could extend its slide below 70 cents. This week's probably won't help. The also tumbled as lower , weaker and job ads weighed on the currency. There's been an irrefutable downtrend in New Zealand data and the deterioration should be evident in this week's report. We believe there could be another 2% to 3% drop in NZD/USD before the pair finds a bottom.
The outlook for the is more difficult to predict because it is all based on trade. Fundamentally the Canadian economy is performing well but there are certainly pockets of weakness like the labor market. On Friday we learned that Canada lost 51K jobs last month with the nation's largest province, Ontario, seeing part-time work decline by the biggest amount in close to a decade. The increase in full-time work is encouraging but with such a significant pullback, the economy is not at risk of overheating. However, the market is looking for a from the Bank of Canada this year and according to Deputy Governor Wilkins, the central bank debated dropping the line "gradual approach" to rate hikes from their policy , adding that normally there would be a rise at this point to preempt inflation. This tells us that the central bank is clearly hawkish and open to the idea of raising interest rates before the end of the year. Yet they also don't want to pre-commit without seeing how the trade talks progress. If a deal with the US is reached before the October meeting, there's nothing standing in the way of a hike. Not only would we see USD/CAD fall aggressively when the headline hits, but it will be the start of a new downtrend that could take the pair down to 1.29. If there's no deal, USD/CAD could hold strong into the rate decision.
Euro
Data Review
GE 55.9 vs 56.1 Expected
EZ 54.6 vs 54.6 Expected
EZ 0.4% vs 0.3% Expected
GE 55.0 vs 55.2 Expected
GE 55.6 vs 55.7 Expected
EZ 54.4 vs 54.4 Expected
EZ 54.5 vs 54.4 Expected
EZ -0.2% vs -0.25 Expected
GE -0.9% vs 1.8% Expected
GE Construction PMI 51.5 vs 50.0 Prior
GE 16.5b vs 19.5b Expected
GE 15.3b vs 20.0b Expected
GE -1.1% vs 0.2% Expected
EZ 0.4% vs 0.4% Expected
Data Preview
ECB – No major changes in outlook. No plans to raise rates soon
GE – Potential for downside surprise as recent German data has been softer. Trade tensions could also dampen sentiment
EZ – Potential for downside surprise given weaker GE IP, stronger French IP
GE – Revisions are difficult to predict but any changes can be market moving
EZ – Weaker GE trade offset by stronger FR trade
Key Levels
Support 1.1500
Resistance 1.1700
There are two monetary policy meetings this week and between the and , we think the European Central Bank meeting will be the bigger market mover. ended last week near its 2-week lows on the back of risk aversion and softer German data. Italian yields fell every day last week so Italy is less of a problem but there's very little reason for the ECB to change its neutral bias. The central bank made it clear at recent meetings that it has no plans to raise interest rates until late next year and data since the July meeting has been mixed. ECB President is worried about low inflation and given the lack of a significant increase in price pressures, his view that it is too early to call victory on inflation will remain unchanged. He will make this along with his concerns about global trade clear during his this week. With US data improving and the Fed poised to raise later this month, neutral comments from the ECB could drive EUR/USD to 1.14.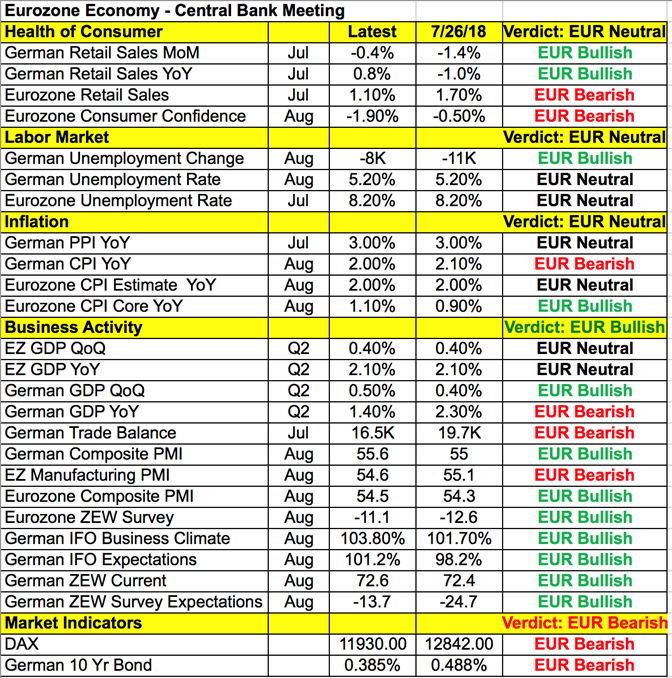 British Pound
Data Review
52.8 vs 53.9 Expected
BRC Sales Like for Like (YoY) 0.2% vs 0.5% Prior
52.9 vs 54.9 Expected
54.3 vs 53.9 Expected
Composite PMI 54.1 vs 54.1 Expected
Data Preview
– No changes expected
Visible , , and – Potential for downside surprise given decline in UK PMI manufacturing index
– There was strong hiring in services and construction but weakness reported in manufacturing
Key Levels
Support 1.2800
Resistance 1.3050
UK data and Brexit negotiations could have a greater impact on than the Bank of England's . Having just raised interest rates last month, the BoE is in no position to hike again. Brexit talks are going well with the European Union showing more willingness to facilitate an orderly withdrawal but a deal is not done and as we've learned from many of these trade negotiations, the talks could go south at anytime. So until a deal is officially announced, the Bank of England won't be eager to raise rates again. Although we've seen some improvements in , and the labor market, -, – and -sector activity slowed last month. The market is not pricing in another rate hike from the BoE until the middle of next year. With that in mind, sterling traders are not as patient as the BoE as there's enough positive progression in the headlines for the shorts to be scared. , and numbers are due for release this week and the jobs report could have a particularly significant impact on sterling ahead of BoE.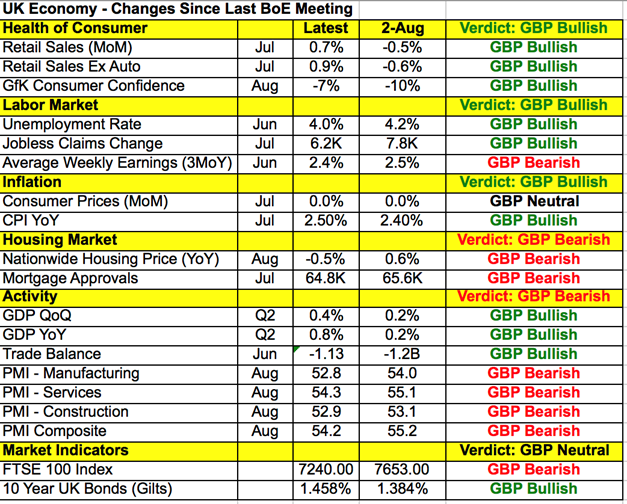 GBP Data Points
Source link