July 25, 2017
Posted by:

Trading

Category:

Currency Forecast
The appreciated on Wednesday versus the . The Canadian currency got a boost from strong manufacturing sales, prices gaining on larger than expected drawdowns in the US and the cloud of uncertainty surrounding the healthcare Act in Washington.
US Trade Representative Robert Lighthizer has announced the NAFTA renegotiation talks will begin on August 16 to 20 in Washington. Both Canada and Mexico issued positive statements on the plans and look forward to modernizing the agreement. Presidential elections in Mexico and the US midterm elections in 2018 are incentives for the negotiations to take place as soon as possible and with a speedy outcome.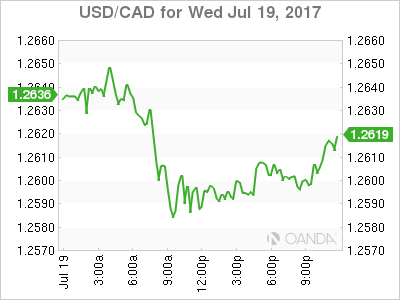 The USD/CAD lost 0.207 in the last 24 hours. The loonie rose against the US dollar as oil prices rose with a bigger than expected drawdown in the US and the continuing saga of political uncertainty surrounding healthcare reform in Washington. The currency pair is trading at 1.2594 breaking below the 1.26 with the help of oil prices.
Canadian manufacturing sales rose 1.1 percent in May. Auto sales drove the record high sales beating expectations of 0.8 percent increase. The Canadian economy is keeping pace with growth expectations that lead the Bank of Canada (BoC) to raise its benchmark for the first time in 7 years. The benchmark was hiked 25 basis points to 0.75 percent with another rate raise expected for later this year if growth marches on. Canadian and inflation data due this Friday will add more arguments for monetary policy.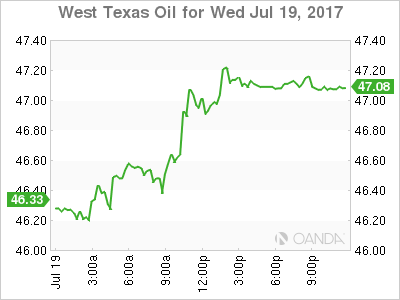 Energy prices surged 2.146 percent on Wednesday. The price of West Texas Intermediate is trading at $47.22 after the release of the Energy Information Administration (EIA) weekly US showed a larger drawdown than he market expected. Crude stocks fell by 4.7 million barrels last week, the third time in as many weeks that drops in inventory are higher than forecasted. and distillate inventories also had losses bigger than anticipated pushing the price of energy higher.
US production has increased which makes the shrinking inventories more puzzling without signs of demand growth. The (OPEC) and other major exporters agreement to cut production has stabilized prices, but American shale producers have taken advantage and ramped up their operations.
The meeting between OPEC and Russia to discuss compliance later this month will open the door for the next steps for energy producers. A bigger cut in production after the agreed extension is in the cards, but there are some voice of dissent as current levels are causing distress for countries who depend on oil sales to balance their budget.
Ecuador is the latest OPEC member to disclose a smaller than agreed to levels of production. Oil minister Carlos Perez said that there is an unwritten agreement within the OPEC to allow "flexibility" to smaller producers.
Nigeria and Libya were excluded from the agreement after suffering disruptions to their productions but are now close to normal levels so there is talk that they could be brought into the fold, which could prove difficult if other nations are not holding up their production quotas.
Market events to watch this week:
Wednesday, July 19
9:30 pm AUD
Tentative JPY Monetary Policy Statement

Thursday, July 20
Tentative JPY BOJ Outlook Report
Tentative JPY BOJ Policy Rate
2:30 am JPY BOJ Press Conference
4:30 am GBP Retail Sales m/m
7:45 am EUR Minimum Bid Rate
8:30 am EUR ECB Press Conference
8:30 am USD

Friday, July 21
8:30 am m/m
8:30 am CAD Core Retail Sales m/m
Source link