May 5, 2020
Posted by:

Trading

Category:

Analysis
Shares of Canopy Growth (NYSE:), (TSX:) gained Monday after it received a vote of confidence from its biggest investor at the end of last week.
Canopy stock jumped just over 3% last Friday, in the wake of an announcement that U.S. beer-making giant Constellation Brands (NYSE:) increased its stake in the Canadian cannabis grower to just over 38.5%, up from 33.5%.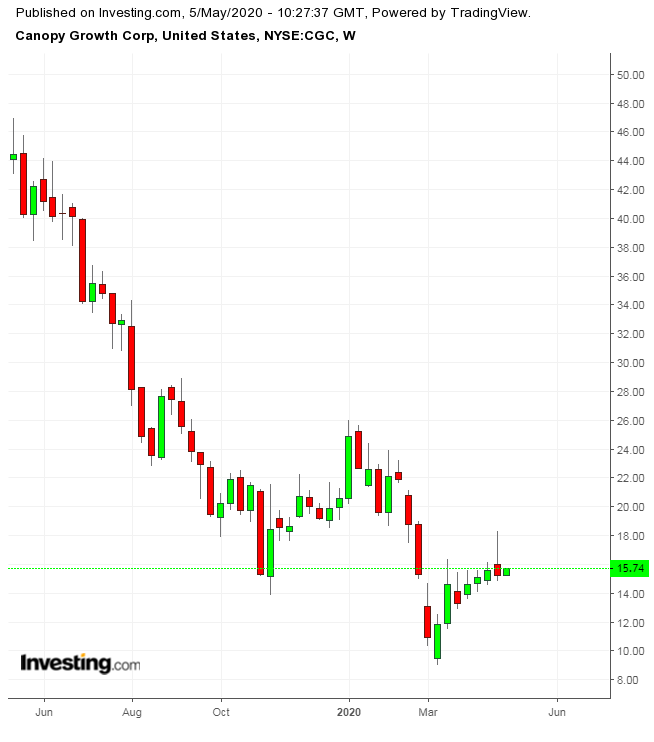 The move came in the form of Constellation exercising its warrants, which date back to November 2017. The alcoholic beverage firm still has the option of increasing its ownership in Canopy if it decides to convert its remaining warrants.
"Canopy is best positioned to win in the emerging cannabis space and we are confident in the strategic direction of the company under David Klein and his team," said Bill Newlands, president and CEO of Constellation Brands in a statement. Newlands added:
"We continue to believe the long-term opportunity in this evolving market is substantial."
Shares of Canopy closed yesterday at US$15.74 (C$22.20), up 3.15%. The stock is continuing on its upward trajectory since hitting its 2020 low of US$9.38 (C$14.14) in mid-March.
Fire & Flower Shares On Roller Coaster Ride
Canadian-based cannabis retailer Fire & Flower Holdings (OTC:), (TSX:) held on with both hands last week as its stock whipsawed, fueled by the closing of a private-placement deal for an amount higher than previously announced, after which it released Q4 results that included a loss, impairment charges and substantial restructuring costs.
By Friday's close, its share price was US$0.40, down slightly from US$0.46 (C$0.56) earlier in the week. Yesterday, the stock bounced back, gaining 6.25% in New York to close at US$0.425. It gained 3.57% in Toronto to end Monday at C$0.58.
Fire & Flower's stock price has bounced around in the last year. In September 2019, it hit US$1.21 (C$1.60). By January this year, it was at US$0.91 (C$1.16), before hitting a low of US$0.2124 (C$0.32) on March 18. In the last year, the company's stock has lost about 60% of its value.
Traded on the U.S. OTC market and the Toronto Stock Exchange, the Edmonton-based company specializes in dried flower, oils, vapes, concentrates and edibles, which it retails online and in a network of brick-and-mortar outlets throughout Canada.
On April 28, the company announced it finalized a C$28 million (US$20 million) private placement, approximately C$3 million (US$2.1 million) more than it had previously announced. Canadian-based convenience-store giant Alimentation Couch-Tard (OTC:) (TSX:)—which operates outlets in Canada, the U.S., Mexico, Japan, China and Indonesia—contributed about CA$2.5 million (US$1.78 million). The infusion of capital will be used, in part, to repay debt. The investment adds to Couche-Tard's initial $25.9 million stake in the company, giving the convenience store operator a controlling interest in Fire & Flower.
On April 30, Fire & Flower unveiled its fourth quarter results. It showed revenues for the three-month period that ended Feb. 1 of C$16.8 million, which represents a 6.1% increase compared with the same period in the previous year. What caught investors' attention, however, was the C$22.3 million (US$15.8 million) net loss, which included a C$4.6 million (US$3.26 million) impairment charge and a C$6.5 million (US$4.62 million) restructuring charge. The company also announced it would be reducing its forecast on stores by seven to 78, from 85.
Global Legal Marijuana Market Grew 46% Last Year
The global legal cannabis market grew by 46% in 2019, the highest annual rate of increase ever recorded, according to the latest report issued by two industry marketing research groups. Legal marijuana sales worldwide last year totalled US$14.8 billion. The increase marks a substantial acceleration in sales compared to the 16% jump recorded in 2018.
Markets in Canada, California and Massachusetts recorded the strongest increases in marijuana sales last year, thrusting the global sales figures upward, followed by significant expansion of the medical markets in Florida and Oklahoma, according to figures released by BDS Analytics, the leading provider of cannabis industry market research, and Arcview Market Research, recognized as the leading standard in market and analysis data for the cannabis sector.
The report points to continued worldwide growth in the next five years, with BDS Analytics announcing its initial forecast for 2025 global cannabis sales of $47 billion, representing a compound annual growth rate of 21% from 2019. U.S. legal cannabis sales are projected to represent 72% of total global sales by 2025, down from 84% in 2019. BDS Analytics projects that U.S. legal cannabis sales will approach $34 billion by 2025.
"The long-term sales growth outlook for the global legal cannabis markets remains exceptional with sustained average revenue growth of 21% projected through 2025," said Roy Bingham, co-founder and CEO of BDS Analytics.
"The cannabis industry may soon reach a watershed moment when U.S. states, faced with a looming global recession, consider cannabis legalization as a new and potentially lucrative source of tax revenues."
U.S. sales reached US$12.4 billion in 2019, a 37%-year-over-year increase compared to 2018 sales of US$9.1 billion.
The report also noted California and Massachusetts anchored the 2019 legal cannabis sales in the U.S., representing US$12.4 billion in sales. In addition, Canada's most populous provinces saw significant improvement in sales in 2019 as new licensed retailers were opened and supply-chain issues were ironed out.
Outside Canada and the U.S., international legal cannabis spending soared 91% in 2019, hitting US$568 million. These biggest international gains were marked in Germany, Australia and Mexico.
Source link