May 8, 2020
Posted by:

Trading

Category:

Analysis
After COVID-19 crushed investor sentiment in March, only a few stocks have been able to regain any of their past glory. Faux-meat maker, Beyond Meat (NASDAQ:) is one of them.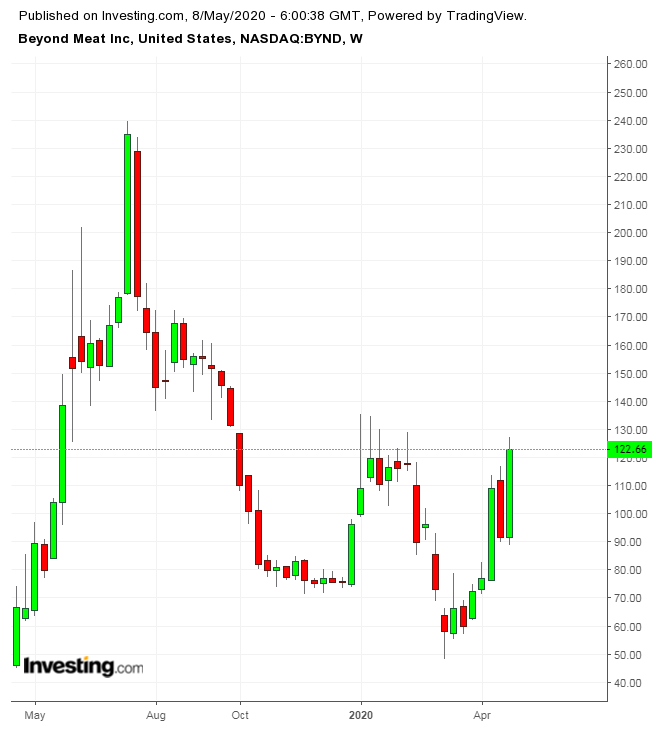 The stock has surged 162% off its March lows, closing yesterday at $122.66, a level it hit in mid-February just as the coronavirus-induced sell-off took hold.
The current upswing in its share price is the result of a variety of positive developments that show the El Segundo, California-based company is rapidly gaining market share at a time when consumers are increasingly purchasing plant-based products that have the look and taste of meat.
Investors sent Beyond Meat shares soaring 26% on Wednesday after the company, on Tuesday, during its Q1 2020 earnings report, indicated that  Wall Street expectations. The beat for the first quarter surprised many analysts as it suggested that demand remains robust in spite of the coronavirus outbreak that's closed restaurants across the U.S.
The comany's revenue of $97 million in the first quarter surpassed the average analyst estimate of $88.2 million. However, the 141% growth rate from a year earlier is the slowest pace in two years for Beyond Meat, as the economic lockdown obliterated the faux-meat maker's restaurant sales.
The company reported a net income of $1.8 million, or $0.03 per share, compared with a net loss of $6.6 million, or $0.95 per share, a year ago. Its adjusted earnings before interest, taxes, depreciation and amortization was $12.7 million. A year ago, the company recorded an adjusted EBITDA loss of $2.1 million.
"I am proud of our first-quarter financial results, which exceeded our expectations despite an increasingly challenging operating environment due to the COVID-19 health crisis," CEO Ethan Brown said in a statement.
Roller-Coaster Ride
Despite the current strong rebound, Beyond Meat shares have been on a roller-coaster ride since the company went public in May last year at an IPO price of $25 a share.
After skyrocketing to an all-time high of $239.7 in July, BYND was trading below $80 by the end of 2019 as it became clear to investors the competition was growing with many more companies offering vegetable-based meat products.
Indeed, some major players, after seeing Beyond Meat's success, have rapidly entered the plant-based food market. Swiss multinational food conglomerate Nestlé  (OTC:) launched its plant-based Awesome Burger in the U.S. in September. Supermarket chain Kroger Company (NYSE:) is the latest company to join the fray with its launch of plant-based patties under its Simple Truth brand.
It's also not clear whether consumers will still be willing to pay a hefty premium for Beyond Meat products over meat when the economy is entering a deep recession and the nation's unemployment rate is skyrocketing, two things severely hurting household spending power.
But some investors remained convinced that it will be difficult for competitors to break Beyond Meat's lead in the plant-based protein market so soon.
"Near term, I actually like Beyond Meat much better than anything other in its space," Mark Newton, president of Newton Advisors, told CNBC in an interview. "The stock has shown very good signs of acceleration lately."
Amid the widespread lockdowns and restaurant closures, Beyond Meat is benefiting from increased sales in its retail channel due to stockpiling. Other factors fuelling growth include new product launches, international expansion, and deals such as a partnership with Starbucks (NASDAQ:) in Canada and China.
Bottom Line
Despite Beyond Meat's impressive rally in the past six weeks, its stock continues to remain highly volatile, making it unsuitable for risk-averse investors. That said, the company will remain a dominant player in the plant-based protein market, which according to Goldman Sachs could come to represent 13% of total supermarket meat-related sales in the next decade.
Source link