May 22, 2020
Posted by:

Trading

Category:

Analysis
Not too long ago, Facebook (NASDAQ:) was mired in scandal, but considering the stock's powerful rally this year, one can only concluded that investors have very short memories.
Beginning in early 2018 the Menlo Park, California-based company's outlook became bleak, as politicians and regulators began scrutinizing Facebook after news of a massive data breach raised concerns regarding user privacy. As well, there were allegations of manipulation of its platform by foriegn powers to influence the U.S. elections. The stock dropped.
But that all seems to have vanished into the mists of history. Facebook's shares hit an all-time high yesterday, powered by renewed investor enthusiasm that the social media giant has broad appeal in a world plagued by the coronavirus.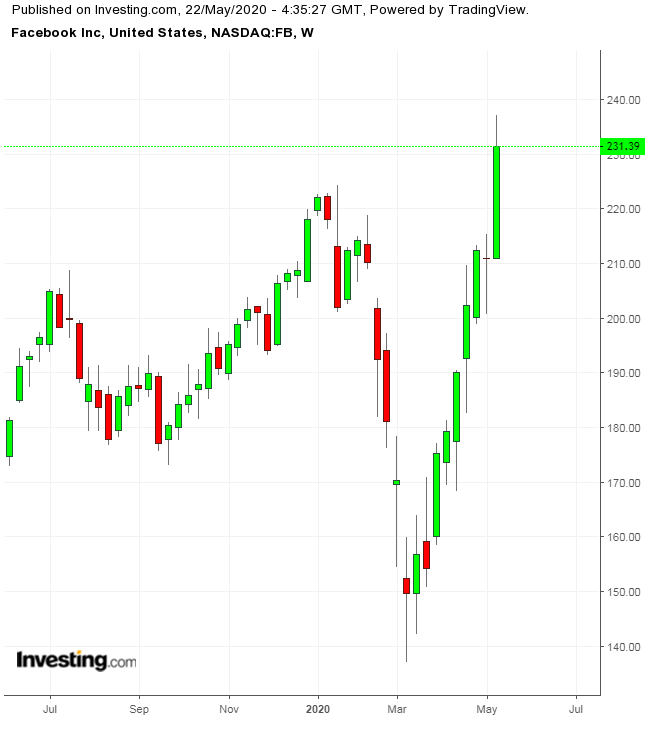 The stock has now gained 11% for the year, and, since the March 16 broader market drop, it's up 56%.
At a time when the economy is entering a deep recession, what's making Facebook so attractive is the company's strong and investor belief that founder and CEO Mark Zuckerberg will leverage the company's 2.6 billion user base to promote fresh areas of growth.
As part of that effort, on Tuesday, Zuckerberg unveiled new e-commerce features on all of the company's social media properties—which include Messenger, WhatsApp and Instagram—as he readies his platform to take advantage of the expected surge in online commerce in the aftermath of the pandemic.
New E-Commerce Push
This new initiative by Facebook mainly targets small businesses which are struggling amid the pandemic. This enterprise will allow merchants to set up their own e-commerce stores on the Facebook and Instagram platforms.
Called Shops, the primary product is a new version of an existing Facebook feature with a similar name, and will let retailers upload product catalogs to their Facebook page or Instagram profile. Shops will, at some point, be accessible across the entire network, providing retailers with a direct line to Facebook's massive user base with one product catalog.
"All these tools are open for business even when your physical storefront can't be," Zuckerberg said Tuesday, on a livestream announcing the new feature.
Investors have welcomed this new e-commerce push. Indeed, it might mitigate the impact of revenue loss from those segments of the digital ad market badly hurt by the COVID-19 pandemic, which include air travel and hospitality.
Analysts believe the Shop feature will expand Facebook's e-commerce capabilities, making it a serious player in this arena.
Brian Nowak, an analyst at Morgan Stanley sees a "multibillion opportunity" for Facebook with Shops, while Deutsche Bank analyst Lloyd Walmsley sees a $30 billion impact, through a combination of advertising revenue and a fractional share of transactions.
It's prudent, however, for investors to take into account the hazards for Facebook in the current environment. According to analysts estimates, about 30% to 45% of the company's global revenue comes from advertising categories deemed "at risk" from COVID-19. 
Lower spending on travel, retail, consumer packaged goods, and entertainment are likely to hurt Facebook revenue in the next 12 to 18 months.
Bottom Line
Facebook has many ways to accelerate its revenue by using its massive reach and spending power. That unique position makes its stock a great long-term buy. At the same time, investors shouldn't ignore potential short-term risks to its stock when businesses globally are cutting ad spending.
Source link